Renegade's Basic Disk Shot Mod
Here it is, the Nerf Disk Shot.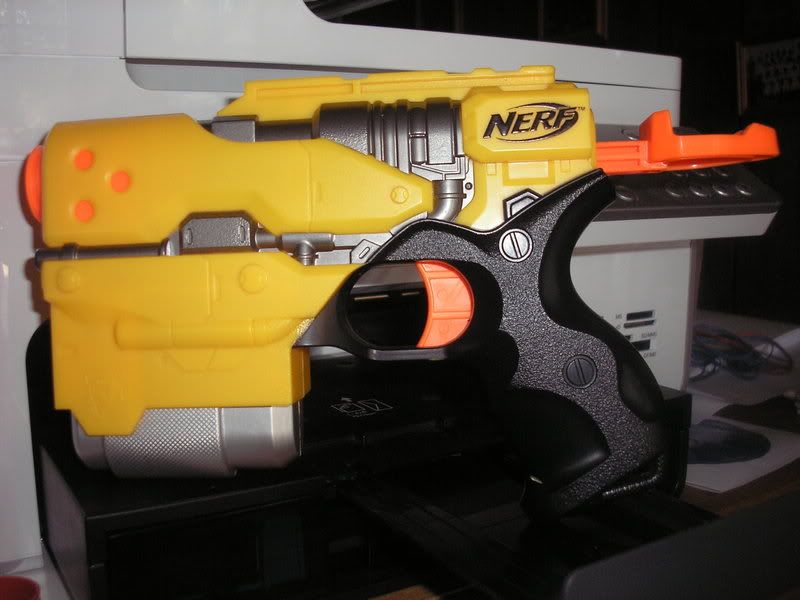 The goal of this mod is to achieve more range using stock darts and tight stefans by removing the air restrictors and other mods.
Parts Needed
Teflon Tape (e-tape may suffice)
Dremel or hobby knife
Step 1
Remove all of the screws and take apart the gun. The bottom of the handle is glued on, so take a hobby knife and pry it off after taking out all of the screws.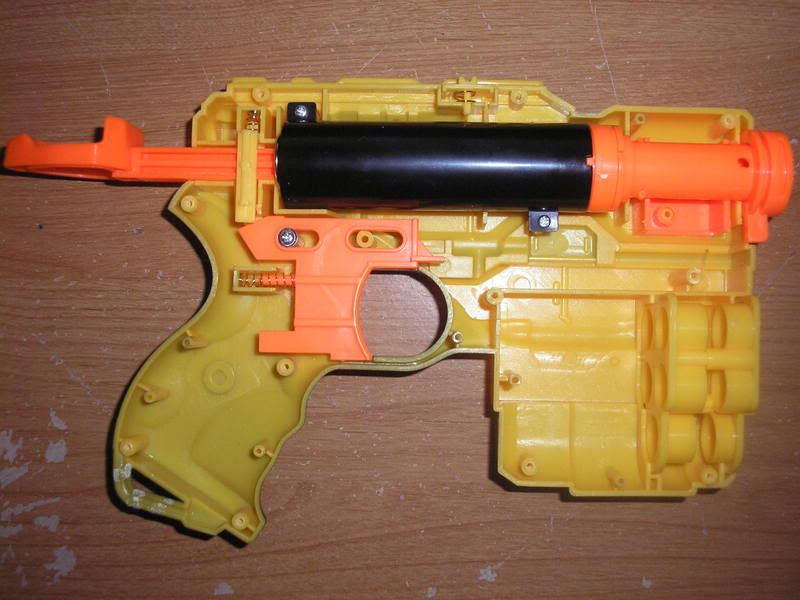 The internals are very similar to that of a Nitefinder.
Step 2
Unscrew the two screws securing the plunger assembly. Take out that piece. Next disassemble the barrel as shown.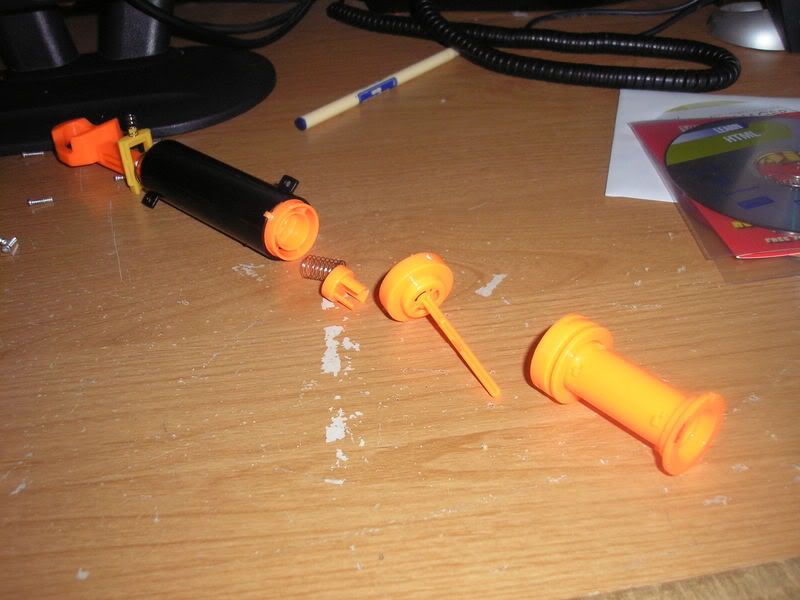 Step 3
Discard the small spring and three pronged orange piece. Take the orange piece with the long plastic stick and drill/cut it out.
The main restrictor is glued onto the plunger tube, unlike in a Nitefinder where it can come out. Cut the three orange plastic pieces holding it in place and sand it clean afterwards.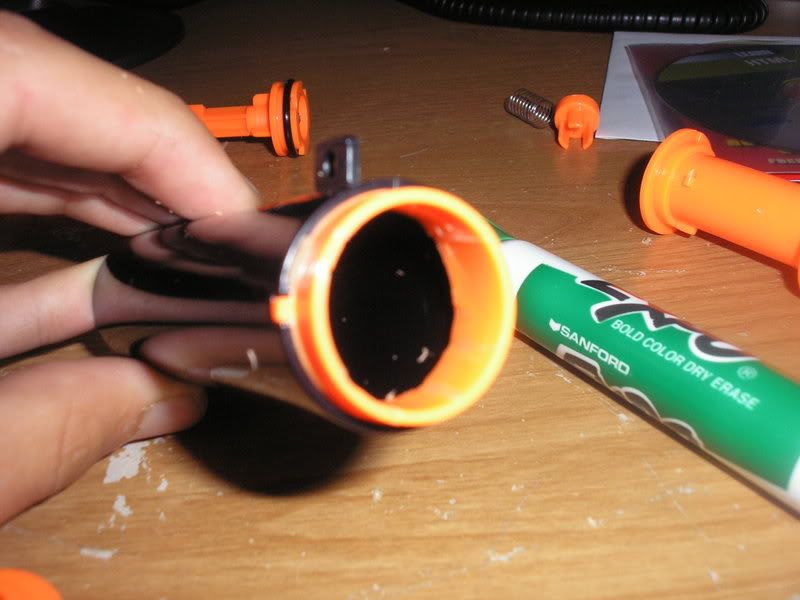 Step 4
Next we will be modding the plunger head. The entire plunger assembly is basically the same as in a Nitefinder. The spring is slightly longer and quite stronger than this Yellow NF's spring.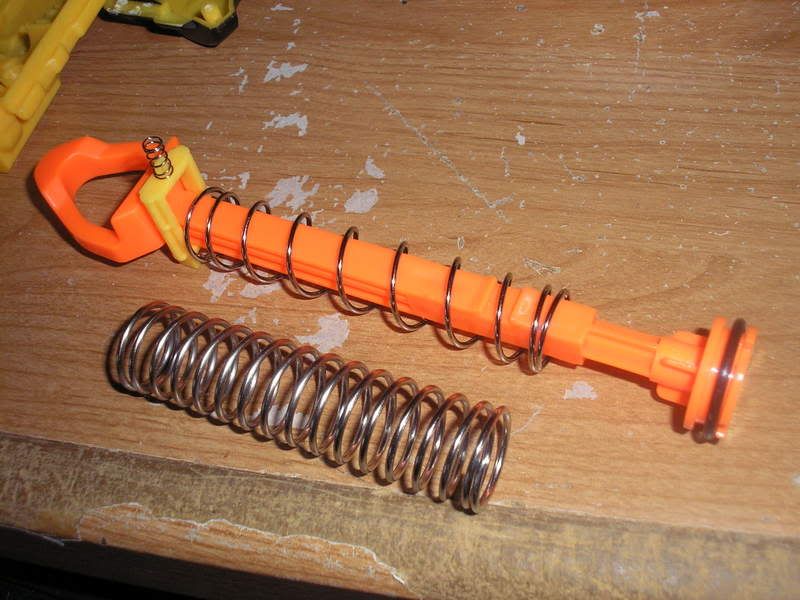 Take your Teflon tape and wrap the plunger head with it. Insert it into the plunger tube to check how good of a seal you have. If your seal is too tight you may need to lube the gun for best performance.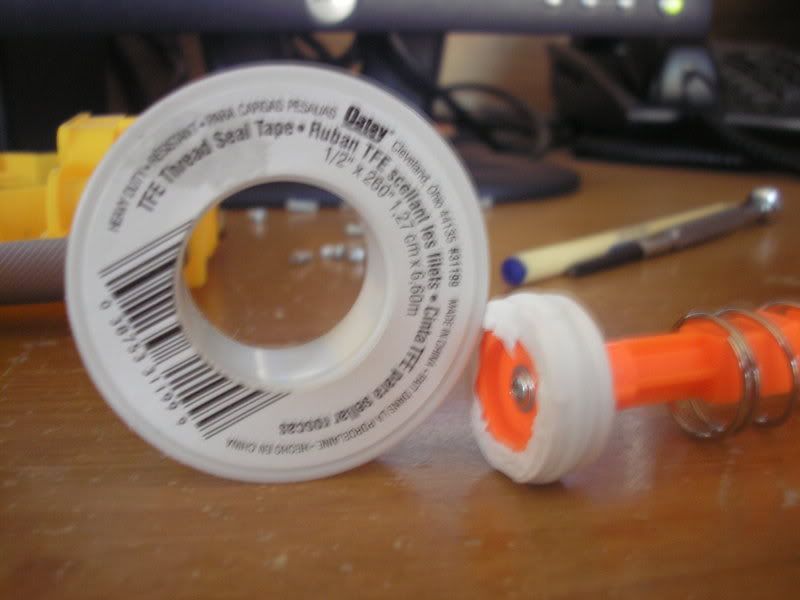 Step 5
This step deals mostly with the barrel assembly. There is a set of holes in the barrel. Wrap the tape around these holes.
Then reassemble the barrel parts onto the plunger tube. Finally, wrap Teflon tape around these parts to ensure it is airtight.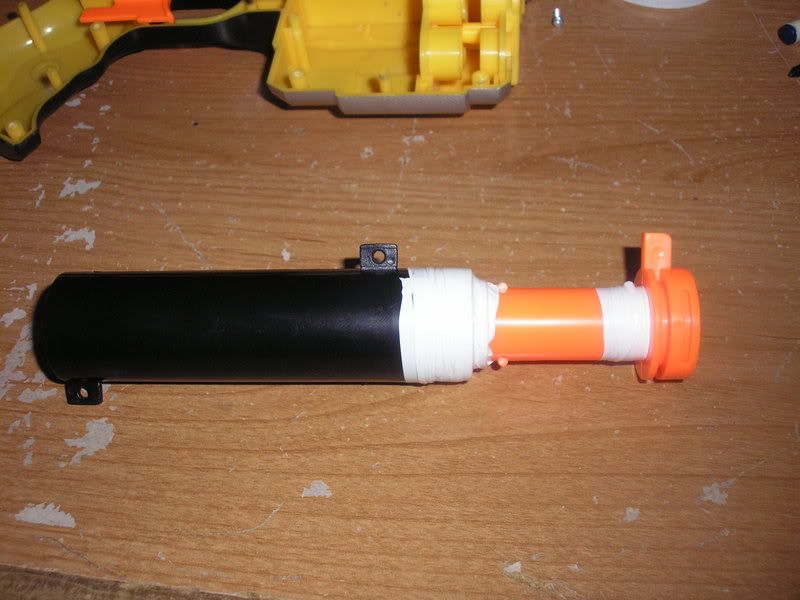 Step 7
Screw the plunger assembly back in place. Screw the gun back together and you're done. For best results add bands.
Rough Ranges
Stock Dart: 45 feet (without bands)
Stock Dart: 55 feet (with bands)
Advanced Mod coming soon....
Edited by Renegade, 21 July 2007 - 03:40 PM.