So I decided to do this mod for a couple of reasons. I wanted to experiment with breaches and clips before I started on my Angel Bow mod, and I wanted a mid range blaster that could take shots off fairly quickly without having to worry much about reload times (mostly for keeping people back or forcing people to take cover and play defense). I don't like the Longshot much, and a quadded 2K didn't have enough shots. Plus I wanted the extra turret incase I wanted to turret a gun.
[I'm sorry some of the pictures a bit blurry, those were the ones I took earlier and I was still getting used to the camera]
Anyway, here's how I did it.
Tools needed:
-Dremel (required if your going to cut a breach)
-Pipe cutters (optional)
-Hotglue gun
-Ruler
-Screwdriver (both philips and flat head)
Materials needed:
-Hotglue sticks
-Quick drying Epoxy (I used 90 second)
-Plumbers Goop
-1/2" Sch. 40 PVC (12")
-1/2" Sch. 40 PVC Coupler
-9/16" brass (12") [Whatever your preferred brass size for air guns is here, just make sure it's not a tight fit]
-19/32" brass (at least 3") [the next size up from the size of brass for your barrel]
-Electrical Tape
-Aluminum foil
Part 1: The Easy Stuff (Internal Mods)
Ok, so start off by opening up your gun. I got the pump cap off by cutting one side with a dremel, then prying it all off with a flat head screwdriver.
Once you get it open, take out all of the internals and set them aside. All you should have are the 2 shell halves. Remove the screws if you haven't already and set those aside as well. Using a magnet to keep all the screws is one place works well.
You're going to need to sand down quite a bit of the shell so you can fit your PVC coupler in there. Just keep sanding and testing to see if the coupler fits in there well.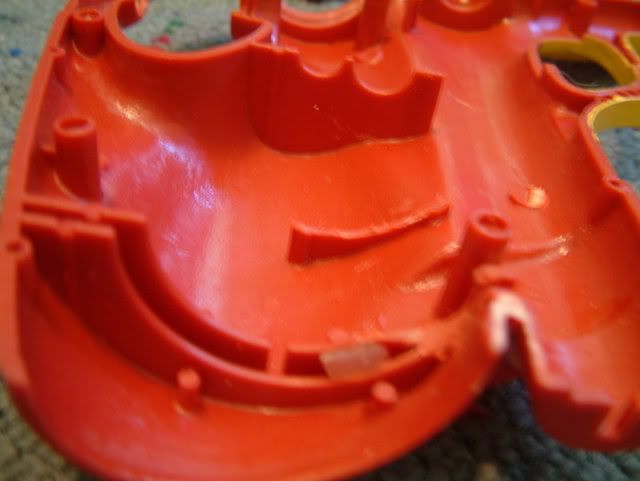 Once you get both shells sanded down, put the coupler over the front of the airtank and hotglue it in place.
Plug the pump and do a Bic Pen mod while it's open.
I then reinforced the coupler by drilling/burning a hole in the side of the coupler and squeezing some hotglue in there. This was first mentioned by CaptainSlug in his
Big Blast mod
. He describes this process much better than I do. You don't want to hotglue to seep into the side of the coupler where the PVC barrel will go. I made that mistake, so my barrel isn't as stable as I could be. But that's ok, as it will be hotglued into the coupler anyway (unless you want your barrel removeable)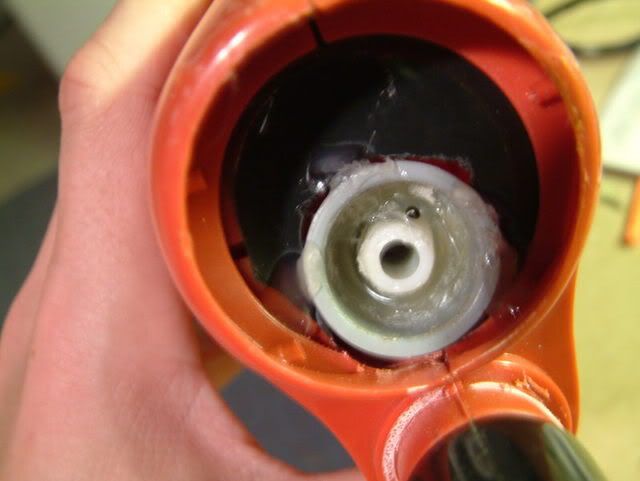 In that picture, you can see how I put too much hotglue. You can also see I made used part of a CD case to stabilize the PVC coupler.
After you get the coupler in and all the other internal mods, screw the case back together, you're done with internals.
Part 2: The Clip
First, we are going to make a Deoderant Clip (invented by Forsaken_Angel24 on his
Angel Bow
. So get an empty deoderant case to use as the clip.
Clean it out and snap off the back end and clip off the long post. I added some cardboard on the side of my clip so it fit my darts better and added electrical tape to the back end of my clip so it would stay on.
Take the lid of the deoderant case and cut off the top end, so it's hollow on both end.
Make sure you know which side you cut, and which side slides on the deoderant case.
Now you will need to make a PVC barrel to attach the clip to. So take your 12" of PVC and measure where you want the clip to be. Measure then cut out a section of the PVC so the deoderant lid fits in there without much dead space.
Hotglue the lid in place, making sure the side that slides over the rest of the deoderant case is up.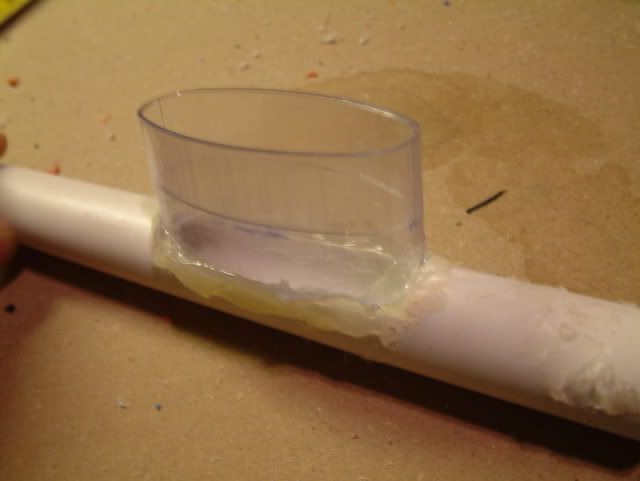 Part 3: The Breach
Now for the most difficult part of this mod - the breach.
Take your 9/16" brass (or whatever size brass you use for a barrel) and slide it inside your 12" of PVC. Then mark how long your breach needs to be using the PVC breach as a guide. It's kind of hard to explain, but the picture should clear things up.
Go ahead and cut out the breach after you have it measured. Make sure you draw it out first so your cuts are straight.
Here it is inserted back inside the PVC.
Now to make a breach cover. So cut your 19/32" brass (one size up from size of your brass barrel) larger than the section you cut out of the brass barrel. If you used pipe cutters, you must flare out the side you cut (I used a file).
Here's picture showing both the breach cover and the section I cut out of my barrel.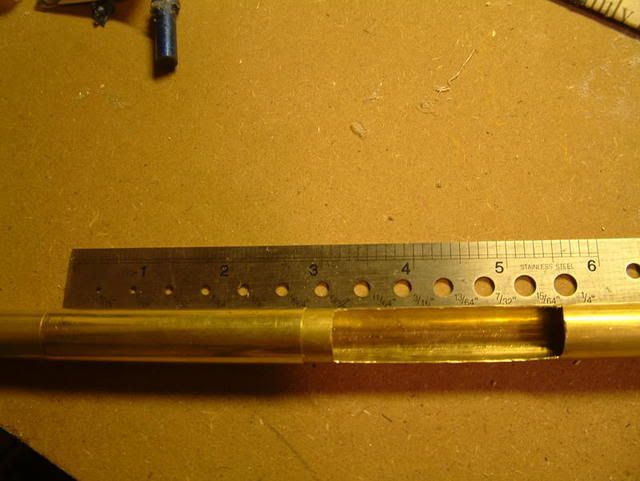 As you can see, the breach cover is nearly 3", while the section I cut is just under 2.5".
A breach handle must also be made, so you will need to make a long cut across the side of your PVC for it to go. This took me quite a bit of testing and measuring. Make sure the cut is long enough so the breach handle can slide far enough to completely open and close the breach.
You can see I make a blue dot to represent the breach handle placement while I was testing the stroke of the breach handle.
[End of first post, please do not post until I finish the rest of the write up]
Alright, now that you have all the breach handle pieces ready, it's time to glue the breach handle on. I used a long nail wrapped in electrical tape. If you decide to use a nail too, make sure the head of the nail is what's being glued to the breach cover, otherwise it will not hold. Trust me, I tried it.
Be sure to thank Gengar003 for teaching you
How to Epoxy
.
But, just before you glue it on, you will want to make sure no glue gets on the PVC and bonds the breach cover to the PVC. So, take some aluminum foil and form it to the PVC. That way, if any epoxy does go out there, you can just rip off the aluminum foil and your breach will still work just fine. And just incase you hadn't already inferred this, you
must
glue the breach handle to the breach cover while the breach is inside the PVC. Once the breach handle is glued on, there is no way to get the breach in/out of the PVC.
Hold the breach handle to the breach cover for a minute while the epoxy dries. Once it does, see if it's wobbly or not. You might find it isn't as solid as you'd like it to be. No worry's, just add some Plumbers Goop using the same aluminum foil idea. That should hold, as Plumbers Goop bonds very well with brass.
Now you should have a fully functional breach, complete with a breach handle attached to a breach cover.
Here's how it should look.
Breach open.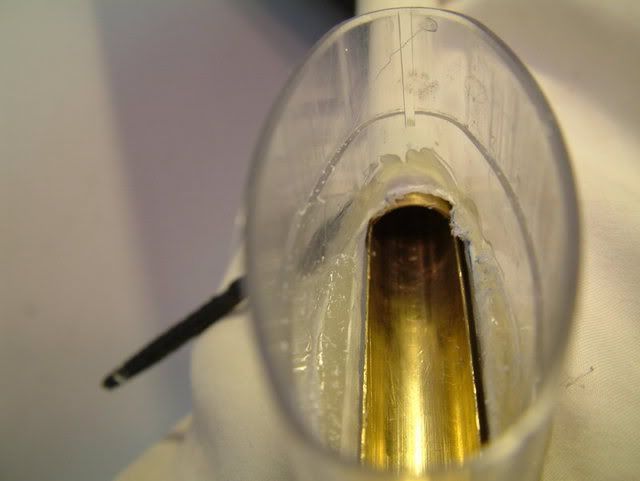 Breach closed.
[Note that I made my breach open when the handle is forward, as there was not enough room for it to open backwards]
With the clip installed (breach closed) and attached to AT2K.
With the clip installed (breach open) and attached to AT2K.
The final product.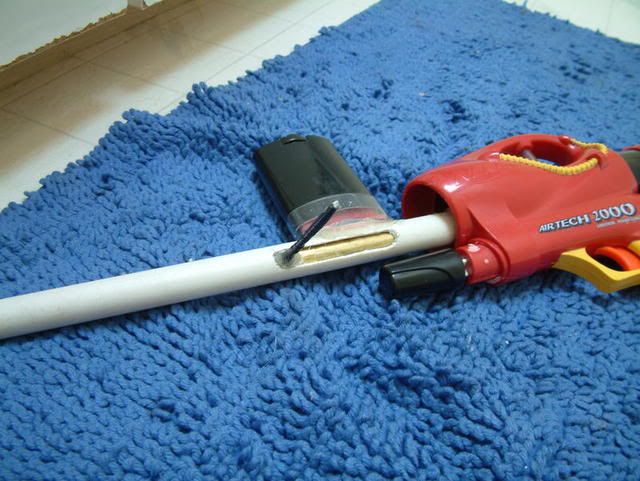 I went outside to range test, shooting 4 darts. Using 5 pumpd, a 100' tape measure, 2" 3/0 weighted Angel's red foam darts, from around 5' off the ground and no wind, here's what I got.
[Ranges do not include dart skip, I measured from where I shot to where to approximately where the dart hit the ground]
1st shot - 90'
2nd shot - 77'
3rd shot - 57'
4th shot - 45'
Now, your probably wondering "Wow, what's with that?"
Apparently, my goo gauge broke and there was a major loss of pressure, each shot increasing the size of the hole the air leaked out of. I looked at the gauge to see if I had pumped the gun up, saw it was empty and just thought "Hm, weird." then came the reassuring hissing sound everyone knows and loves. By the 4th shot, I doubt the gun could hold pressure for more than maybe 6 seconds.
I opened up the gun to find a nice suprise of orange goo stuff around the insides. Sucks since I wanted to keep the goo gauge. So, once the Plumbers Goop dries, I'll get out and range test again. This time, I hope it will actually work.
The clip worked nice, but I need a heavier weighted dart to push the darts in easier.