Well, I figured since Carrtoon didn't exactly have a write-up for this and there are lots of new people out there, I might as well do one.
Introduction:
Carrtoon gets all the credit for the making of the DTG/At3k or 2k.
I decided to recreate his mod for myself because it is so awesome. Here's a link to his original thread:
LINK
. I recently had to open my DTG up again and I figured: Why not make a write-up? So here it is:
Step 1: Open up your DTG and take out the plunger and catch so it looks like this:
Step 2: You will have to dremel the inside so that your airtank can squeeze into there. Here is approx. where you should cut:
Another pic:
Step 3: I am assuming you have your airtank and pump out like this already:
a) Cut off the small ring attached on the plunger that allows a seal between the plunger and the turret and glue it on the nub on your air tank:
b ) MAKE SURE YOU KNOW HOW TO SEAL THE TUBING OF THE PUMP TO THE AIRTANK BEFORE FITTING IT IN THE DTG!
Step 4: DO NOT CONNECT THE TUBING TO THE AIRTANK YET. Pass the tubing through the hole* that you made and then connect it to the airtank. Place the airtank in there and make sure it is a good fit and the black seal piece is pressed against the turret, then glue it in there to make sure it doesn't move around:
Step 5: Drill a small hole in a popsicle stick or anything stick-like and use some strong glue to connect it to the trigger like so: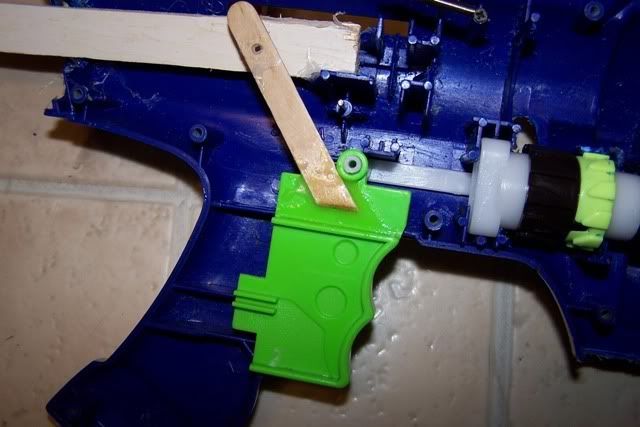 Step 6: You are almost done now, but here comes maybe the trickiest spot. You have to connect the trigger to the firing pin of your airtank. I cannot really explain how to do it, but I will just say to use strong wire or something, so that you don't have to re-open it every so often. Also, DO NOT make the wire too tight or the air tank will fire before the turret has turned:
Here's how I did it:
Step 7: Close the gun up, put the screws back in place, and put the pump anywhere you want. I would recommend somewhere secure, unlike the people who have their pumps sticking out of the back of their guns...: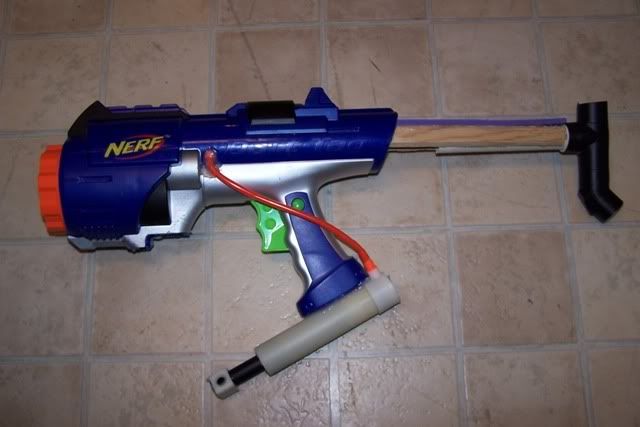 Step 8: Now, you can add anything you want to the gun. I added a DTG mag holder, a foregrip and a stock:
* The hole:
Stats:
RoF: What you would expect in an at3k except with 4 mroe shots.
Accuracy: How do you measure accuracy? It can hit it's targets fine.
Range: Around 60-65 ft. Measured with taggers and the stock barrels.
Other: People might like this integration because it's clean (unless you add on a ton of stuff like me).
Questions, comments or criticism? Tell me!
Edited by NiteWalker, 07 July 2007 - 03:42 PM.