I had a 750 that I planned on integrating into my RF20 and wanted to make it leech off the RF20's air supply. I realized that was a bad idea after a while but still had the separated internals joined by vinyl, so realizing that I was never going to use the RF20 anyway, I decided to put the 750 on my Powerclip. So it's not really an integration but it's still nifty. The cool thing is that the 750 can be taken off and put on any other gun with this "system" on it.
First the trigger for the 750 tank. I was digging around for keyrings today to use and after putting one on the firing pin realized I didn't want to use one after all. Maybe I just put them on wrong but I always have to worry about them slipping off and I don't have many around. So this is my solution: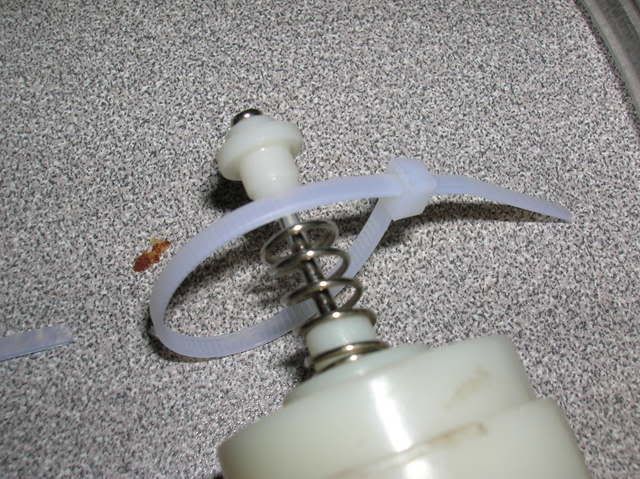 I slipped a mini zip tie around the firing pin of the 750 after pushing the spring up on the nub on the back of the tank so it wouldn't get in the way and tightened it only a little way. Then I put another one through that zip tie and only tightened it one or two clicks: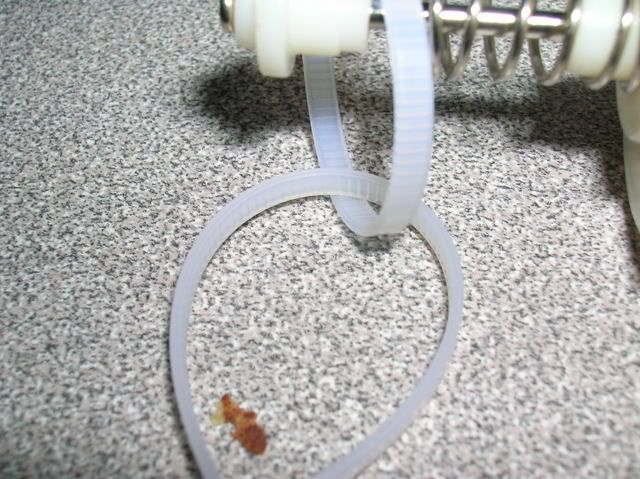 Then I tightened the first one and cut off the part that stuck out from the zip ties and came up with this:
Now that the trigger was out of the way I needed a way to attach the 750 to the PC. So this is what I came up with for that: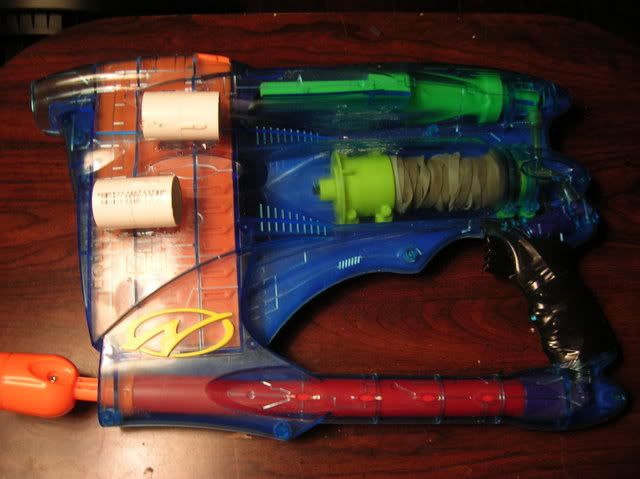 The couplers are on the gun so that I can slip the 750's barrel (it's PVC couplered so whatever I use as a barrel involves PVC) and its pump tube (wrapped in a bit of e-tape for a snug fit) in and out of the couplers so I can put on and take off the 750. Here it is on the PC: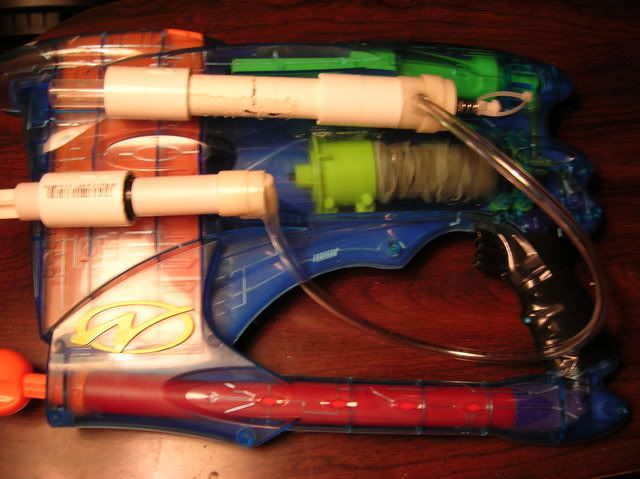 And the trigger on the finished "integration:"
Scrunching my tiny arms in to pull the tiny 750 trigger:
The first time I glued the couplers on with super glue and even after sanding both surfaces they snapped off, so I flooded the bastards with hot glue and now they're rock solid. When I get some epoxy I'll probably reglue them with that just to be super safe but for now it's working flawlessly. With three Stefans in the 750 barrel it gets about 50', making it a nice medium-range backup. I'm going to add couplers to some other guns to make the idea useful but only after I can be absolutely sure it works in a war on the Powerclip.
Thoughts?
Edited by NerfMonkey, 24 June 2007 - 11:19 PM.