IT'S... ALIVE!!!
I mean... it works. See post #11.
- - -
So, I hope this doesn't fall under the "Concept and Ideas" thread category, because theoretically, it should work. It's not a concept or an idea, it's a finished design. The reason I don't just go and do it is because -- long story short -- I can't use my workbench right now.
Anyways. I've been working on a squirt gun design. In my boredom I was paging through
howstuffworks.com
(always a fun site to "page through") when I can across
this page,
about the invention of the modern squirt gun.
What does this have to do with Nerf? Well, obviously, Nerf pump guns and Super Soakers are closely related. They're practically the same thing, except that Super Soakers shoot water and have an extra reserver for the pressurized water. And if you modify this trigger: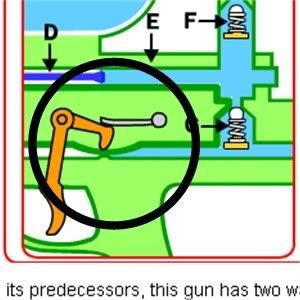 ...with some hardware store-friendly materials, you get: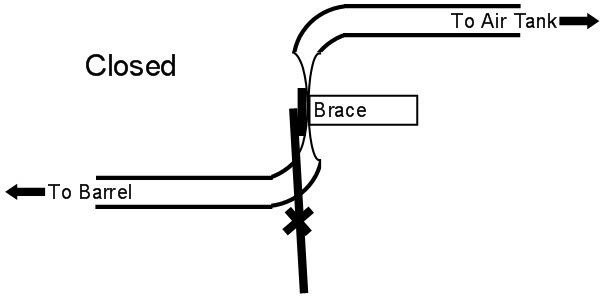 You could even make it more simple and instead of constructing your own pivot, just use a clothespin:
- - -
So, as I said, this should theoretically work. The only potential problem I foresee is the ratio retained air pressure:spring strength. In other words, unless you can find an extremely strong clothespin, this trigger will only work for weaker guns. Experiment is the only way to determine max PSI.
There should probably be some kind of flat pad on the end of the clothespin because clothespin pads are grooved and could let air out.
Hopefully by saying this it won't go back to a "concept/idea," but: I'll be constructing this as soon as my workbench is accessible. I have tubing, clothespins, and an air tank... all that has to be done is it getting put together. It is indeed so simple one could do it in a matter of minutes.
Assuming it works, it should probably be called the Pinch Trigger. : o)
[u]
Edited by Flaming Hilt, 25 June 2007 - 09:32 PM.