Well, my NerfHaven validation just went through, so I figured I'd start with a writeup I did on NerfHQ. Is there any ettiquette about crossposting between the two forums? I see a lot of it...let me know if I'm breaking any rules here.
There will definitely be a Part 2 to this mod, as there are a million titan barrel modifications, and I was actually only really opening it up to take measurements for a pretty extreme integration project. Here's a few easy mods I did to mine…after this tutorial is done, you are ready to do whatever you want for barrels.
1. Disassembly
2. Tilt limiter removal
3. Overpressure valve plug
4. Air restrictor removal
1. Disassembly.
Behold the mighty Titan. Just take the screws out of this side…you don't need to take the screws out of under the barrel.
The only trick is you need to dremel slits in the orange pump retainer ring…it appears to be glued on. You can pry it or saw it or whatever, but dremeling two clean slits in it seemed like the easiest and cleanest thing for me. If you have to hacksaw it off, don't be too nervous, there's nothing delicate under it...as you can see below, it's just the cover for the pump plunger.
Behold, ye old guts:
2. Tilt limiter removal.
Man, the titan's rattle is SUPER annoying. I knew i had to nuke that ASAP. The culprit is the ballbearing that won't let you fire at more than a 45 degree angle...also a plus, in case i want to shoot you and you are in a tree, and I am not. Go ahead and scoot stuff to the side until you can take out the orange retainers pieces for the ball bearings. I didn't put mine back in, and my titan still shoots fine, so I say leave it out if you feel like it. The ball is about the right size to make a nice stefan out of! Bonus!
Note: I'm not every planning to use the front trigger for anything (that may change depending on what integration I end up doing) but I went ahead and took its rattle ball out, too.
3. Overpressure valve plugging.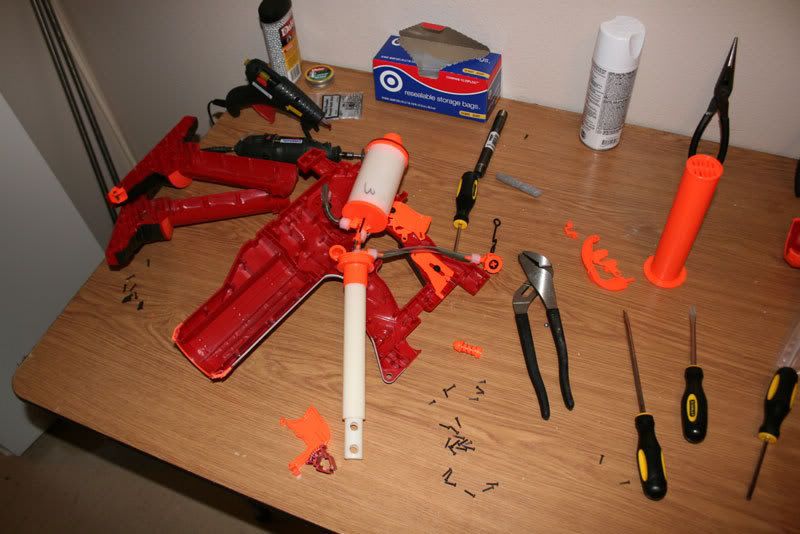 Holy pile of Titan! This was from taking all my measurements while my glue gun heated up. Once you unscrew the plunger cover, you can just slide the plunger right out. Actually, now that I think about it, I'm not even sure you have to take the cover off...try it without it. You'll have to undo one retaining screw by the trigger mechanism to give the barrel some play...this would be a bonus, as I'm amazed how many screws that stupid cover has...does a glorified pump handle REALLY need ten screws?
Blob on some hot glue. I've got a high temp gun, so i let it burn into the hole a little bit and squeezed some glue inside, as well as on. Tada, no more safety valve! You can now pump her up until your strength runs out or she pops a line.
4. Air restrictor removal. Weirdest thing, there aren't any restrictors! Not any moving ones, anyways...There's a couple vented spots, namely the end of the barrel attachement, and on the end of the threads that the barrel attaches to. I took a hacksaw and cut one thread off the barrel nub, and used pliers to twist the vents out of the end of the barrel. There is nothing to worry about hurting inside the barrel nub, it is just empty space. just leave enough that you can still screw the barrel on. If I get motivated I'll snap some pictures of that part and edit them in tomorrow.
There, your titan's internals are now ready for action! Anyone have any mods I missed? If you can give me a link or a good description, I'll crack i back open, I just did the common sense stuff.
Enjoy, and, as always, criticism is welcome...just because I'm a n00b with some freetime and a camera doesn't mean I have any idea what I'm doing