First off, I don't know what to call these. They've been in my head for awhile now, but since CS has posted something similar I will go ahead and temporarily call them Mobvees (Mobstacles Variant). If you've got a good name for 'em send it to me via PM and if I like it you can have credit for it. Well, enough with the talk and onto the invention.
Original Mobstacles:
http://www.nerfhaven...?showtopic=8930
Here's what I've made:
(click to enlarge)
These are not the only type I plan to build. I also plan to build a 6 foot tall 2 foot wide "box" and a "house" shape. For both those Mobvees I need special PVC connectors you can only get online at certain places. They are called 90 degree outlet or "PVC corners". If you are interested in building more 3 dimensional shapes, I would suggest looking into buying these. They are about $.99c each online + shipping. Here's a picture: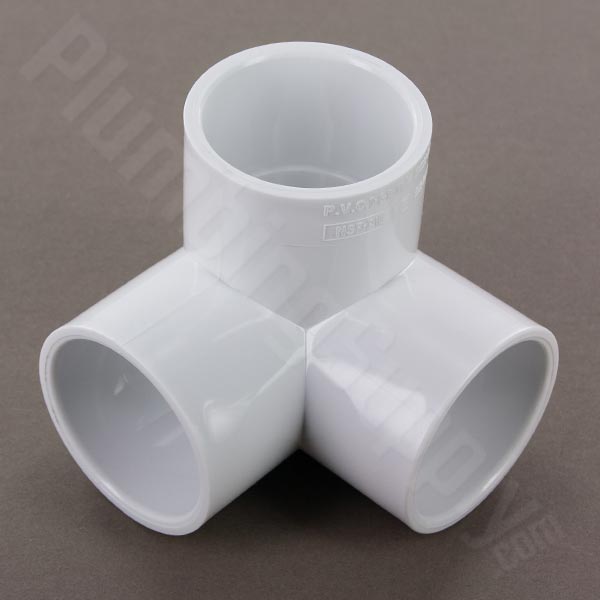 What you need:
1.
1/2" Conduit PVC
$1.09 per 10 ft piece at Home Depot (Amount: Depends on size of VMOB)
- This PVC is used for electrical wiring and has much smaller thickness compared to SCH40 or SCH80. The thickness makes it cost 70% less then SCH40 PVC, making it perfect for this application. It is gray in color.
2.
1/2" PVC Tees
$0.30 per piece (Amount: 4 per Mobvee)
- These are shaped exactly as their name suggests, in a T shape. You need 4 to build one Mobvee.
3.
1/2" 90 degree PVC Joints
$0.25 per piece (Amount: 2 per Mobvee)
- These are shaped like an L. They connect two pieces of PVC at a corner. You need 2 to build one Mobvee.
How to build:
I think this is pretty self-explanatory. Treat the PVC and connectors as large scale Knex. Only difference is you need to cut your PVC and figure out how big you want each Mobvee to be. Here are the plans I have drawn up for my various shapes:
Covering the Mobvees:
I myself am going to use old sheets and cut and sew them together in the correct dimensions to fit correctly around my Mobvees. If you do not have old sheets you can use the tarps that CS suggested in his guide or you can use clear plastic. This is the cheapest option I could find and it was like $10 for a huge roll of 2 mil plastic sheeting at Home Depot. The only disadvantage to this is that you can see through the obstacle, which takes from the fun of them. You could try and spray paint the plastic - but I don't think it would stick to well.
Closing
The great thing about these structures is that the materials are so cheap. I went to Home Depot and bought all the materials I have listed for $25 and built six Mobvees. To cover them it will probably cost a bit more if you do not have old sheets that you can use, but they are still really cheap to make and pretty darn sturdy. Another great thing about them is that they are really portable, especially the ones I showed you how to make in this tutorial. You can take off the "feet" that keep them placed and stack them up and throw them in the backseat of a car pretty easily.
Stay tuned for part 2 in which I will construct the "house" and 6ftx2ft "box" and show the finished field.
Edited by wldworld, 21 June 2007 - 06:59 PM.