This is my first attempt at a write up, so bear with me here.
All of the work below was done on a spare Mav shell I had laying around.
Today I'm going to try to teach you how to battle-scar your Nerf gun.
To do this you will need the following supplies: Nerf gun, X-acto handle, Chisle blade, Standard blade, rough sandpaper, extra fine sandpaper.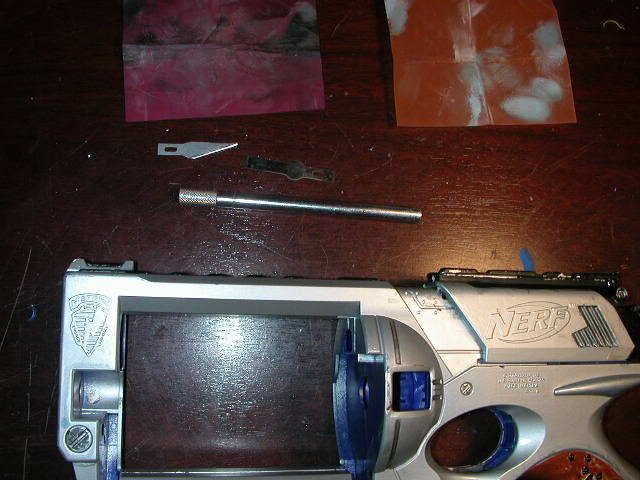 Start by taking your X-acto knife with either blade.
Start making cuts on the surface of your gun. They can be any depth. If you're trying to make dents, kind of cut a slightly leveler area towards the outside of the dent. If you are making chips, make jutting cuts that don't level out.
After doing this, take your rougher sandpaper, and start to somooth out the cuts you made for dents. make a paricularly smooth transition from the dent to the undented area.
Before.
After.
Continue to smooth with your fine sandpaper.
You have made your first basic battle-scar. Now on to weathering paintjobs. These go extremely well with battle-scars. Supplies needed: any spray paint of your choice (silver works best) and black or a dark gray spray paint.
Start by doing a standard paintjob on your nerf. In the oictuers below, my examples are on the same shell as the battle-scars, and are done with gold and silver base colors.
After applying your base colors, take out your black spray paint and hold it back 2-3 feet. Spray at your nerf gun lightly, moving steadily back and forth. Don't get to close, or hold the spray in one spot for too long or the obvious will happen. Remember, you don't want to over do it with the black. Eventualy, your gun will look like the one below.
Now, if you have battle-scars, take your fine sandpaper, and rub of as much black as you can off of the battle-scar. Take some black off of the edges too.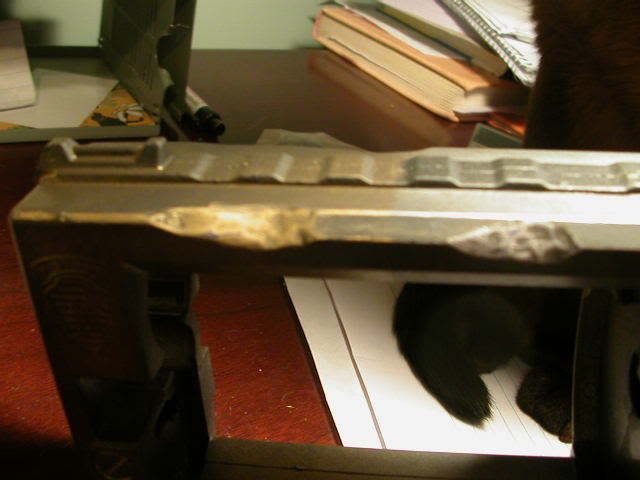 If you want a kind of grime look, remove black from edges, and lightlyy remove black in random spots.
this is my most recent grime job using this strategy:
http://i147.photobuc...666/Img0445.jpg
http://i147.photobuc...666/Img0447.jpg
I hope this write-up helped you, and if you have any questions/comments please feel free to respond.
Edited by Spectre666, 31 May 2007 - 11:49 PM.