I've been lurking around NH for quite a while. Just recently however, I got my hands on a free SM3000, Firefly, and something old that I can't identify. I figured it might be a good place to start with something I haven't paid any money for and see if I like the hobby enough to continue. I've read quite a bit on the forums already, and have made extensive use of the search function, but my Nerfology is still pretty lacking. I was hoping you guys could give me some tips with my first mod.
So, here is the gun, the one which I can't identify.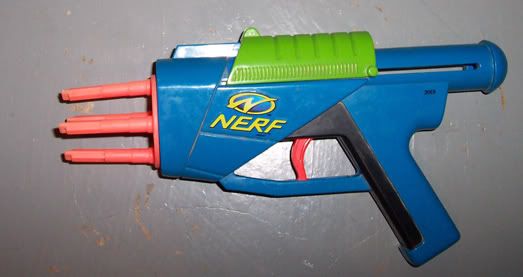 Yeah, I know, really shitty, but it still works from what I can tell, and it feels like something good to start with.
Here are some concepts I've cooked up for what the final modified gun will possibly look like.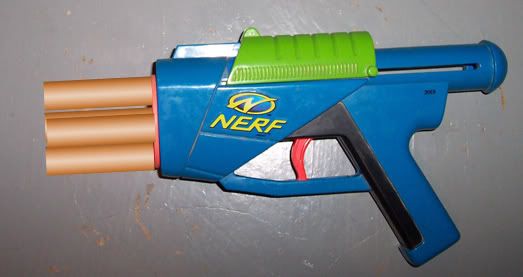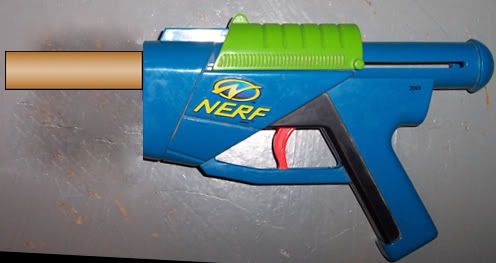 While I would like to modify the entire turret, I don't know exactly how I might go about that, and ultimately I would be satisfied converting the gun to a single barrel.
Anyway, here are the current modifications I plan on doing, just wanted to get a little approval to see if I'm doing it right.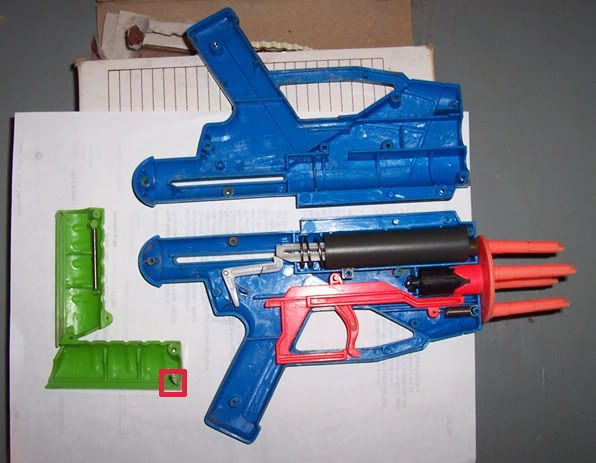 The pink square indicates a pin attached inside green slide which pulls the plunger back against the spring. The pin is currently a little bent from previous use, so I plan on replacing it with something a little stronger, and perhaps a little thicker width wise to extend the life of the gun.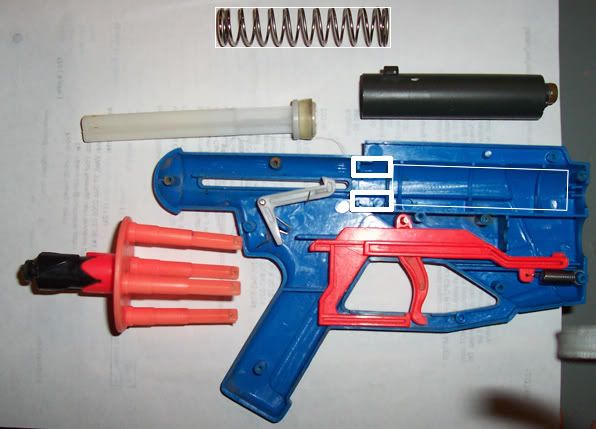 The thick white rectangles indicates where I'm going to glue "something" behind the spring to remove the extra space that the spring has to slide around in order to get more energy out of it.
As for air restrictor removal, I'm a little clueless on what exactly that all entails. I'm also equally clueless on barrel construction, but I do plan on making some micro stefans very soon as I don't really have any other darts on hand, Obviously this means I will want to to use either 9/16th Brass, 1/2 PVC, or PETG for my barrel. What I'm really interested is in the intricacies of barrel nesting the advantages that it creates.
It would be great to hear some suggestions and maybe see some diagrams on how I should approach the restrictor and other parts of the mod. I know it seems a little ridiculous and elaborate to put all this effort into such a crappy gun, it's not going to be the final product which is going to help me out, but the process.
Edited by Neuralize, 09 May 2007 - 11:36 PM.