Falcon Posted me using this bad boy before I had gotten around to posting the mod on the forums, it's a the SplitShot/DoubleFire!
it started out as an attempt to pull off integrating a Splitfire into a double shot, but that didn't really work, and by the time i was done, it's more of a cosmetic mod to a splitfire.
Pics of how the Barrels are properly set inside the Doubleshot Barrels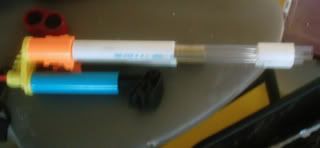 Sorry they're out of focus, my camera is on crack.
Pre-Painting just to test fit of parts:
How the Shotgun grip is attached to the pump:
The Shell Painted:
Another finished Pic:
The Blaster fires Similarly to any 6-in Brass modified Splitfire, but because of the length of the barrels, it loses about 10 feet of range but it's very accurate, the only problem is that when attempting to go shotty style, you can still only use 3 darts per barrel. 4+ darts just has darts falling out of the barrel. I found this to be a very effective Urban Play blaster, and It's insanely comfortable. when you have it in your hands you just feel like you're in a cheesy zombie movie, and that rocks.
-bags