I got into my "modding mood", which is where my parents are gone, my sisters somewhere, and I have metal playing full blast through the house. Since I didn't really have anything to do (except all my homework, but pssh. Who does homework?) I decided to do something.
Something nerf.
I had recently acquired a Wildfire that either didn't have the will or the skill to work as an automatic, despite all of my improvisations. So I had a bulky automatic that wasn't an automatic. Or a gun. It just released air all over the place, except for GOD NO, NOT THE BARRELS?
I also had a bolt-action Airtech that, after my last war where one of my freinds decided that the best way to fight from a person running at you with dual NFs was to grab the gun by the tip of the barrel and swing your arms wildly while you run. Needless to say, the bolt-action part no longer functions. At all.
I remembered way back when when Thirst had that semi-auto 2k with his t-clip. It clicked. I could do the same! Except not as good!
So, here's what went through my mind as I did the mod:
Airtech: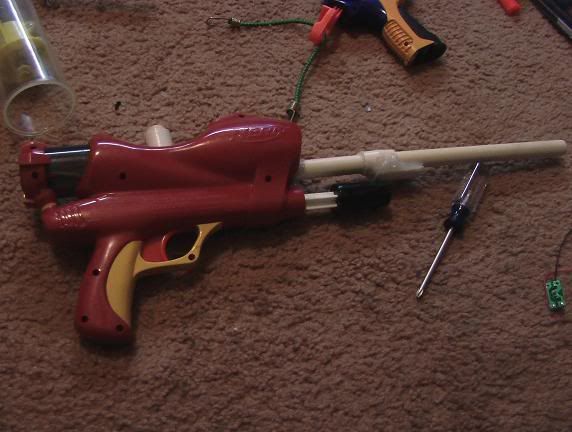 Wildfire: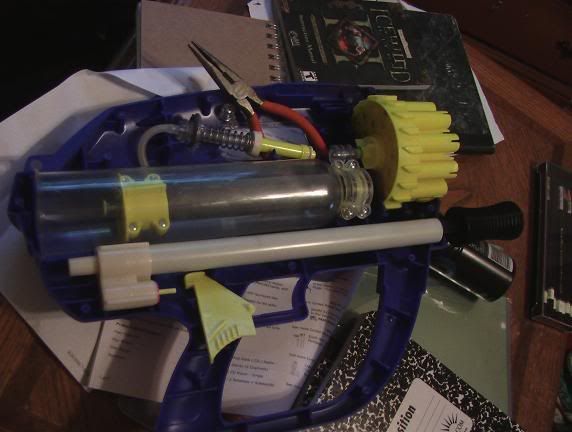 Internals: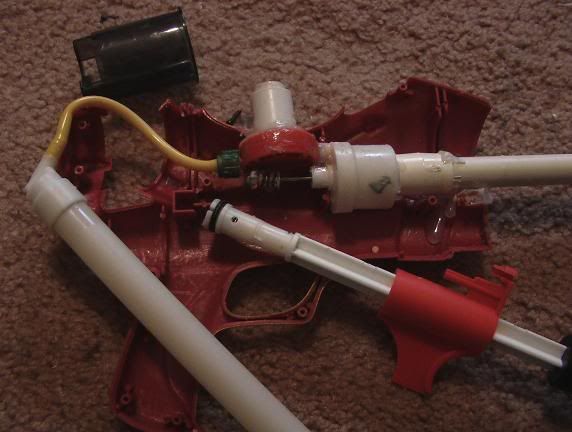 I realized that I didn't even need the pump of the Airtech for the gun, since the bladder of the Wildfire would be supplying all of the air. So I simply disconnected it, ripped off the vinyl tubing, and replaced the pump tube in the gun, since the trigger requires it to pull.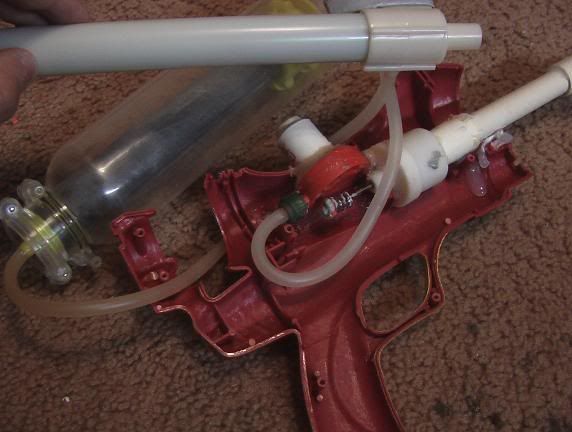 I then had to work with the Wildfire valve. The valve needed to be depressed an exact certain amount, for if it wasn't, air would just spew all over the place. After about ten minutes, I was able to rig duct tape up around the valve to keep it permanently depressed with minimal to no leakage.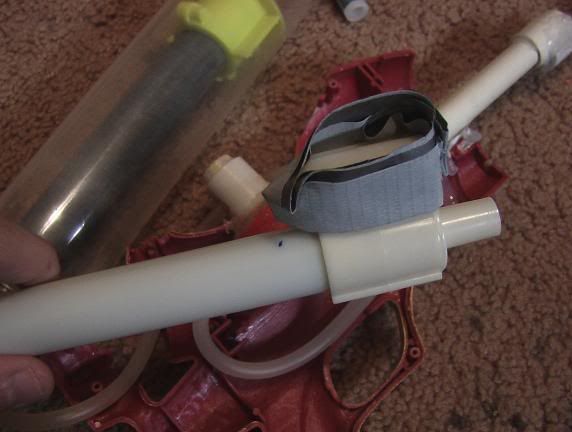 I figured I wanted the pump slanting down on the right, so...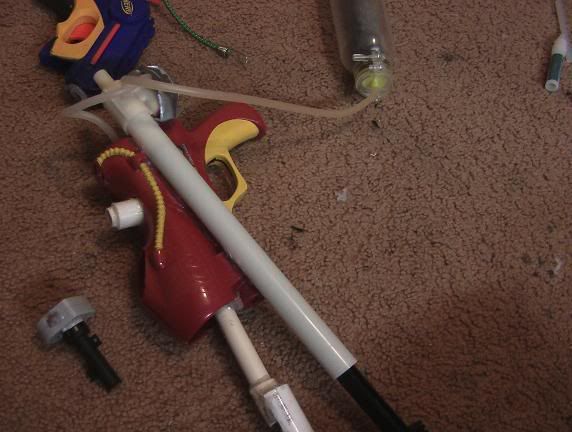 ...I slanted the pump down on the right (attached with hot glue)
Mk. Now, where to fit the bladder? If I took some time, I could use it to make a really interesting stock. I debated that for a while.
Then I recalled on how every single one of my mods, someone in the NIC would remark about how it was fugly. Or lacking in the aesthetics department.
Tough.
I do mods for functionality, not pretty prissy looks.
I thought came to mind.
Duct tape.
(Deflated/Inflated)
I did that just to piss all of you off. And because I could.
Front: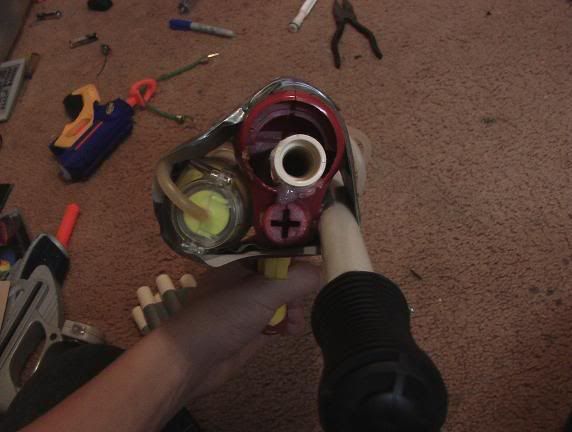 Back:
Nifty angular view:
...that's it.
It gets five shots before running out of air. It require twenty pumps. I could have used a bolt-action breech clip, with a five round capacity, but I decided to be awesome and contribute to the fugliness by using a simple CPVC barrel "belt"
First shot: 70'
2:55'
3:45'
4:40'
5:30'
And that's only with the original twenty pumps. If you pump it more in between shots, the ranges would increase.
3" barrels, again because I can. It could take up to 6". 4" breech from airtank to coupler.
...hope you guys like...
-SInnER-