...
Sorry guys, I needed a gay title.
To give a little background on my nerfing status right now, it's about zero. I started taking AP (College Credit) courses at our school, and the workloads insane. I've finally worked up some free time, and plan to do some modding this weekend though, as I know all of you care when and why I mod.
This is a mod I did at the end of the summer, but just never got around to posting.
I traded my freind my nested SM1500 (god I loved that gun) for a Secret Shot I and Secret Shot II (without the secret shot). They were halfway modded or so, and I figured I wanted to do something other than single them. Something...amazing.
I sorta succeeded.
What I did was I found a peice of AirTech 2000 pump tubing that I had cut out for my very first n00b clip design back when I was a n00b, hence the name. It's three inches inches long with the middle two cut out so that darts could be fed in.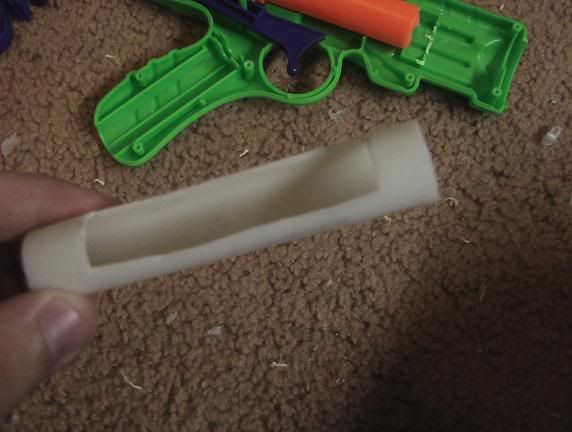 Surprisingly, for some reason I kept it, and it got me thinking of the clip design.
Then I realized it was crap and wouldn't work, which is why I hadn't used the tube yet, but I realized that the breech would work.
So...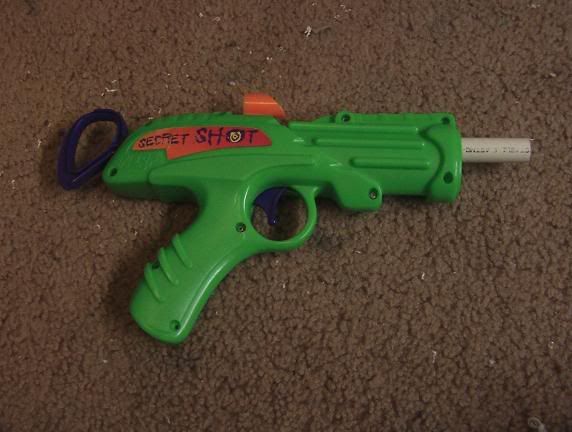 Heres what it looked like when I got it. Simple 4" CPVC single barrel mod.
Opening it up, I saw...
...THE INTERNALS!!!
Since I wanted a more centered barrel, I took the plunger casing, and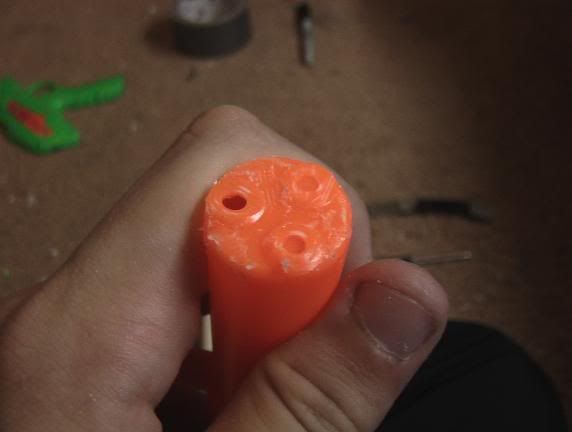 sanded it
All smooth.
I placed a peice of CPVC against it, traced around it, then cut out the peice, but left a bit for some CPVC to sit on.
I wanted to have a basic pump breech, where you pull the barrel forward, drop a dart in, then push closed. If there wasn't anything behind the barrel however, the dart would just be pushed straight into the plunger tube. I couldn't have that. But I couldn't have a large peice of CPVC, since I only had the 1/2" of AT2K tube to work with. I cut an 1/8" of CPVC, and sanded it down. It was a bitch.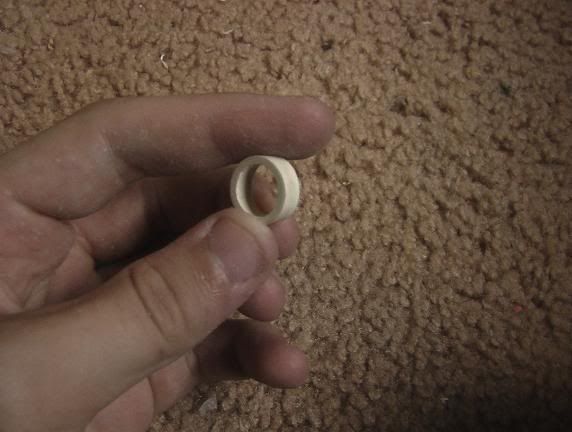 I covered the outside with a very small amount of hot glue, then quickly shoved it into the AT2K tube so it was even with one end.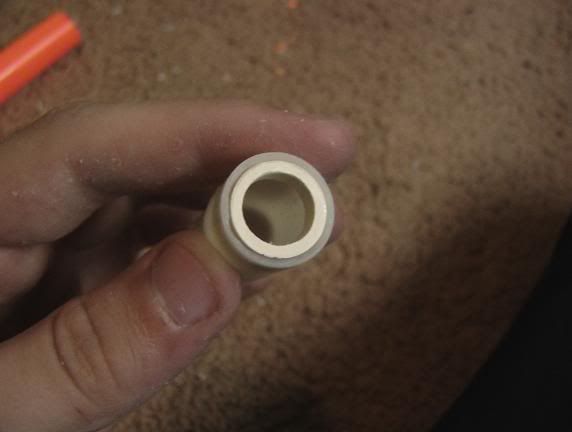 Now, my intention the entire time was to use the little shot-switcher slash ammo holder on the top, since it bugged me just sitting there. So I glued the breech onto the plunger tube aligning it so that it was along the same line as the ammo holder. That way, it would follow along with the barrel-plunger assembly when you turned it! NIFTY, huh?
You might ask "Why the fuck would you do that? It would just be pointed to the side, inside the plastic of the gun! You couldn't even reach it. You're retarded."
Well, I felt like cutting half of the gun off.
So
...I did.
-end first-
I put the gun back together.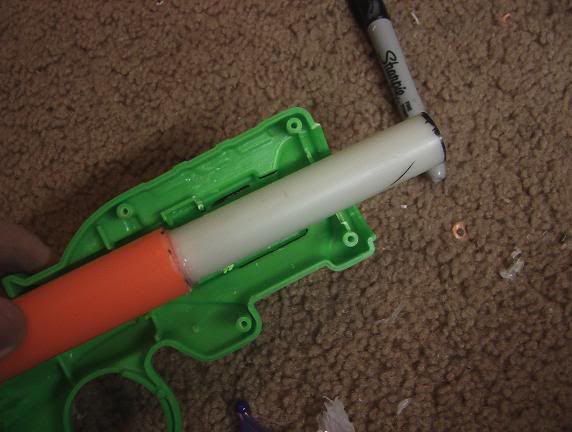 Finished:
To the side, so you can load:
Up, so you can shoot if you feel like moving it:
..well thats it. It gets ranged between 60-75', depending on the stefan you use.
-SInnER-
Edited by Sinfil, 28 September 2006 - 09:55 PM.