This is like man with many guns write up with a few twists.
So here is a stock nitefinder next to my modded nitefinder just so you know what is happening.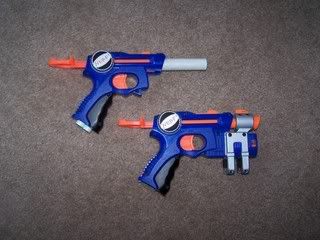 Now open that thing up, here is an internal picture.
See those three pieces keep the one in the middle and thow away the others.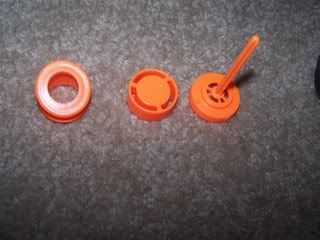 Now drill out the whole thing like so.
Now take 4 in. of your PVC pipe and glue a crayola barrel in the back of it, or you can use electrical tape. Glue the back end of the PVC pipe, the part with the Crayola and epoxy it directly inside the ring that you just drilled out, and glue that ring with the pipe inside the plunger tube.
Now cut some plastic, add a stronger spring tape the plunger tube and you're done!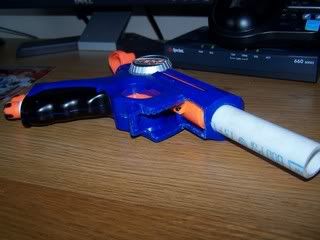 Ranges (roughly measured)
70 ft
Question, comments, praise?
This is my first write-up so I hope I did okay.
Edit: Changed Cpvc to PVC
~Trogdor
Edited by trogdor65, 23 July 2008 - 08:29 PM.