These bombs use a lot of the ideas foamsmith came up with for his
homemade arrows
. I take little credit for this idea as this is pretty much just a simplified version of the arrows meant for a different purpose.
Okay, on to the construction.
Materials:
1.5" OD foam pipe insulation. I'm not sure what it's labeled as but if the OD is 1.5" and it has a hole in it, that's the right stuff.
1/8" foam craft sheet
Scissors or an exacto knife
Hot glue gun
BBs or other weights
5/8" FBR
Procedure:
First plug in your glue gun and cut your foam pipe insulation in to a piece about 4 or 5" long. This will be the body. Try to make at least one side as straight a cut as possible.
Now, once the glue gun is heated up, cut a piece of craft sheet and about 1/2" of the 5/8" FBR, and hot glue the craft sheet around the FBR, like this:

Then put a ring of hot glue around that whole thing (the FBR and craft sheet) and stick it in the end of the pipe insulation piece, the end with the straightest cut. Notice that the glue is smeared all over the end of it. This is only because I stuck the whole thing on a CD case when the glue started oozing out. You could use a tissue or something else to clean the oozing glue off too. It should look like this when the FBR and craft sheet assembly is securely glued in to the pipe insulation: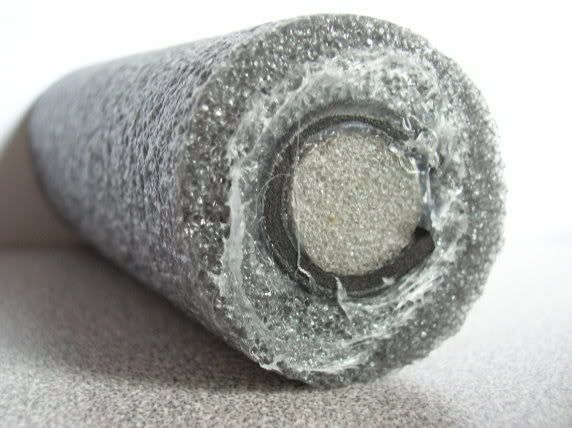 Now, make a very large hole in the piece of FBR, but be careful not to got all the way through it. This is like making a normal Stefan with LOTS of weight. Make the hole and drop in about 5 BBs, or about 1 or 2 1/4" slingshot balls. I decided on BBs since the slingshot balls weren't opened yet and I didn't want to bother with them. BBs work fine as long as you put a lot in. Put glue in first, then the BBs or slingshot balls, then a nice dome of glue. It should look like this: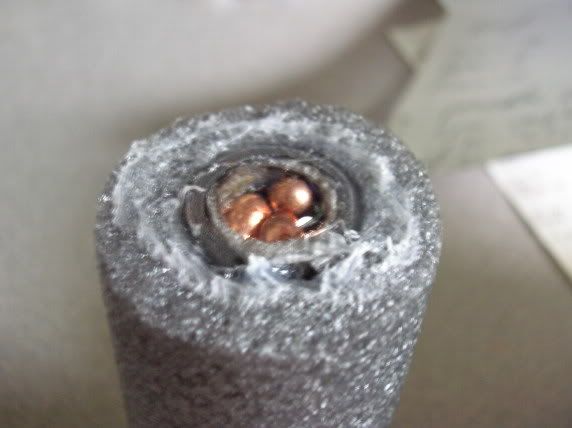 Now take your scissors or knife and cut a round piece of craft sheet to fit over the top of the unfinished bomb. I suggest making it a little bigger than the end and trimming it to fit. Glue it on there using LOTS of glue and it should be finished! Hopefully the bomb will look about like this. Oh, and after the glue is all dry you can add some electrical tape around the seam between the pipe insulator and craft sheet for added durability and schmexiness.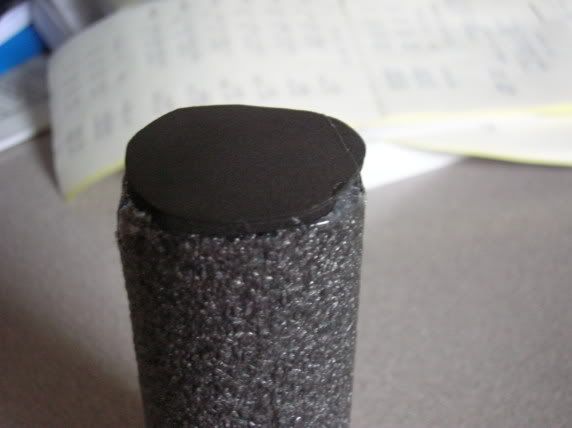 Here's the video to prove that these bombs will actually work. To fire them you can either use a certain size of large PVC (Renegade told me it was 1 1/4" PVC, I think. Can you clarify Ren?), or as I do, use a short barrel of CPVC about 5 or 6" long with enough electrical tape on the end to make a snug fit. This video shows the grenades being fired from my fugly 3k (it wasn't my choice to single it, get off my balls), which is pretty much my test gun for new concepts.
http://s3.photobucke...grenades013.flv
As you can see, the bombs don't get the best range, but for explosives wars they're a cheap alternative to LBB missiles and Nerf arrows. We play that if a piece of any type of explosive ammo lands within five feet of you you're out. These are good for lobbing at targets, and the ROF is pretty good.
Edited by NerfMonkey, 03 August 2006 - 05:22 PM.