First, and most importantly, when looking over this mod and write up, bear in mind that the main goals here were to make as compact of a sidearm as possible with the least amount of materials/complications. I say this because I really did not have any legitimate materials on hand when I went to make this, so I just made do with whatever I had lying around. Enjoy.
First, cut off the ammo holders and remove the slider like so:
Then, take the female part of the plunger and cut a small part off the front and replace it with 1/2" pvc that is of the same length so the total length of the male part is the same as before.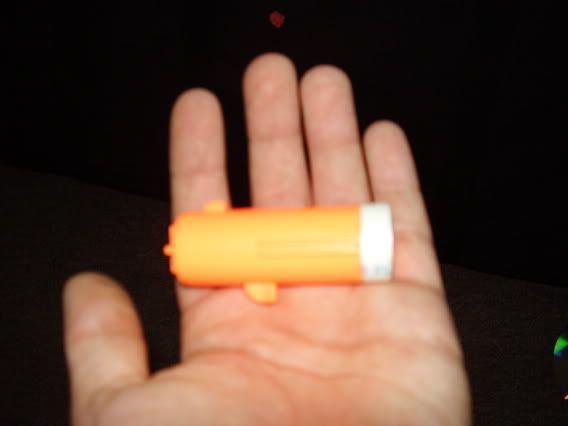 Next, cut a niche on opposite sides of the 1/2" pvc so that they are in accordance with the existing crevices. In other words, cut the pvc in such a way that the piece of pipe can fit in nicely with the track on the inside of the casing.
For the barrel, I just used a crayola barrel, and I also had no O-rings so I just used e-tape for a seal. Although you don't see it in the pic, there is also tape over the back end with a small hole punched in it to tighten up the air flow.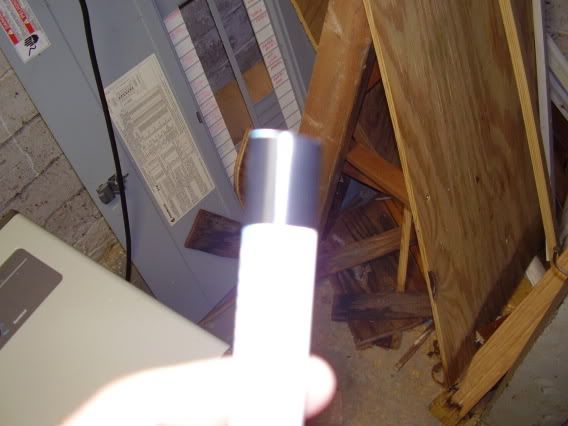 Insert sexual innuendo here. Whoops, I mean lube up the shaft and stick it in. Super glue the front end of the barrel to the inside part of the casing where it should fit perfectly/rest snugly.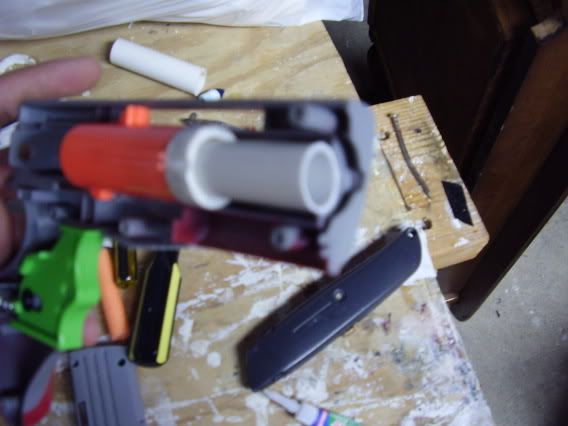 Close it up and it'll look like this.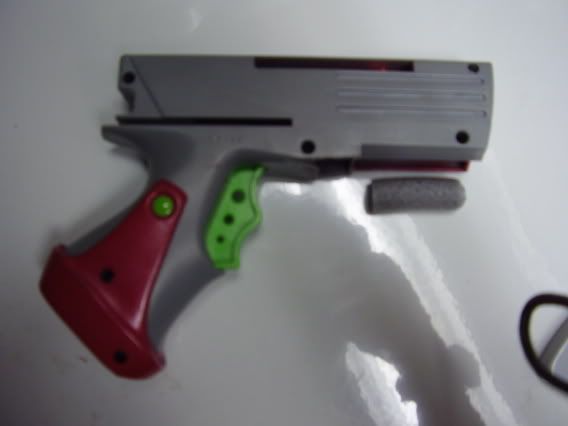 As you can see, I also made slightly smaller stefans to use with this, just because everything about it is so tiny. Also, in the picture, I haven't put on the zip tie yet, but for those of you who can't figure it out, just run it through that slot on the top in front of the orange part that sticks up. This will serve as your means to cock the gun while maintaining its compact size. Just as a disclaimer, this gun is really best for people like me i.e. people with tiny hands. Seeing as the ultimate goal here was to make a powerful sidearm as small as possible, this is not recommended for those of you who have dustbins for hands.
And for those of you wondering why I didn't just take off the slider and put on the zip tie: I wanted a better barrel (and one without air restrictors, for that matter) for a little more distance. Also, the original male part of the plunger had that retarded arrow like shape to the front of it and I didn't want anything sticking out of the front of the gun. Cutting that part off would have just made that part of the plunger too short and the darts still would have been sticking way out the front because I couldnt remove the barrel stem and restrictor, so I would be using only micros. This way, I can use either stefans or micros without anything sticking out of the front. Again, enjoy-
-Sixo