OK your RF20 can unload 20 shots in 3 seconds, but doesn't have the range you want it to right? Well this mod helps you geet ranges over 50'.
PART 1
-5-8 stock darts
-RF20
-screwdriver
-hotglue
Unscrew that big black casing and just burn it, light it up with a paintball gun or something Unless you like for some reason. Now unscrew the gray casing. You just need to unscrew the screws on the right side for now.
Now take the turret out. Unscrew the screws of the turret which should be no problem. Now watch 20 AR pegs fall out. You may want to keep these but YOU DON"T NEED THEM AGAIN FOR THIS MOD.
Now here is where you need 5-8 stock darts. Chop them up into 1/2 inch sections OR less. You need to make 20 if these(one for each barrel)If you are using stock darts then make these slices about 1/4 or 3/8 inch But if you use stefans you can slice them up into 1/2 inch sections.
Now take a a hot glue gun and hot glue the little "ring stubs" left in the barrels and put the stock slice on it so it looks like you have a 1/2 inch stock dart barel. Make sure the hot glue gun doesn't get too hot or it will burn the foam. Now do this for all 20 barrels.
Now put the other half of the barrel on and it will be tough because the foam should create a perfect seal. Now screw your turret back into place and put it back in the gun. Now you have completed this quick mod.
The turret should look like this: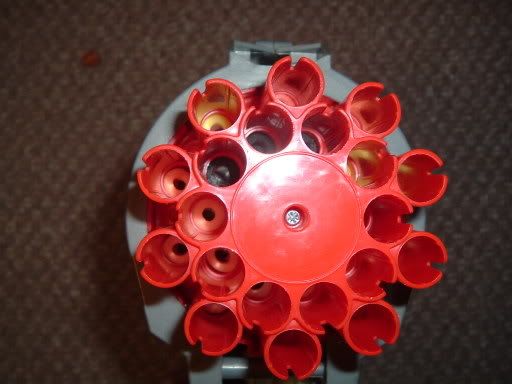 Gun:
This mod really helps! You should get around 50'. If you have any questions just ask me. Thanks
Edited by nerfer34, 31 December 2007 - 11:41 PM.