So...last night was WINDY. A very large branch got blown off a tree in our yard, taking all our power lines with it. As a result, I had no power for most of the day, which of course meant I really wanted to get out and build something. *sigh*. So, I got out my trusty pocketsaw and some tin snips, and started messing with a few half-finished projects I had lying around in the garage.
I'm actually quite satisfied with what came out of it.
It's pretty simple, and mostly a SNAP rip-off. I like it because it's got decent power, and it's, well, tiny. Check it out: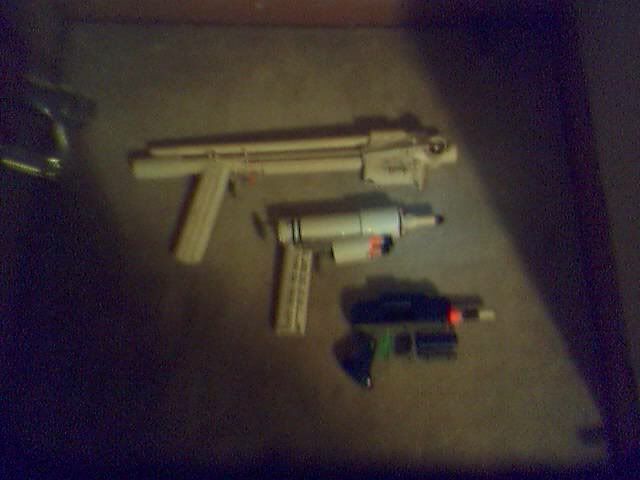 That's the KISS-3 on top, the Pocket Pistol in the middle, and a crossfire on the bottom.
It's powered by two beefy springs, with a little under 1.5" of plunger stroke.
Here it is uncocked: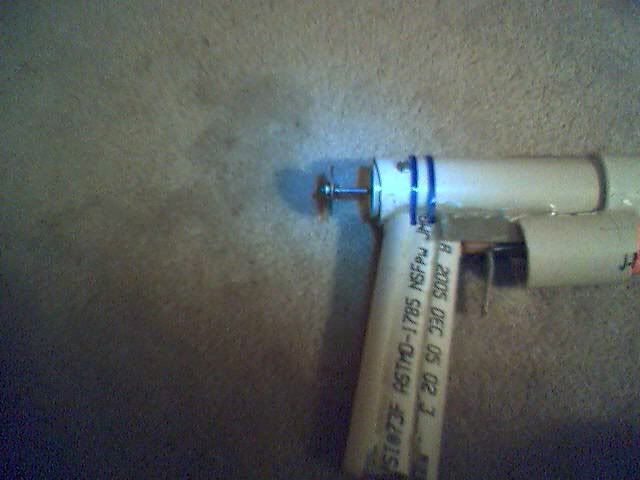 Now cocked: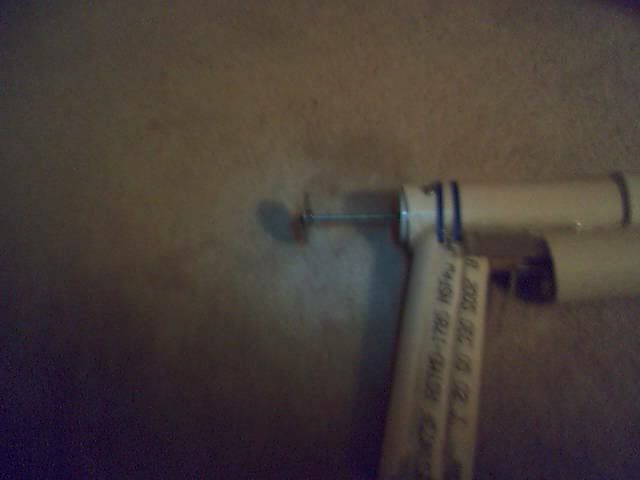 I changed the plunger setup from what carbon uses. Instead of aluminum tubing, I based it off of really skinny allthread (I want to say #8-32, but I'm not too sure about that). The plunger head is a 3/32"X1.25" stainless fender washer and a cut-down 3/32"X2" fender washer sandwiched between two hex nuts. The catchface is a washer held in place by two hex nuts. The pull-thing on the back is another washer held between two hex nuts. Everything can be moved around and adjusted, because the whole rod is threaded. It's also surprisingly light.
I decided on a stock-length barrel. I could probably squeeze out a little more power with a longer barrel, but I like the small size, and there's not a whole lot of air output to begin with. Plus, stock darts work nicely in it.
At about 7:00, the power came back on. I immediately fired up the hot-glue gun, and added a cover for the clothespin, which immediately got some CPVC ammo holders inside it.
Here it is, loaded up with suction darts:
The back end plug is a 1" PVC plug inserted into the plunger tube and held in place with some sheet metal screws. This means that the spring stop is actually in front of the grip, which results in a more compressed spring.
Overall, I like this blaster. It's a lot more like something Nerf would make, which is a lot of fun for me.
No range testing yet, maybe some tomorrow.