Well, after much deliberation, the first SOBR variant I will be punching out is going to be finished sometime this week. First off, this thing is a bullpup rifle usign parts from an AT3k, but only the valve and maybe the pump, so it is still a homemade. Now, on to why I called it what it is called, which also make up the parameters I neded to meet with the design.
Silent
: I made a silencer. I deserve a cookie. In all seriousness, after making 20+ silencers in my 8 year Nerf career, I have finally developed something which works better than most (if not all). I have pictures of it later in this post. The secret to it: toilet tissue. Yes, that magical thing which seperates the Western world from the Middle East, since TP over there is too expensive for most of the poverty-stricken countries' populations to afford it. Do NOT touch their left hands, whatever you do. It's called "southpaw" for a reason. Okay, that was not meant to be offensive, unlike my new homemade.
Offensive
: I needed something which would still fit my playing style: screwing with the enemy in their own base (I'm Covert Operations for a reason, people). What I mean by this is shooting them once to get them to withstand only one more shot before they are out. That is the greatest thing to do for two-shot CTF. In order to do that as undetectedly (umm...I like to make up words...) as possible, I would have to have a silent, yet compact, blaster.
Bantam
: This is a synonym for short(er/ened). I wanted the gun to be less than 30", even though the spring design I have is roughly 42" in length, or the length of an M16A2 with 20" barrel. Yeah, anything from compact. That is one of the other things which lead me to make it pneumatic instead.
Rifle
: It's a rifle. Duh. It could be a pistol, but I want (re: need) a rifle.
Pneumatic
: This is the pneumatic version. Yes, there are two versions. One spring, one pneumatic. The spring one will start to be made after MidMI.
SOBR
: Pronounced "so-ber," as in, sober, like not under the influence. I took a nice break from posting for 24 hrs. after posting a total of 26 (3 after the timestamp of a PM I received telling me I was at 23) posts within 24 hrs. Yikes...Now that I am sobered up from posting, well, I felt that one of my first posts should be about this neat project.
Well, I can not take full credit for that name. Flaming Hilt and Carbon gave me the idea with a few names they came up with.
Other info: I'm using the same breach described by a member of East Side Nerf. Google them, if you want. The gun is based off of an AT3k, since they still are available at my local Meijer and TRU. I think they may even be at my local Target. Anyway, I will be using a peculiar trigger link to get the actual trigger in front of the valve as far forward as my barrel will allow me. Pretty much, I'd like to use 10" of 1/2" CPVC as a barrel and have my trigger at the 6" mark, allowing me to put the valve 6" behind the trigger and have 6"-x"=y" behind the valve for the stock, where x=length of the valve and y=length of the 1" Sch40 PVC attached to the valve between the valve and the 90deg elbow which starts off the stock. I have a peculiar way of priming this gun, by the way, which makes this a homemade. Since I want to have a quick follow-up shot, I decided to use a tube of 1" PVC 4" long attached in front of the trigger guard as a reservoir for the firing valve. Inside that 4" of PVC, there is 125 psi of air from my air compressor (135 at MidMI), reg'd down to 20-30 psi for firing. That way, I should get at least five shots off before having to resort to a contigency plan. Anyway, the reg is attached directly to the PVC. After that, a fitting gets me from pipe threads to vinyl tubing used in Nerf guns. Now, so that I can fire without having to be near a compressed air source, I can use the stock AT3k pump to prime the chamber as well via a tee fitting I will be adding later. Oh yeah, I have a double-needle air gauge monitoring both the pre-out (reservior) and regulated (vinyl tubing) pressures. I like that gauge. It goes up to 150 psi, but I will never really be needing that high of a pressure...or will I...
So far, I have the silencer completed and have started work on the breach. I have a question for everyone before proceeding, however, which is: Is there an easier breach to make for 1/2" CPVC besides the one which a member of East Side Nerf made out of 1/2" PVC? I'm trying to attempt that with a piece of 1/2" steel pipe, since it has a slightly larger I.D.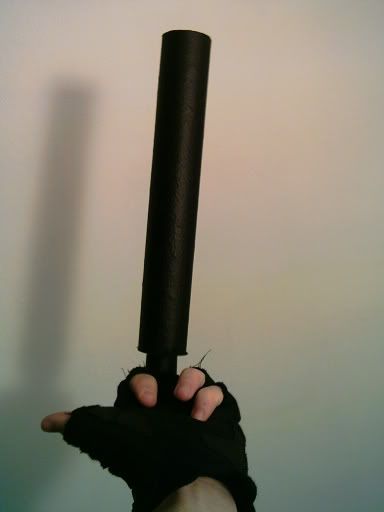 Complete Suppressor (is that picture offensive to anyone? If so, well, that was the goal of the rifle).
Suppressor core and sheath (prior to rubber coating)
Dual needle air gauge. Schuweeet...
Oh yeah, that's out of a 1973 Ford school bus. See, since we got rid of the last one of those six years ago, I figured that we wouldn't need this anymore since all of the Internationals, GMCs, and every other bus we have has remote senders and idiot lights for the airbrake systems.
More pics later (like tomorrow night). Too tired, shitty lighting, not enough components to dry-fit the thing, pick an excuse.
Anyway, questions, comments? Oh yeah, all of this stuff is not only feasable, I have done it all in previous homemades. I really don't know why I switched designs to something so simple besides the fact that I haven't owned a Nerf gun in almost a year and really need to get back to rebuilding my armory. That and well, why make a gun which takes almost a week to build when all that is left for this one is to buy a length of 1" Sch40, a 1" plug, and a 1" slip to 1/2" NPT adapter bushing.
Edited by GeneralPrimevil, 04 April 2006 - 03:57 PM.