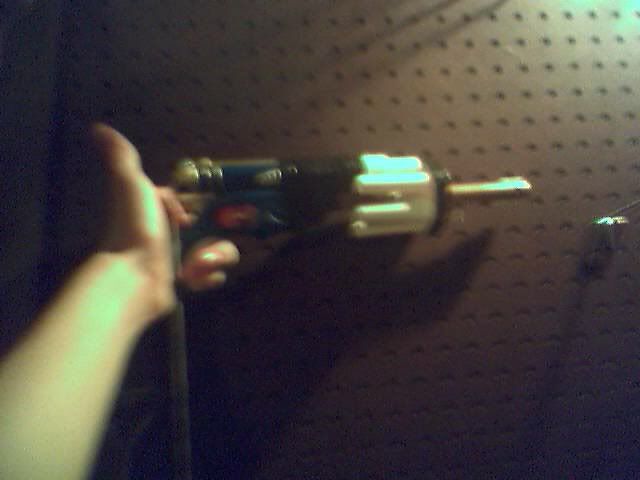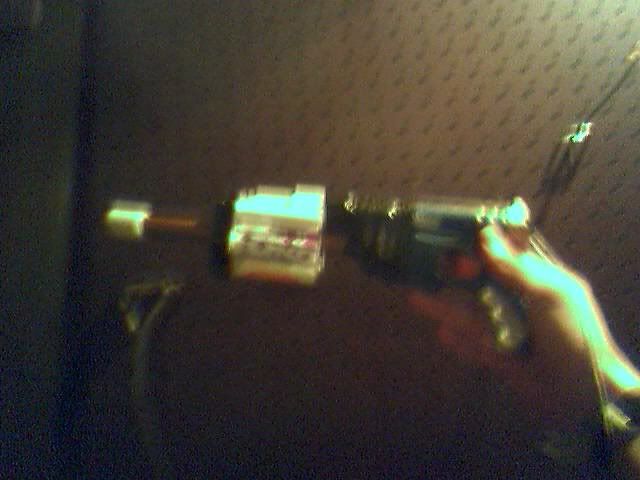 I know the pictures are horrible. Maybe later I'll get some better ones.
As you know, I've been into nerf for a while, but I haven't really done any modding, because I don't have any nerf guns besides dollar store guns and I don't have access to any FBR smaller than 3/4", which is really too big for dollar store guns.
Yesterday, I discovered that packing peanuts (the rod ones) fit very nicely in a crayola, and, when weighted with a single carpet tack, shoot great. These are my temporary stefans, until I can find some proper FBR. I rather like these, though, so I may just end up sticking with them. They're probably cheaper per dart, too.
So, I decided to mod my dollar store gun. It's actually really nice, internals-wise. It's got a fairly strong spring and not a lot of air restriction, and it comes pegless. The way they reduced power in this gun was by shortening the barrel. The stock barrel is about 3/4" long.
The mods that I did to this gun are:
Cut down old barrel, attached 1/2" PVC coupler and barrel:
-nothing much
Crayola turret:
-Since crayolas fit so nicely in PVC, I decided to make a turret operating on this. I cut six crayola barrels, and glued a ring of 1/2" PVC onto the end of each one. I then glued the rings evenly around a piece of 1/2" thinwall PVC, with the barrels inserted. The axle for the turret is a piece of 1/2" copper pipe, glued to the top dart holder.
Cocking string:
-The cocking rod had previously broken off. Luckily, it broke off behind the catch, so the rod is still functional. To fix it, I sanded the end in a cone-oriented shape so it wouldn't hang up on anything, then drilled a hole through it and tied in a string. I used an o-ring for a cocking ring on the back, because, as I learned with the KISS mini, a rigid one can pop up and whip you across the face.
The other cool thing about this setup is that I can make more turrets, and they're interchangeable, simply by taking off the little clip that holds them on, sliding the old one off, and popping in a new one.
Ranges:
I fired one full cylinder and got these:
41'
39'
37'
39'
38'
40'
Not great range, but it's a decent indoor war gun, especially for $1 total cost to me.
Overall, I'm fairly satisfied with this as a first mod.
Anyone have ideas for what to do with my other TTG knockoff?
Edited by davidbowie, 03 April 2006 - 03:43 PM.