Heres a very simple, yet powerful mod.
I took an ordinary Secret Shot II, and did also the standard mods, pluggin valve and also i cut of the barrel and removed air restrictor.
After this, I glued a 1/2 inch pvc as a new barrel and thats it!
I shoot megas and when they hit someone, you can tell it hurts like a mother...
Although the range is not as good, around 68 ft. the power or the joules is around 1.6 joules, yes I did some math. So the power behind this gun is incredibly strong, and it makes a perfect sidearm "Magnum."
Heres some pics: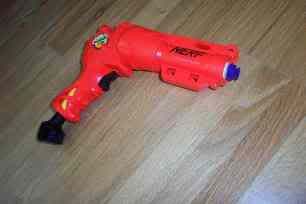 Feedback please, thanks