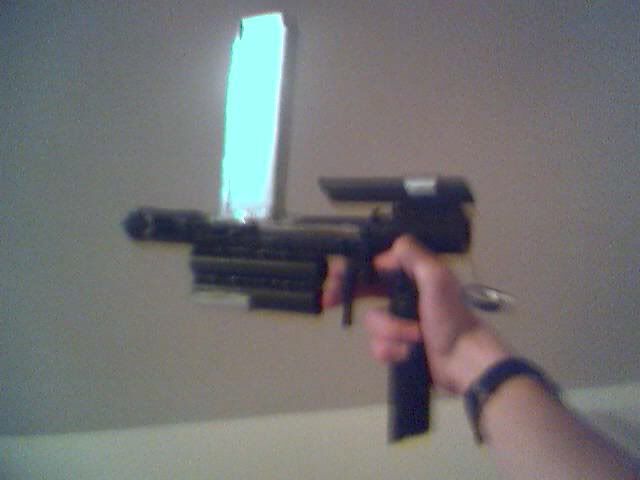 In keeping with my goal of making a high power and high ROF gun that any nerfer with basic modding equipment can make with no mechanical knowledge necessary, I just added the world's simplest magazine system to the world's simplest gun.
It's a 10 round box made of galvanized iron. I just cut a dart-length section out of the top of the barrel and glued the mag on via some tabs I cut in an arc at the bottom.
To make it simpler, you could use balsa or cardboard, but I like the feeling of metal. It's quite sturdy.
There are absolutely no internals to this gun, even with clip feed, because there's no need to seal it. The advantage is that I can still shoot paper darts with the same performance. It's kind of like having "close range mode" and "sharpshooter mode", being able to switch between the two.
The feed is quite reliable, and the occasional jam is easily fixed by simply cocking the gun and firing again. As was the case before, it's important to keep darts square at the back to prevent such jams.
The clip doesn't ugly the gun up too much, it rather looks like some sort of WW1 SMG.
I haven't been able to test ranges yet, because it's quite windy (tornadoes all over eastern MO) and I ran out of weights. It seems to have no drop in performance.
I like to think of it as an improved maverick. It has 2 more shots, better range, larger caliber, with the same ROF.