About half the props for this go to Sunchip, whose idea of a Reactor shotgun with CPVC barrels gave me this idea.
This is NOT a writeup. I'm sorry to those who wanted one, but I will probably post a writeup for a Ball Blaster, which is the exact same thing, in a few days.
This is just proof that the Reactor can be modded to not suck. Mine gets about 55' flat with MEGA Stefans, and I'm sure it could go upwards of 70' with micro Stefans, just look at the thing. Okay, enough talking, here it is.
Here's the barrel assembly:

I know it's hard to see, but there's a 1" PVC coupler, a piece of 1" PVC in there, a 1/2" PVC coupler Plumber's Gooped in there and a (not shown) 10.25" barrel of PVC for mega Stefans.
A view from the back of the assembly: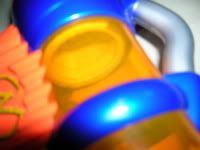 The middle of the gun (I had to Goop it back together after cutting it down the center to get all the internal crap out):
And here's the finished product:
And finally, the video that shows how un-sucky the gun is:
I know I look like a huge dork in the video, but hey, I'm a Nerfer. Tell me what you think (of the gun, not me)!
Edited by NerfMonkey, 26 December 2005 - 09:04 PM.