Hey everyone. I relized something today when I woke up....I haven't contributed anything to this site. Well here's what I have in store for you all today. I have done a CPVC mod to my FireFly REV-8 from the N-Strike line. This is a pretty bad gun out of the box. Springs and restrictors removed isn't to great. But with CPVC you can up it again (of course you may be able to get more range with other materials)
So here are some steps to mod your FireFly REV-8 to a decent gun.
Materials you shall need for this mod;
1/2" CPVC
Hacksaw
Pipe Cutters (Not neccesary but I like them)
Hot Glue gun/Glue sticks
Screwdriver (Philips Head)
A good patients
Step 1.
Open up your FireFly REV-8.
This step tested my pateints because the back is glued shut or something.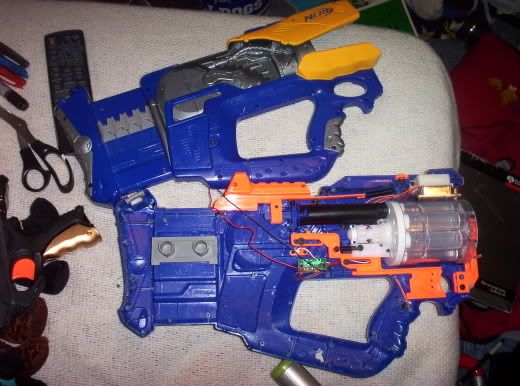 Here is a better veiw of the internals if you get lost and don't know how to put the gun back together.
http://i5.photobucke...89/000_0374.jpg
Step 2.
Take out the screws that hold the turret in place.
**NOTE: you do not need to take out every screw in the gun. Just several of them.
Now picture for this step.
Step 3.
Now get these screws out of your turret.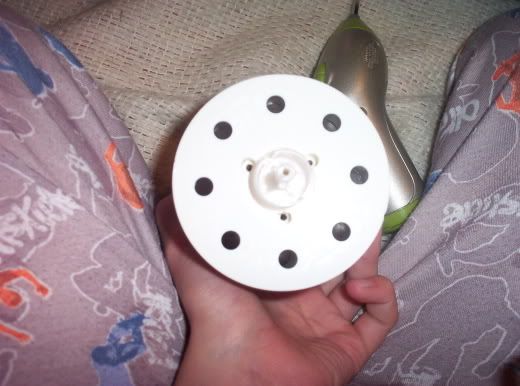 Step 4.
Pry open your turret. I used a flat head screw driver and pried it off.
Here is a picture of the 4 parts of you turret
Step 5.
Saw off your magical little stock barrels, then burn them laughing. (Cut where I have my magical little black marks)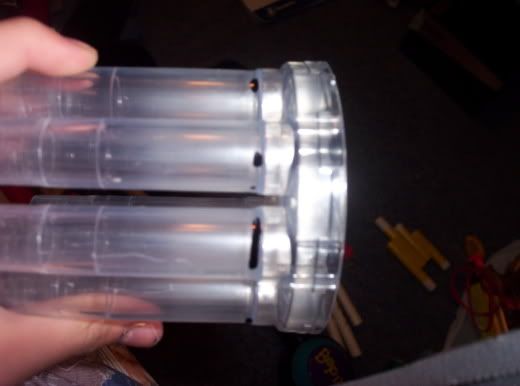 Now your barrel part should look like this.....
Your actual barrels should be kind of like this.
Step 6.
Cut your 1/2 CPVC into 3"long sections. 3" sections for me work the best for accuracy and range.
Step 7.
This is how I put my barrels in. Somehow the CPVC fits nice into the white part. (But glueing is still manditory)
**NOTE: I put my barrels in the one way (Worked good) if your barrels do not go in that way, simply file the end down.
Step 8.
Barrel should look something like this when finished.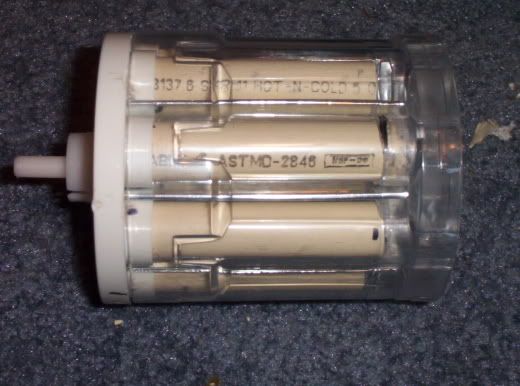 Step 9.
Put you gun back together. Refer to top pic of internals for help and reference to how to put it back together.
YAY! You now have (hopefully) modded you FireFly REV-8.
Ranges: Haven't tested but my basements like 45' maybe and it hits with nice velocity.
I'm guessing 45'-55' flat.
Hope you all enjoy a mod by Sqiggs.
EDIT: I seemed to have missed a step. See step 6 for proper step.
Edited by Sqiggs89, 02 November 2005 - 07:38 PM.