NF Coupler Mod
Materials: 1 NF, 1 1/2" CPVC coupler, about 4.5" of 1/2" CPVC, electrical tape, Dremel, drill, 3/8" bit, lots of hot glue, epoxy or Plumber's Goop.
Procedure
1. Take apart the NF. You shouldn't need a picture for this one.
2. Take out the plunger tube, take out the whole barrel assembly and toss it (unless you want it) and take out the small cap like thing in the end of the plunger tube, take your drill and 3/8" bit (anything will do actually) and put a hole through the "X" on the cap. You're going to need to Super Glue it (or epoxy, any kind of extremely strong glue) back into the end of the plunger tube, as we'll be putting a LOT of stress on it. It doesn't matter which side of the cap is facing out, they're basically the same.
3. Take out your plunger and take off the o-ring on the plunger head and wrap as many layers of electrical tape around it, until it fits very snugly in the tube and you know there's no air getting out.
Here's the plunger wrapped in tape: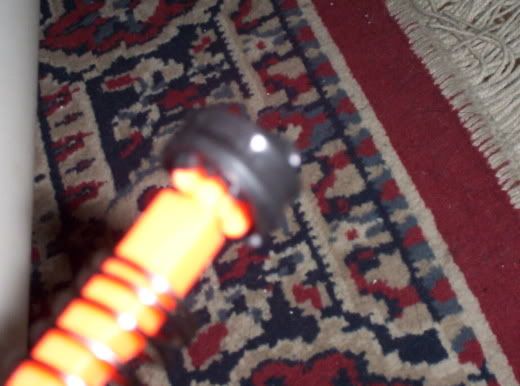 4. Take out your coupler and glue it on the plunger cap thing as good as you can. Use massive amounts of whatever you're using because this is hard to get to stay on. You might want to wrap it in e-tape when you're done gluing/epoxying/Gooping. Now add your CPVC barrel in the coupler. Don't glue it because the whole point of this mod is for changable barrels.
Here's the barrel assembly:
5. Now we need to Dremel out the case. I used one of those little sander type things and just went right in where the stock barrel used to sit up against (I'd already done a minimization on mine) and shaved it down...way down. But NOT so much that the coupler fits easily, we want the opposite, so that it doesn't move.
You have to look close, but you can tell it's been Dremeled:
6. Reassemble it! I don't think you need a picture for this either. Careful with the screw ports on the plunger tube though, mine all snapped and now the whole tube shifts whenever I fire or load the gun. Make sure you add a few bands to it so that the plunger can move through the tube - with all the tape on there it may not work right.
Range: 60-65' flat average, sometimes spikes over 70'
Accuracy: Excellent (can consistently hit a Tide bottle from 30' one-handed)
ROF: Good
I love this gun. The accuracy is superb, range is better than any other pistol I've got and the feel of it is just amazing. I've produced about ten barrels to date, which is plenty. I love to pop the barrel in and out and the beautiful noise the gun makes when I fire.
Oh, and I'm sorry for the garbage pictures; Sqiggs took those for me while he was over here with his cheapy little camera.
Hope you like it!