I just recently received my Big Bad Bow from amazon.com and am very pleased. I have heard many different sides to the BBB, either being very good in range or very poor (Ompa's BBB's being the prime source of that information). This being my first BBB, I was very hopeful that it would give me some decent ranges in exchange for a nice price tag of $20 + shipping. So I am telling you right now, I did not get extraordinary ranges, but I did not get very poor ones either. I am very pleased with the BBB after a simple barrel mod has been done. And this is what I did:
First, take that nice piece of plastic out of the box and take in her beauty. Next, remove the ten screws at the front of the gun to access the barrel assembly. This is what the front end of the gun will look like without it's shell: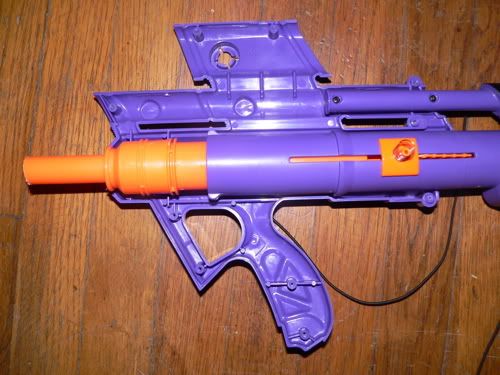 If you are not an idiot like I am, you won't hesitate saving the two orange nubby poles with their springs on the side of the gun. This is what actually keeps the gun cocked, something I did not know and almost threw away vital pieces.
Next, remove the barrel at the front, simply by pulling it apart from the rest of the plunger. Inside, you find these goodies:
That pesky air restrictor lies inside the barrel of the gun to greatly decrease range. Take the pole, spring, and circular restrictor out and throw them away. **Note that I do not have the small piece of the air restrictor that was at the very tip of the barrel. Before I even opened the gun, I sawed off about an inch off the barrel, hoping that I would not need to open the gun. If you choose to open the gun and get all of the air restricting material out, you will still need to either dremel or cut off the very tip of the barrel. There are four grooves at the tip that will not allow another barrel to fit inside.
After all the air restricting material has been removed and the tip of the barrel has been cut, you now have many differet options. You can wrap tape around 9/16 brass and wedge it down the barrel, add a 1/2 inch pvc coupler to accept a plethora of different barrels, add a crayola, or other various methods. Because I did not have any strong glue to bond a pvc coupler, I took another route. I took a piece of SCH 80 and wedged a 1 1/2 inch piece of 9/16 brass partially in the SCH and the rest sticking out to adapt to the original BBB barrel. I realize how short I left the original barrel and probably should of left more, but I can't go back now.
IMPORTANT EDIT CONCERNING BARREL MATERIAL
I initially used a very unique barrel setup, with the SCH 80 and brass and all. Disregard this barrel setup. Use about 8 inches of 9/16 brass or other barrel material that fits your darts.
With all the above stated and a white paintjob done, this is what I got: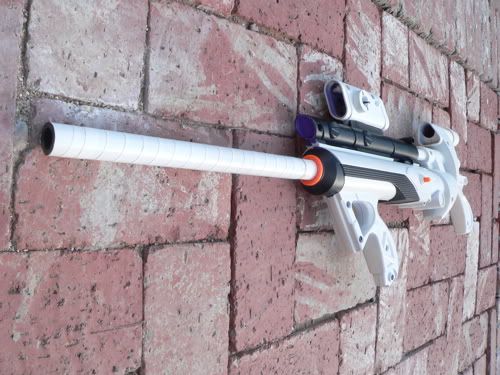 Night shot: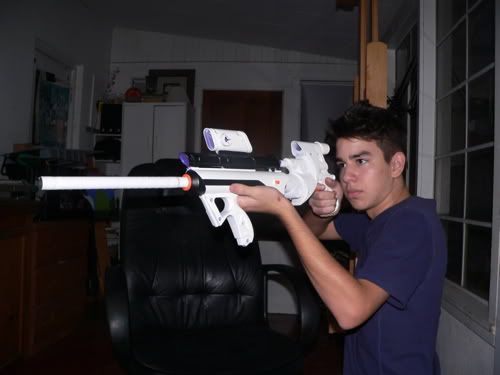 I used Krylon Fusion paint for the first time on a gun, and am very pleased with the results. Being a beginner at painting, there are some rough spots and purple showing where the gun slides back, but I still love its appearance.
Now for some ranges. To get things straight, I will show you what I consider a level shot, and an angled shot.
Level shot:
Angled shot: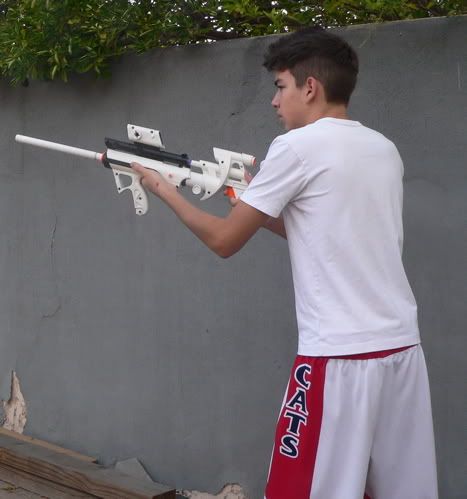 Now, back to the ranges (All the following was tested with 12 inches of 9/16 brass). With Dylan's leveled shotŪ, I am able to achieve an average of 90.83'. With Dylan's angled shotŪ, I am able to get an average of 92.40. All shots were tested with a 1 1/2 inch tight-fitting stefan dart. All measurements were based off of the heel-to-toe method. My shoes are 11.5 inches long. I measure by taking the number of steps multiplied by 11.5, then dividing my answer by twelve. For future reference, this is how I measure all of my ranges.
In conclusion, I love the BBB. I have always dreamed of getting one, and I highly recommend purchasing it. If there are any questions, feel free to post.
EDIT: Meh, grammar.
Edited by CustomSnake202, 02 April 2006 - 08:30 PM.