I was working on a bullet for my dream gun(M16) and thought about a new bullet.
This is the image, The tip is actually suppose to be shorter.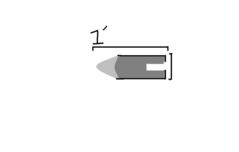 it would make the mag smaller, use the standard stephan, but make it shorter. I also modded the Zero dart, all you have to do is add a few strips of the foam, and turn it into more or less is a dart with rifleing.