I've returned (probably briefly) to bring you the Rose's Judgement, the first of the series of modified and customized blasters I'm designing.
I've been working on it for weeks so I can give it to my friend as a birthday gift.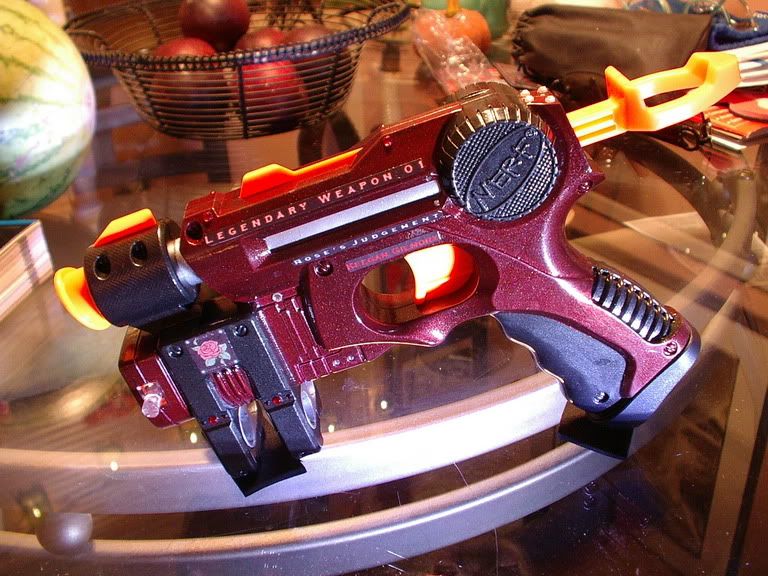 The blaster was custom painted and detailed by me. It has a stretched spring and removed air restrictors. I left out a brass barrel for two reasons. The first reason is that I wanted to keep outer area cutting to a minimum (in this case a complete absence). The second reason is that I wanted to make this blaster more of a close range, high ROF weapon.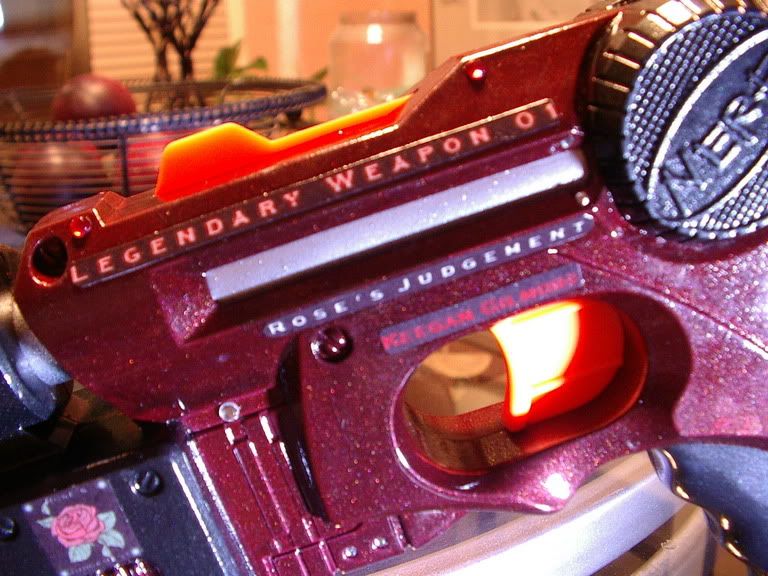 Here you can see the custom stickers I made in photoshop, printed, cut and applied myself. Look closely in these pictures and the others to see the rhinestones I've applied for detail. They're made from real glass.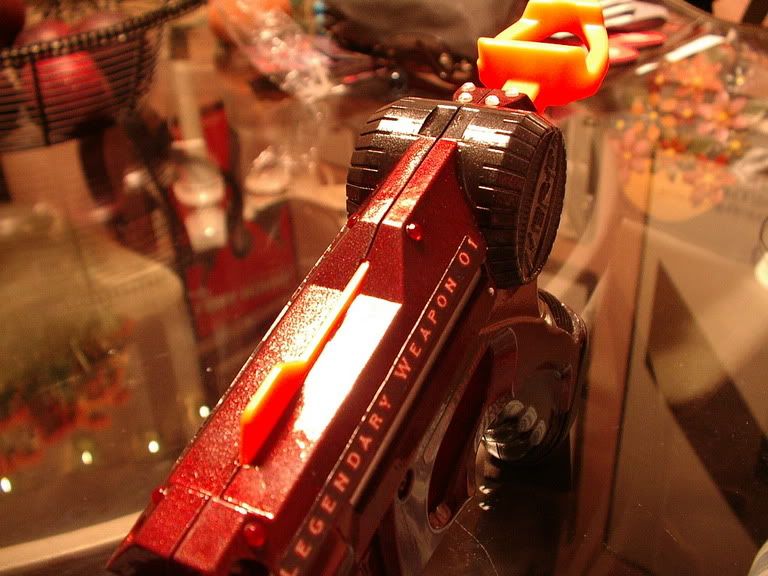 Here you can see more rhinestones on the top, and on the laser casing. Also, pay attention to the photos to see silver painted parts: Plunger tube, front barrel (not the tip), and the ammo holders.
The Legendary Weapons are made to reflect what's inside of my friends. Therefore, I can only make them for people I know very very well. However, I won't make them for my friends that won't treat them well or won't appreciate my effort.
The Legendary Weapons are supposed to come with a fictional backstory, too. However, I have not had the time to write a backstory for Rose's Judgement yet.
These blasters each have a set of rules. Only the person I chose to recieve the Legendary Weapon may weild it in combat. The only others that can weild it are the creator of the weapons and other holders of Legendary Weapons. This is to preserve the personal meaning of the blasters, and to add a little mystical rule just for fun.
The next Legendary Weapons are already in planning.
Legendary Weapon 02: Getsurei (weilded by me)- Crossbow. Modified with a long removable brass barrel, a four barreled AT2K setup mounted in a custom casing below the foregrip, a laser point sight, a flashlight mount and foam grips. Custom painted deep purple and metallic black with metal plates, machine screws and custom stickers for detail.
Legendary Weapon 03: Deep Thunder (weilded by ???)- Titan AS-V.1. Modified with a 12" removable barrel, a scope and a sling. Deep blue and silver with white details and lightning stickers.
Legendary Weapon 04: Stainless Death (weilded by ???)- RapidFire 20. Minimized with a sling and a flashlight mount. I'm not sure of the coloring or the details quite yet, as this project is pretty far away.
Keep in mind that 03 and 04 aren't final yet, and I suppose 02 isn't really either. But when a new Legendary Weapon is completed, I'll post it here.
My new username is IceAnubis, but the administrator has not verified it yet. So, I just used my old account to post the Rose's Judgement.
~Anubis