I thought I'd try to document my experiences this year in travelling cross-country for Armageddon. Some pointers, do's and don'ts, that sort of thing. Not too many photos in this one, given the time frame, but that will make for some more creative writing on my part. Enjoy!
The Four-Hundred Dollar Nerf War
That familiar noise goes off again. Alarm clock, time to wake up! I have to keep telling myself, 'Yes. I am on a plane. Going to California. From the East Coast. To go to a Nerf War.' I just paid for my ticket a month ago, and the time has come for me to actually...well, 'go!' I'm not so nervous, as I have done this once before. No checked baggage, I can zip in, check in at the counter, and board with ease. No red tape involved with losing any baggage with connecting flights or security checkpoints. I am good to go.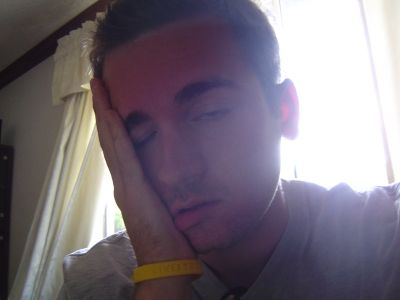 Screw the coffee, screw the milk, and screw the orange juice. Gimme some Green Tea and I'm set, bitch! Side note: This picture was actually take after Armageddon. I couldn't find my camera until I got on the plane, sadly.
7:30am - Wake up. Shower. Get dressed.
8:30am - Meander to the airport.
9:30am - Arrive at airport check-in. Get boarding pass. Eat something. Wait. Drink something. Wait some more.
10:45am - Board the plane, wait for take off. I'm off to Armageddon!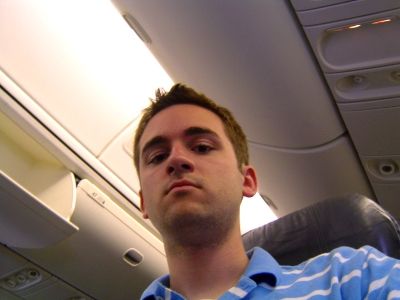 I hope this fat lady doesn't come park next to me. Please, God. Please? She's getting closer. Aw shit. Awww, fuck. Yep. Dammit.
So I board, and a large lady sits next to me. No big deal, I'll just be sleeping. Oh wait, she fell asleep...on me. I'll have my iPod jacked up and nobody will bother me. Well damn, those little kids in the seat behind me are pretty loud. Turbulence. Great. There goes all my ideas. This is gonna be a great flight!
A few key factors to avoid if at all possible when flying out to a Nerf War:
Pray a large person does not sit next to you. They slowly leech away your space. First it's the arm rest. Then the foot room. Then, the next thing you know, they're asleep, drooling on your God-damned shoulder. It's probably going to be a long flight if you are flying out to Armageddon, and this would make for a most uncomfortable experience.
Avoid large families with many little kids at all costs. Planning on sleeping during the flight? Forget about it. Little Billy just downed five Pixie Stix, and he's got enough fuel for himself to get to fucking China. A dependable portable music device can easily remedy this, providing your volume can overcome the jet engine noise + little kids in the background.
So, I arrive at my connecting flight in Atlanta. Didn't bother to grab a bite to eat because my boarding pass said that there was a meal provided. Sweet, that will save me some money.
1:50pm - Board connecting flight. Take off.
2:30pm - Twiddle thumbs. Look for stuff to do. Nothing.
2:45pm - In flight movie is announced. I cry.
Okay, in flight movie. "Things could be looking up!" I reassure myself. "All is not lost!" I keept telling myself. Then I see it. Foiled again...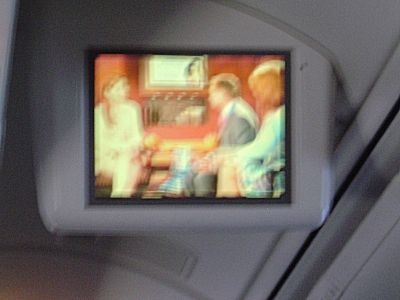 Miss Congeniality 2: Armed and Fabulous? More like, Miss Congeniality 2: I'd Rather Fucking Kill Myself.
Be careful of those in-flight movies. Take a browse at your programming schedule inside those magazines in the seat pocket in front of you. Miss Congeniality 2: Armed and Fabulous? Must have forgotten to see that while it was still in theatres. Or maybe it sucked so hard that it formed a black hole the size of Texas over the movie theatre, attacking anyone foolish enough to come close. Be careful about shelling out those two to five bucks for the headset for the movie, if it is even worthy of a viewing. Sometimes your headphones from your portable music device can work just fine if one of the stewards can provide you with an adapter for both plugs.
Okay, time for an in-flight snack. Woo hoo! Wait...what's this? Wha- where's my sammich and chips?! What the fuck?! Foiled, again!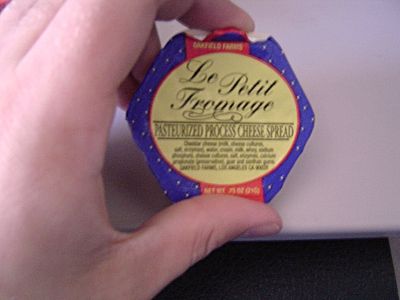 "Le Petit Fromage?" No thanks, I'll le passť.
Avoid Le Petit Fromage at all costs. Ask for some peanuts, or Sun Chips, or something else. Don't get me wrong, I'm all about the cheese, but this shit is horrible. This shit is like cheese flavored sand-paper. I couldn't get the taste out of my mouth for hours.
Time passes by oh-so slowly when you're hungry, sleep-deprived, and bored. Luckily I still had my iPod with a good amount of juice left in it, as well as a pencil and paper to sketch on. I spend the next subsequent two and a half hours sketching DbF stuff in my sketchbook.
3:20pm (West Coast Time) - Plane lands. My body thinks it's 6:30pm, but those three hours in the plane don't count when you do the time shift. Sucks, doesn't it? The price you pay for flying to Armageddon.
3:30 (West Coast Time) - I get off the plane, and promptly make my way to a restroom. I pee for a good two minutes. You think I'm joking?
3:40 (West Coast Time) - I wander aimlessly out of the Delta Airlines gate into the oppressive California sun. I tan instantly.
6:00pm (West Coast Time) - I arrive at Le Fortress au Cxwq. The Mecca of Nerf, as it were - was the sure-sign that I was finally in friendly territory.
Bow down in awe. This is holy ground!
I stagger out of the car to see a holy light shoot from the sky, illuminating the pathway into the land of Cxwq. An assload of assorted NIB foam weaponry greets me. I smile back. I have made it.
9:00pm (West Coast Time) - We do some last-minute war prep after getting a bite to eat. I soon collapse.
10:00pm (West Coast Time) - I collapse. My body thinks it's 1:00am East Coast Time. Tomorrow's the big day...I better get some rest. It's been a long day. Large people, hyper children, rough cuisine, even more rough with the movie choice. I think I might deserve some sleep.
The trip was certainly a one to remember, kudos to Cxwq and Julie for letting me crash at their place again, it was very generous of them. It was a tiresome journey, but I managed to come back with all limbs and otherwise important parts still attached. Thanks SoCal Nerf, you fucking rocked me again!
-Groove out.