The At2k Luger (sort of... I feel a red jacket approaching!)
My goal was to make a high-performance airsoft loser rifle, and I succeded. But obviously, this is a nerf forum. So, here's where this post brings its relevancy.
I used an at2k to power this thing, and tried to make it as small as possible by removing most of the Spaceman Spiff aspect of the gun. I love Spaceman Spiff, but hey, I'll make a death blaster later.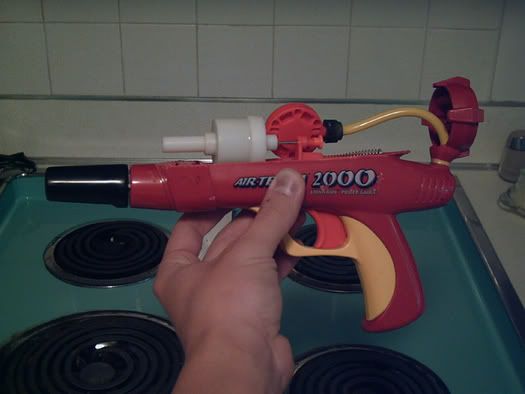 I basically sawed straight across the shell of the gun. Then, I took apart the liquid cylinder, drained the goo, and sawed off the cylinder. Then I filled the resulting hole with goop, let it dry, and put it back together. I'm pretty sure that the goop part is completely unnecessary, as the cylinder appears to be completle sealed off by the rubber diaphram (which is very important to put back!). I also cut off the circular fixture at the back of the gun that held the clear dark plasic cylinder. At the time of taking the pics, I was going to use it as some sort of site.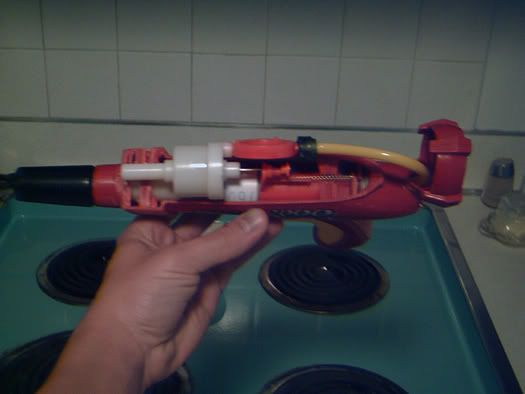 After the sawing of the shell was complete, I had to affix the tank. This was done by hot glueing a small sliver of 3/4 PVC approximately an inch long directly to the pump shaft, then hot gluing the airtank in front of the PVC sliver. Then I put some e-tape around there for security (not shown in the pictures).
NOTE: Prior to this, I had unscrewed the part where the tube connects to the liquid cylinder, and screwed it back on, resulting in it being cock-eyed like in the picture.
If I was just trying to make a small nerf pistol, I would have then stuck a 7" piece of 1/2" cpvc on the valve to make a barrel, and put something between the barrel and the body to act as a space (perhaps a ramrod hoilder, then e-taped the bageedin'
geesus out of the gun, perhaps adding some sort of covering to the back to protect the air components. And then I would have had probably the most power per square inch ratio of any nerf gun.
But I didn't. I made an airsoft rifle, that shoots faster, farther, and more accurately than my Tanfoglio. Sure, not too impressive, but I did make it myself, and it doubles as a shotgun! Woo!
I just need a name. Suggestions? I do plan on adding a covering to the back later, but would greatly appreciate any suggestions on how to do that (I'm thinking balsa wood). Hope no one gets offended by the airsoft plug, but it really was my main goal, and I figured any contribution to covert-nerf-ops would be appreciated. And please don't berate me too roughly if this has been done before.
Copy!