Well as you can see here...
http://nerfhaven.com...?showtopic=4762
Starbuck and Ompa were discussing how the backlash is very underrated. Well, I most certainly agree. After reading that topic I was inspired to whip out my old backlash and see what I could do with it.
Here's the finished product: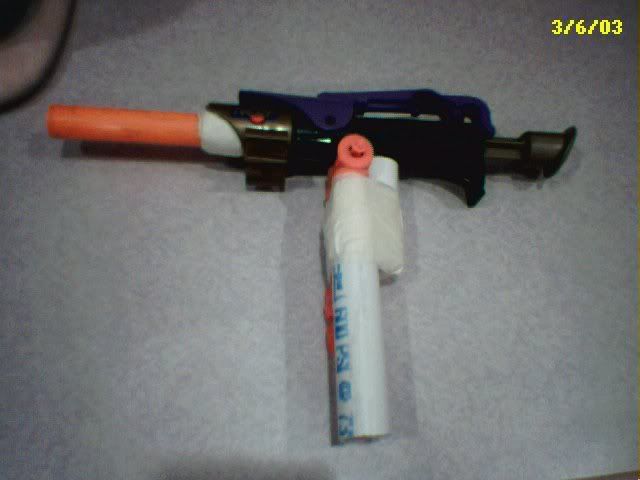 I cut down the existing stock barrel and some of the gold part on top, which was getting in the way.
As you can see here,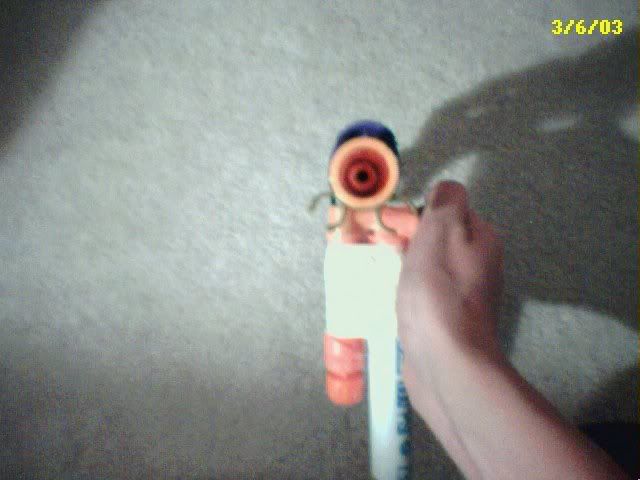 the cut down stock barrel didn't leave a very big hole, so I was surpised at the air output. I used the stock barrel from a Lanard Blast Bazooka and it worked perfectly. It is secure and airtight.
Then I attached a
SSPB
with a pvc barrel and a plugged pump. Unfortunately, there is an air leak and it shoots about 20-25 ft. Perfectly, good for a last resort defense shot though, which is what I intended it to be.
I set the
sspb
up the way I did because the triggers can both be reached by my thumb. The Backlash has an awkward trigger and now I can use my thumb to fire both that and the
sspb
.
I don't have exact ranges yet but, the backlash easily surpasses my modified NF which gets about 55'
And as earlier stated the
sspb
gets about 20-25' due to the airleak. I plan on getting a replacement.
Edited by Arcanum, 22 July 2005 - 08:55 AM.