I've had a couple of airtech 2000's lying around for the longest time, but never wanted to barrel mod them or intergrate them with another gun. So I decided just to gut one of them just for the airtank and pump. I took a piece of black plastic tubing I had lying around to cover twelve inches of 9/16 brass tubing. I located the pump right under the barrel with the help of some spare plastic to give space in between the two. Then I hot glued the two pieces together and wrapped the whole thing up in electrical tape. I also plugged the over release valve.
I added six pieces of brass on the left side of the gun for ammo holders and I also put on a led light that is surrounded by sch80 on the right side (also used on my NFM4). I also added a clip from a keychain on the metal release bar on the back of the pump. Let's have a look...
View from above: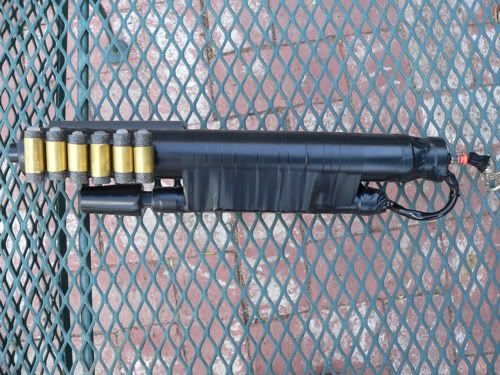 View of the front: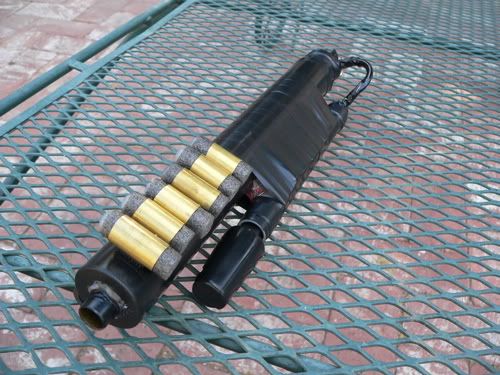 View of me holding the gun: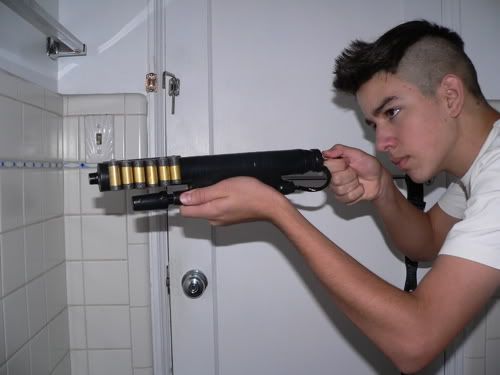 I loaded up the gun with three darts at a time. The darts measure out to an inch and a half. With three pumps, I acheived the following results:
Shortest of the three darts: 51.75 feet
Middle of the three darts: 56.26 feet
Furthest of the three darts: 61.33 feet
-One dart fired (shoved down the barrel with a ramrod): 83.38 feet
All of these shots were fired with no more than a ten degree angle. The shotgun tests with three darts did not require a ramrod.