Hey. I'm back from...not-here. Anyway, I got a Sneakshot from this lady who browses around yard sales and buys me Nerf guns. I really liked the feel of the bolt cocking mechanism, and so I opened it up, made some minor changes with the inner workings, and slapped a barrel on. I was surprised with its range and accuracy, and it's now my secondary weapon. To modify-
First, open your gun up. To do this, take a knife, and on one side, push each of the three yellow pieces away fro the middle bar that's on the cocking mechanism. Do this many times, and pull apart. It should come off. After you do this, take a pair of pliers and push the yellow pieces back together. Take out all the turning crap in the front, and pull of the barrel with the vinyl tubing.

Okay. This is the plunger tube - the plunger. Cut a 4" piece of 1/2" CPVC. Take it, and stick it over the plunger tube until its snug. It should look like this.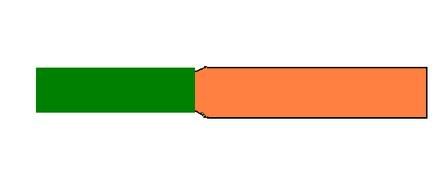 Mark where the line between the CPVC and plunger tube with a sharpie. Take the CPVC off, and cut off the head of the plunger tube. Take the CPVC and hotglue it there. When it dried, as an extra precaution, since I never want to open an already modded gun up again, I plastered epoxy over the hotglue.
Now, to get the CPVC to fit, at the front where the barrel came out, there is a 1/2 square on each side of the casing. It would look like this:
Take a sharp knife, and cut down the middle sections about 1/4" inch, and so they are flat. Do this to both sides.
Now, stick the plunger back in the tube, and assemble the gun. Where the CPVC comes out the front, I strengthened it with some epoxy. Now, the final step-
http://celticwolfcla...com/custom.html
Go there, and make a 5-round stripper clip using 5 segments of 3" CPVC (not 4", 3") and 5 couplers. Once you've made this, load a dart in the back of each barrel, put the clip on the Sneakshot, cock, and fire. Mine got about 80', slightly angled.
~Sinfil