And now... The moment you've all been waiting for...
You've read my signature, but that was just an idea. Now, see the real thing...
Ladies and Gentlemen, I give you:
THE CRUTCH2K's!!!
Behold!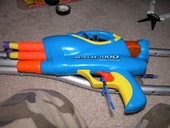 You can see the materials I used in the background... Zip ties, electrical tape, and kitchen scissors. All professional grade!
I've got a nice little built in sight on there... It's actually a thumbscrew that holds the handle in the crutch. It works great as a sight! Sorry about the flash on that one, my super-mondo-vastly expensive 5.5 megapixel digital camera has too many features; I don't know how to turn off the flash... It's set on like auto-flash or something.
Jimi Hendrix 0wns y0u! He r0x0rs y0ur s0x0rs 0ff! Anyways, in this one you can see both crutches because one is the Crutch2K and the other was used to take the pic. I actually have an AT2K on the other crutch too, but I attached it after I took the pic.
Screwed up image removed.
As you can see on that last picture, one of the dart heads fell off, and the zip ties are loose. The dart head, well I didn't notice that when taking the pic. The zip ties are all messed up because our carpenter dude tried to file the rigid things down for something (I really don't know why) and now they don't stay, so I had to use electrical tape to hold them, and it came unstuck...
Edited by MattPaintballer, 12 February 2005 - 09:53 PM.