Well, it was that time again. When I felt like randomly changing the ever-changing Ubermaxx again.
'Cept, this time, I went for something more practical.
Multi-shot. Yeah, now the Ubermaxx has 2 shots.
Originally, I was trying to make a double barreled shotgun, but that proved to be too hard with the SM1500 turret.
Works pretty well (95ish feet per shot on 7 pumps, and reloads go by pretty fast, too), and actually looks a lot cooler than I thought it would. And yes, I used a helluva lotta electrical tape. I mean, it wouldn't be the Ubermaxx if I didn't!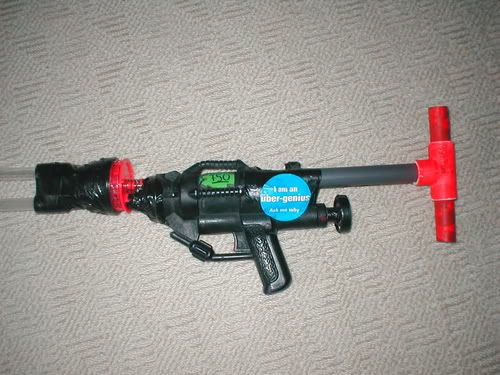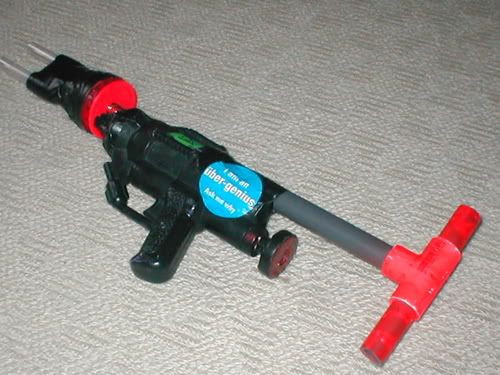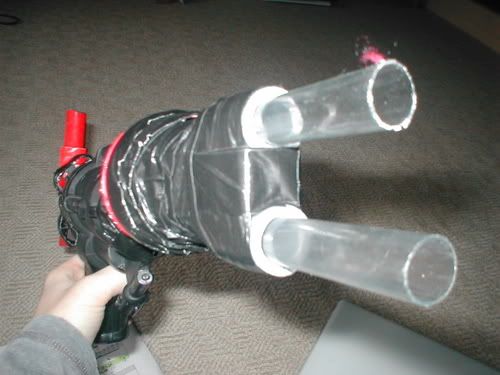 Onto the way it works. I was originally going to use vinyl tubing to bridge the airtank to the the turret, since I didn't want to cut off any more of the front. When that didn't work, I resorted to 1/2 brass, which fit perfectly into the slot behind the turret. I used a tiny sheath of PETG over the end of the brass, taped it up, and stuck it in the UM750's airtank-thingy.
I taped up the ends of 6 inches of PETG and stuck that in the stumps of the turret, to make a seal. I used two small pieces of Sch. 80 PVC (visible in the thrid picture) to straighten the PETG. Finally, I used lotsa tape to cover it all up.
And to answer the inevitable question, that blue sticker says "I'm an Uber-Genius; Ask me why."