In the past few months, I tried to put a NF's internals into a 99 cent store's toy m4. After days of constant dremelling, hot gluing, and sawing, it failed to operate correctly. I was so pissed off that my lengthy project did not work at all.
Now, I decided to just hack off some of the toy gun's parts and intergrate them with my nite finder. First, I sawed off the front barrel support. Then, I took my barrel assembly, which already had a 4' brass on it, and I covered it in the brass with the m4's grip.
Finally, I took the m4's carrying handle and glued it to the top of the nite finder. The finished product looks quite spiffy, but calls for a black paint job. Hopefully I'll get that done next weekend. The range is the same, 50' flat, and works great.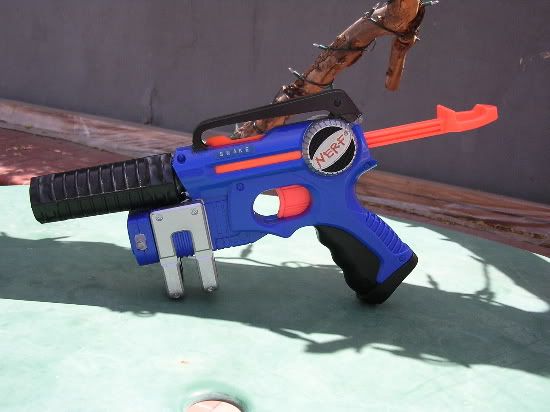 I was considering putting the m4's stock on the nite finder, but I thought it would be too much and I really like the handle on my NF. So what do you think?