I found this link: http://www.sscentral...eck_valves.html
The stem valves used in that article can be bought in bulk lots on eBay, and you end up only paying $0.30 to $0.50 each.
If you marry it with a cut-to-length spring and add the required pipe fittings you end up with a check valve that costs $2.

eBay - 1-1/2" Tire Stem Valve (TR414)	$4.14 for 10 ($0.41 each)
9663K85	302 Stainless Steel Cut-to-Length Compression Spring, 20" Length, .750" OD, .062" Wire Diameter = $5.42 (Cut a 2-inch section for $0.54)
4880K432  SCH40 White PVC Pipe Fitting, 3/4 Socket Female x 1/2 NPT Male, Reducing Adapter	$0.55 each x 2 = $1.10
2-inch long section of 3/4 SCH40 pipe = $?.??

The check valve design is great, but the only draw-back is that it looks like it would have a restrictive output. That issue inspired this, which is an updated version of DCHAP-1 with a scratch-built pump and a more normal grip and trigger.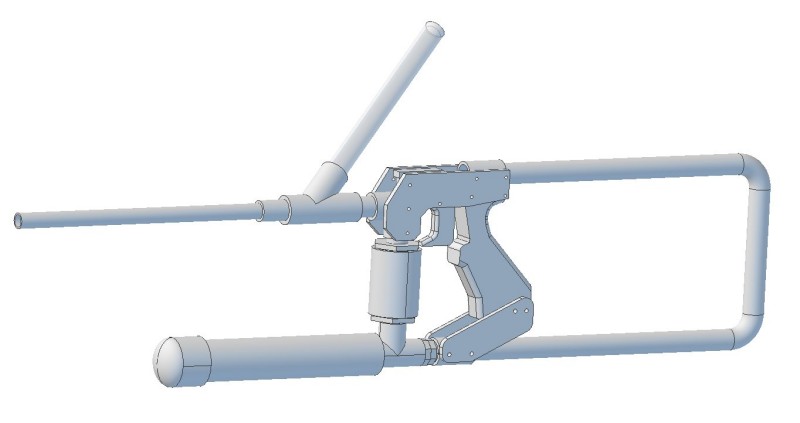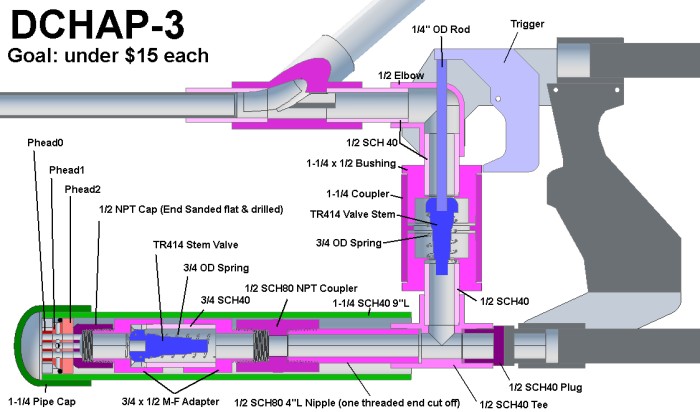 The pump is inside-out. You move the outer tube over the plunger head and check valve in order to pump it. To accomplish this the M-F adapters and NPT coupler have to have their faceted sections sanded off.
I need to build and test the pump first. I'm not currently sure that the o-ring-based check valve on the plunger head will work. If it doesn't then I'll just stick another $2 check valve onto the end of the pump handle. The alternate course to take would be a ball pump.
Another item in the cards for this project is that I would like to make an adjustable over-pressure valve using the same parts.
Here's the part list for the above diagram.
http://www.captainsl...rf/DCHAP-3.xlsx