Hey Guys
Just finished another project. This time it's the good ol Longshot. Started life as a stock blue longshot.
Added the following
Xplorer
-Hybrid Bolt Sled (this thing is NICE!!!!)
-Xplorer Fighter kit
-Xplorer Clip
-Xplorer Shotgun Grip (looks like their 2nd generation grip)
OMW
-Stage 1 Longshot kit (I still don't like their catch plate. This is 2 for 2 on my longshot that it doesn't catch well. Update: had to hand the arch part of the catch to bevel it some more. Now it works.)
-Metal Trigger
Brass shiny stuff
-Brass for the breech area (Original xplorer mod requires to cut the plastic breech and add their dart pusher, instead I used brass)
Here are the pics
The upgrade parts
Breech (or now the Dart pusher breech) with a beveled dead space for better air flow. Yes, you are seeing black molded hot glue.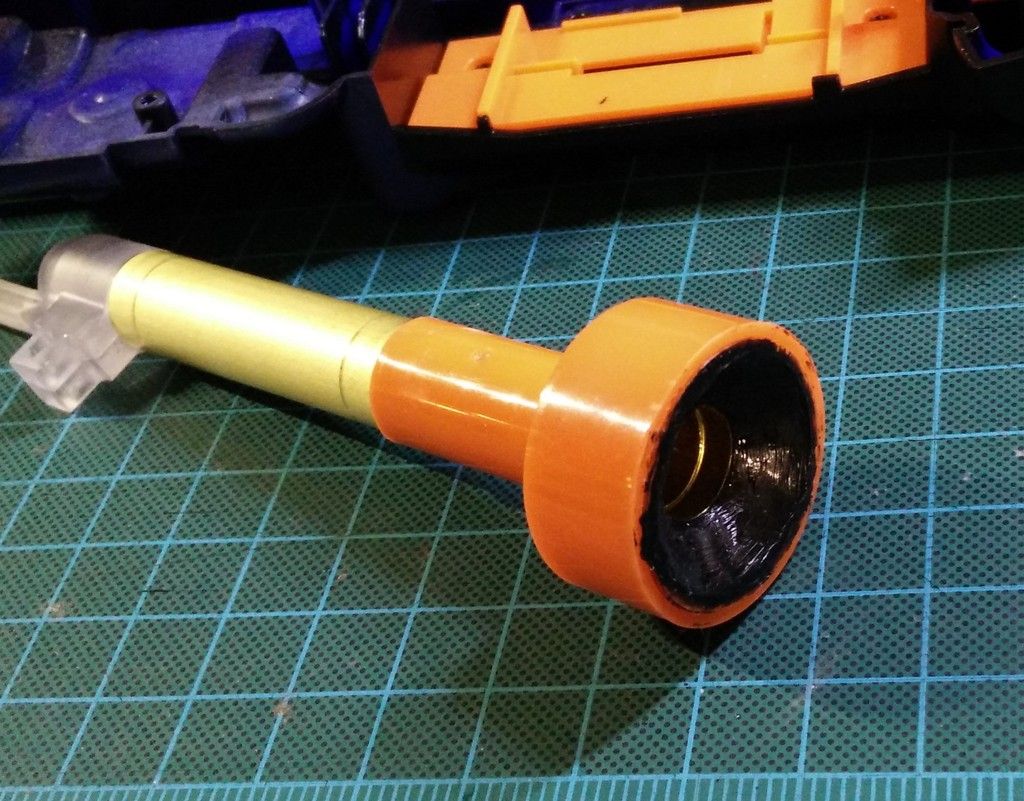 Installed Parts (Sorry this pic sucks)
Bolt Sled
Finished and painted (All duplicolor. Black Vinyl Dye, Honda Blue Pearl, Silver wheel paint for the butt stock. Added some picatinny rail covers to the shotgun grip)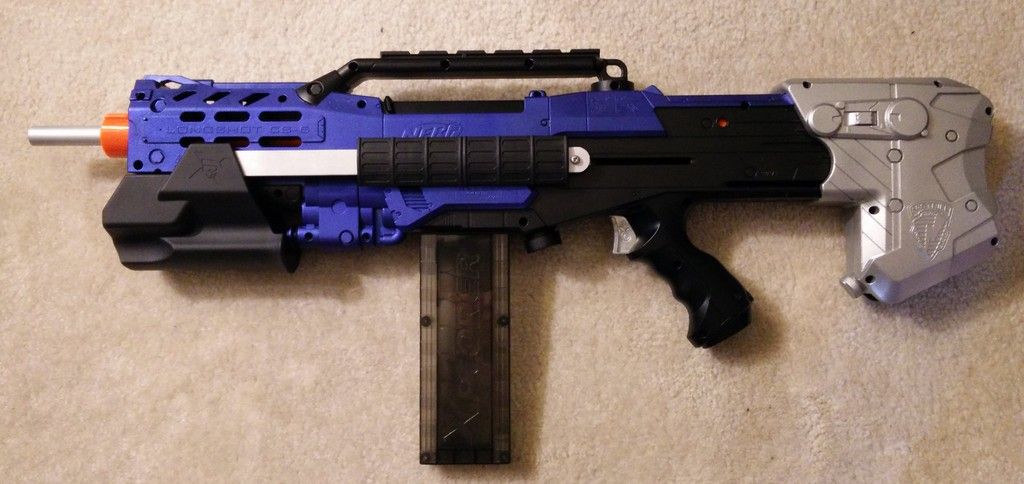 I probably could have just cut the original breech, glue the dart pusher and be done with it but I wanted to see if I could squeeze some more FPS out of the build. According to Xplorer and their vids they were getting anywhere from 130 to 240 fps with this kit. I did not use the 8KG spring from OMW but went with the 14KG spring from Xplorer. I did some reinforcing of the plunger head that I didn't get pics of. Also had to do some light sanding to the Xplorer parts. I still don't think I am getting a 100% seal in the breech. Note that with the Xplorer kit this will only shoot 1.5" darts.
So how does it perform?
Chrony readings (I was using Xplorer darts, cut to 1.5 total length and using the Xtip v2). I'm pretty satisfied with the results.
195
188
192
200
201
198
186
191
195
198
I can tell you the Xtip Xplorer darts are quite accurate.
Now onto my next project.......
Edited by racer188, 17 April 2015 - 12:05 PM.