As I understand, concept threads are not really allowed, but I have just so little desire to actually try it out this idea for myself, I thought I could just tell you my thinking and someone who knows more than me about electronics and stuff could try it out or something.

My basic idea is to move the location of the motors in a flywheel blaster. Doing this, one could in theory raise the revolution speed of the flywheels greatly, without using insane motors or equally insane batteries. By harnessing basic mechanical laws, this design would be able to compete with other plunger-based homemades in range and fps. Here is my basic design: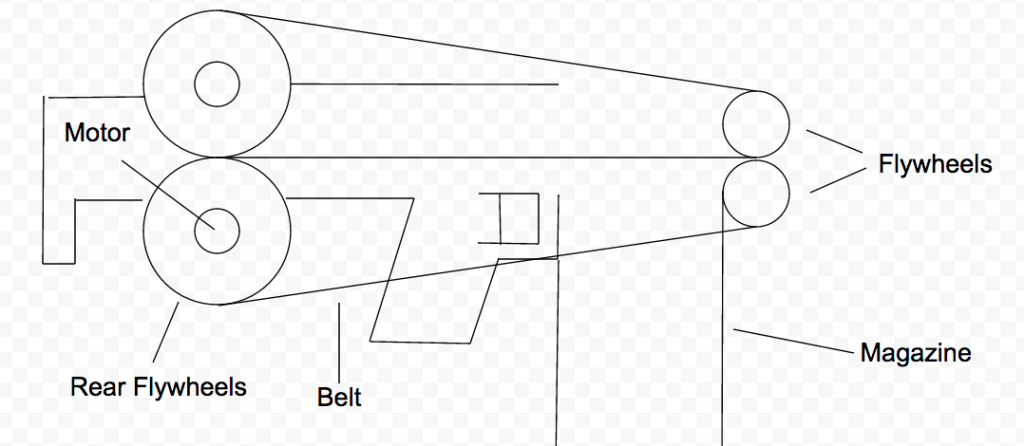 [/URL][/img]

Locating the motors in the behind the darts allows for their to be a mechanical advantage system of wheels and pulleys. This means I can spin the back motors at a slower or even similar rpm to what is required in a say a stryfe, and achieving much better performance. The motors would need to have really Of course this would add a lot more bulk to the blaster, but it would still be much shorter than a double rainbow, which this would be similar in size to.

The reason I have so little desire to try this out for myself is because I have no where near the amount of cash that would be needed to build this thing, nor do I have the knowledge or the patience to work with something like this. In addition, this thing would require either expertly crafted or 3D printed parts. I would love to see this idea put into practise by someone, and to see if my ideas would actually be practical.
Edited by Aeromech, 23 November 2015 - 01:22 AM.