Hi everyone! Welcome to my first NERF-related review. I hope you find it helpful.
VIDEO:
http://www.youtube.c...h?v=BJrWbocMWj4
EDIT: Finally figured out how to post the video thumbnail!
BACKSTORY:
So a few months ago I started running low on elite darts and I didn't want to invest any more money in those for the obvious reasons: high cost and terrible accuracy. Around that same time I had the opportunity to try out some of the newer elite suction darts and I absolutely loved them. I thought about buying some to refill my arsenal but found out that the largest available package was only 30 darts for 12ish dollars. I heard about Koosh darts and did some research on those and found all of the complaints about foam inconsistency and gluing quality issues. I decided to stalk ebay for knock-off darts until I found something better... and I think I finally did!
REVIEW:
In January I found what appeared to be elite-style suction dart knock-offs for really, really cheap (the listing I won was a 150 pack for 6 dollars!)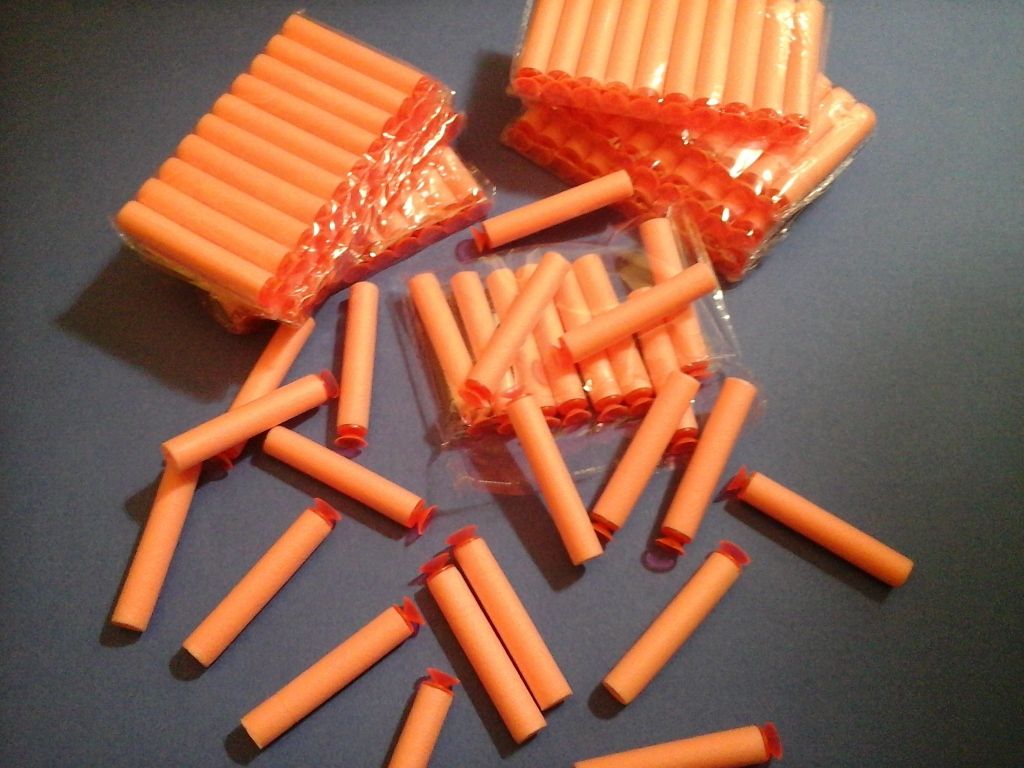 I ordered from an ebay seller named "eforco." From the time I placed the order, the package took about 3 and a half weeks to arrive (free shipping from China). The first thing I noticed upon removing the darts from the package is that the foam is more dense than NERF brand foam. This suprised me because I assumed the quality would be at least a little less due to the cost. The darts are about 1/32" wider (for a snug fit in springers) and 1/16" longer than NERF elite darts [just the foam portion, not including the tip] I thought that the length difference would be a probblem and cause jams, but I have yet to get any blaster to jam up with these darts.
The suction cup itself is a new material I haven't seen on a dart before. It's similar to the stuff that those suction cups on the back of shower racks are made of. It is also a translucent neon salmon color, which glows brightly under black or blue light (the picture I took makes them look opaque for some reason...). In terms of manufacturing inconsistency, I have yet to find one example. The suction tips are glued on extremely well [see video for stress test comparison to elite darts] and are consistently centered on the foam. One thing to note is that the "stem" of the dart tip is about twice as long as an elite dart, so these might not work in newer blasters that still have the barrel post(s) in them. The darts also fly very accurately (indoor ranges, I have'nt been able to test them outside due to weather interference.) I actually haven't lost a single dart yet because they group so well. ALSO: the "chance" of sticking to a flat surface is much higher than the NERF elite suction darts (they bounce off a lot less.) I believe this is because the size of the suction cup on the knock-offs is larger and the material is more smooth.
OVERALL PROS AND CONS

PROS:

~EXTREMELY low-cost! (current price is $12 for 200 darts)
~Good foam density (tight fit in springers)
~Great manufacturing consistency (at least in my lot)
~Really accurate!!
EDIT~Wider suction tip could make for a better air-seal in homemade barrels

CONS:

~Harder to find & price can vary
~May not fit in all stock barrels (all of my blasters have the barrel posts removed so I haven't been able to confirm or deny this.)
EDIT: ~ NERF barrel extensions hinder range even more than elite darts because the suction tip is wider and drags on the inside of the barrel more.

SELLERS:

eforco: http://www.ebay.com/...w=nerf&_sacat=0
eboxoon: http://www.ebay.com/...w=nerf&_sacat=0
free_company: http://www.ebay.com/...w=nerf&_sacat=0

EDIT: Just to clarify, this the pic you should see on ebay of the specific darts I got. There are listings where you have to select the dart type and I believe those are also the same product. Those usually have a picture of a tommy 20 with a variety of dart types pictured under it.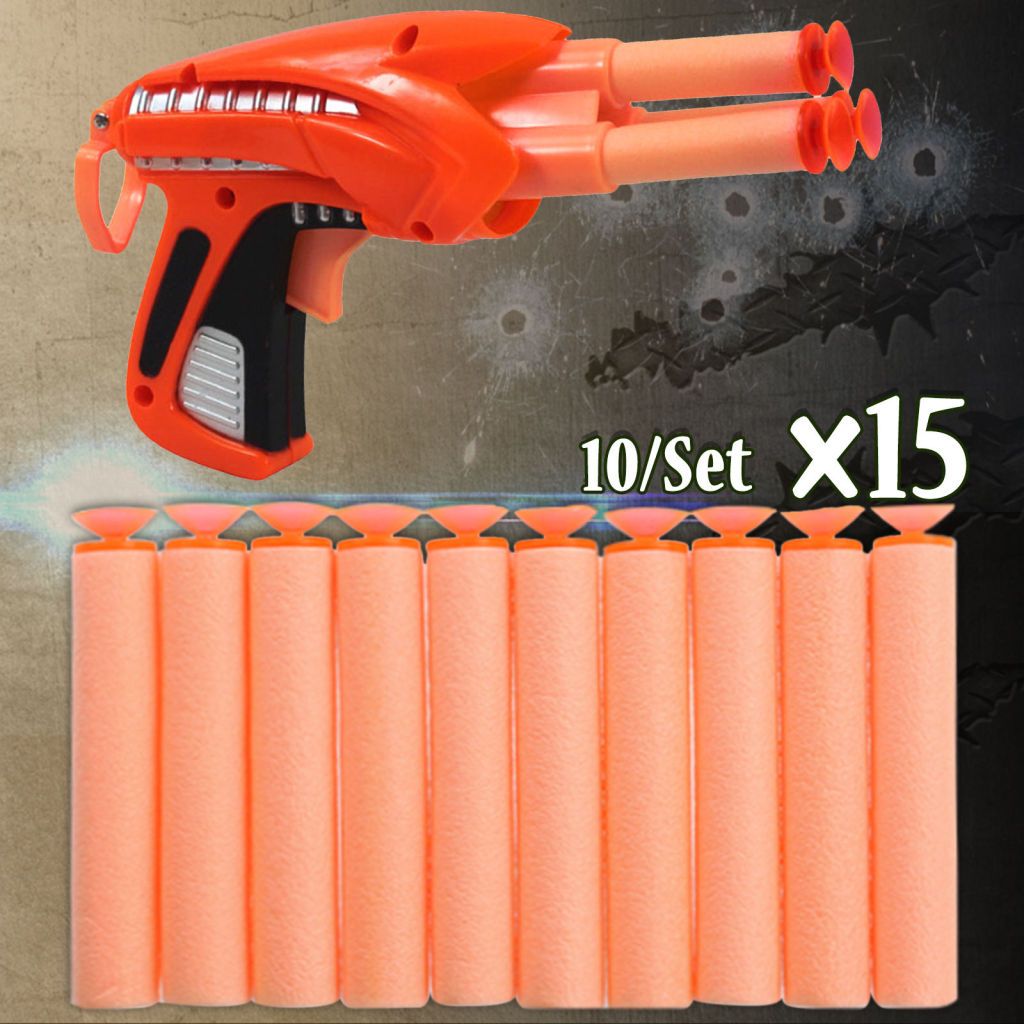 EDIT: MORE PICS (upon request)
http://nerfhaven.com..._DIR#/smile.gif
-I managed to find an old suction dart to compare tips. The new dart stems seem to actually be about 1/16" longer than the elite suction dart's- (yes I finally managed to "remove" a dart tip from the knock-offs haha)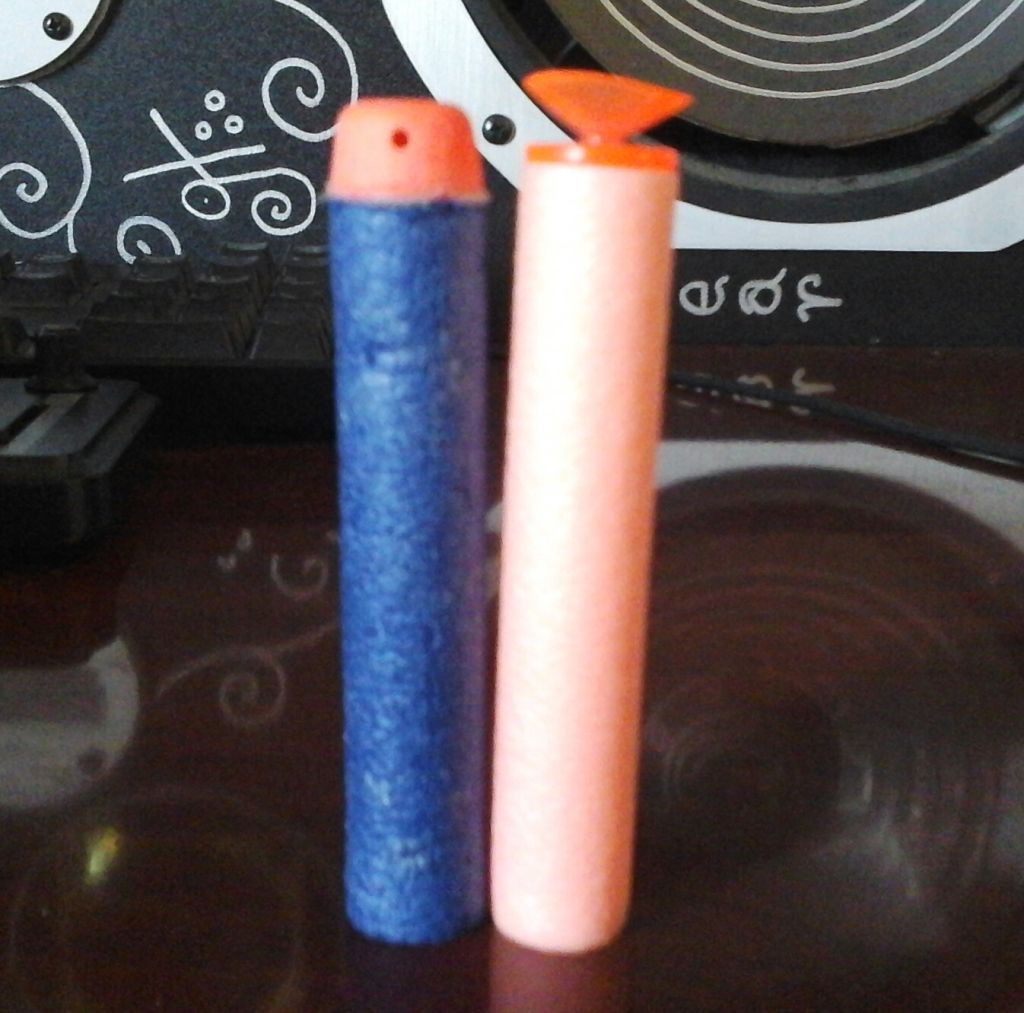 -despite an advertised dart length of 2.7" these are in fact longer than elite darts. Chinese inches must be different or something?
Thanks everyone for your time and feedback!
~Rave
3-01-15 EDIT: Added extra pro/con regarding the width of the suction tip.
Edited by ravetrooper, 12 December 2015 - 12:31 PM.