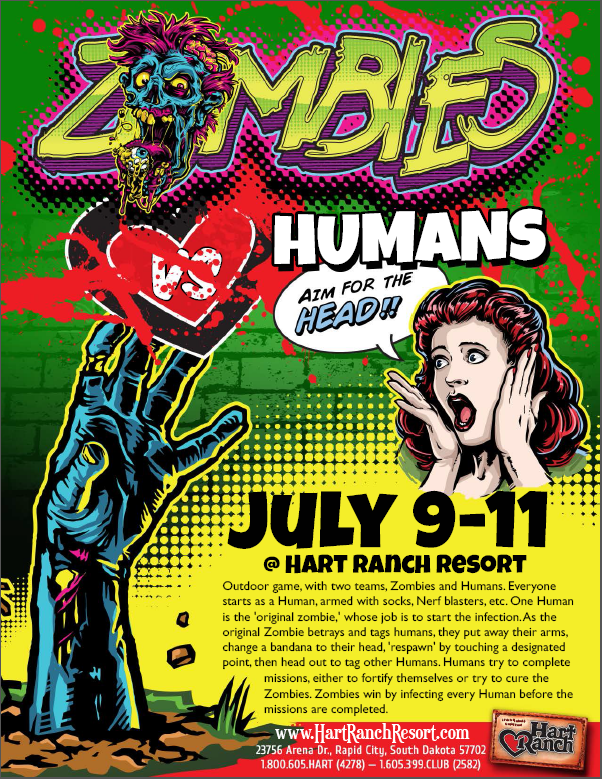 Part One: HvZ
Hosted by
Hart Ranch Resort
and Gamers for Service.
The Ranch has opened the Humans Vs. Zombies event to the public! Come on in and join us for 195 acres of HvZ fun, July 9th and 10th. Missions start at 9 AM Thursday. Bring meals, or eat at the Chuck Wagon. You can tent on site- just check with the ranch first.
Missions:
Six missions, with the times as follows.
Thursday, July 9th:
9 AM to 11:30 AM- Find the Source
1 PM to 5 PM- The Canyon
6 PM to 9 PM- Legendary Tales
Friday, July 10th:
9 AM to 11:30 AM- Stake a Claim
1 PM to 5 PM- Gold Rush
6 PM to 9 PM- Train Robbery
As you might be able to tell, it's a Wild West themed HvZ.
PART TWO: Charity and World RECORD!
So, Father Time's event went well, though they didn't break the record. As mentioned in my Off Topic thread, there's a 200 acre RV resort that wants to help set the record. We expect 400 campers to participate, as well as local Boy Scouts and a state RV show to pitch in with warm bodies. I need your help to make sure we crush the previous record. Details as follows.
WHERE
Hart Ranch Camping Resort
just south of Rapid City, South Dakota.
WHEN
Thursday, July 9th, at 9 AM, until Friday, July 10th, at 9 PM. World record on Saturday, July 11th at 5 PM.
WHO
Hart Ranch, Gamers for Service, South Dakota School of Mines and Technology, and ALL OF YOU! This is a free event, open to the public. Bring your own blaster, and some to spare!
Barbecue and hot dog feed to follow the record breaking, and possibly commemorative T-shirts for sale.
Rules
All participants will sign a safety waiver and receive a bracelet to show their participation.Currently, no blowguns, melee, paintball, airsoft, or Xploder. Please, foam darts or discs only. No homemade darts. Stock or safely modded, light homemades acceptable. This is a public war more than an NIC war, so prep accordingly. Zombies are respawned on respawn points rather than timers, to keep the action fast. Tag only, no 'firm grip,' since we may have a wide age range of players. Participants under ~42" tall are exempt from most infection rules.
The record will be free form or 2-team deathmatch. If you are able, please consider bringing canned goods to benefit local food banks.
Plan now, I would love to have all of you come. I'll update this post as we get more things hammered out.
Edited by TheSilverhead, 24 June 2015 - 09:30 PM.