The PullSCRT
[video needed]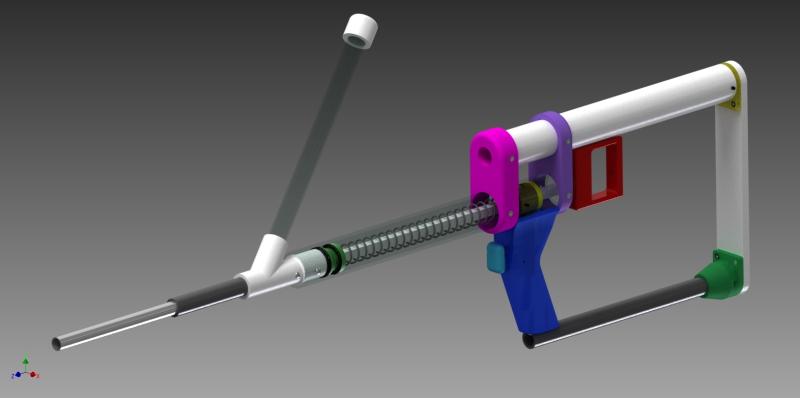 Background:
+bow:
http://nerfhaven.com...showtopic=10521
Purple Catch:
http://nerfhaven.com...showtopic=24114
The idea behind this blaster was to replace the +bow by using 3D printed parts. It's much quicker to built, has no face diddle, built in check-valve, and costs much less to build in terms of materials and labor. This guide will also show you how to build The Purple Catch, which can be installed on any blaster with 1 1/4" PVC.
Blaster is designed to have 6" of draw.
Downloadable Files
Click Here
51 MB
Contains everything you need, stl's for printing, stp's for modeling, and a parts/cost sheet.
.ipt files are compatible with Autodesk Inventor 2014 or newer.
Essential Tools
-3D Printer w/ no less than 7x7x7" print area
-Scrollsaw or Hacksaw
-Drill press and/or power drill
-Dremel w/ cutting wheel or Mill/Scrollsaw
-7/64", 5/32", 3/8" drill bits
-#6-32 tapping bit
-Scissors and/or file
-Screwdriver
-#6 Countersink
-Hot glue and super glue
-Silicone lube
-Safety glasses
-Vise and/or wrench
-Tape measure, ruler
Printing your Components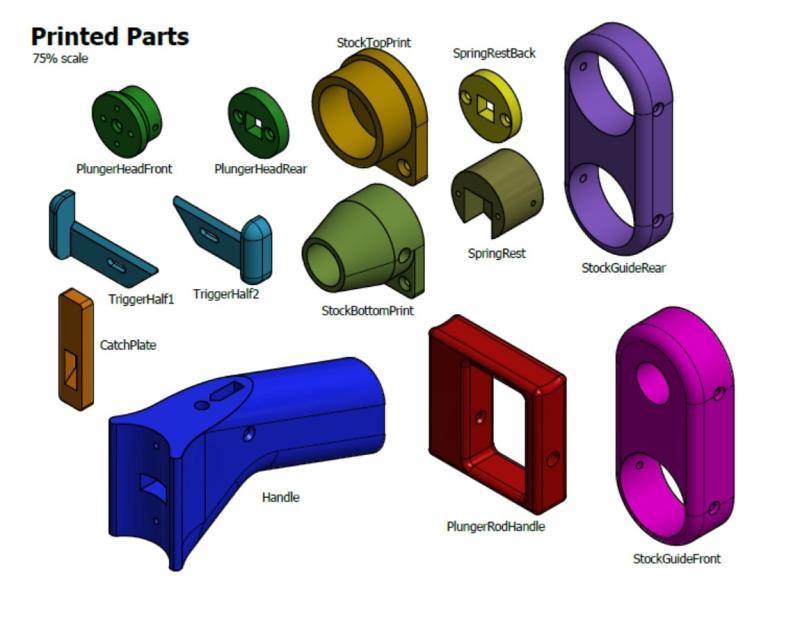 Handle - We usually do a couple extra perimeters for the Handle. If you are using newer versions of Slic3r (1.2 and higher), you can add modifiers to the object you're printing, which will allow you to alter settings for a specific section. For example, in this case we want just the top section to be solid infill, where the screws attach. The rest of the handle can be printed normally. If you need help with this, let me know. Post print, you need to drill out the hole (#6 pilot) for the trigger, and tap it. You also need to drill and tap the two holes on the bottom that attach the stock rod.
PlungerRodHandle - This part is designed to have 6mm walls at the thinnest point. Since we have a printer with a 0.6mm nozzle, this is five perimeters. You'll want at least those areas to be solid. Post print, drill out the hole where it attaches to the plunger rod (#6 clearance).
CatchPiece - Make sure this piece is solid. After it's printed, you'll have to file/sand each edge and surface down. Fit it inside the cavity on the handle where it's supposed to go to ensure it slides properly.
TriggerHalf1-2 - Print these normally, but you'll need to pay some special attention to these pieces afterwards. Glue each half together with super glue. After the glue is dry, sand/file the edges just like you did on the CatchPiece to make sure it fits nicely in the handle.
StockGuideFront/Rear - These can be printed normally. The hole in the front piece is an outlet for 1/2" PVC. Drill out all eight holes with a #6 clearance. On the front piece there will be some support material underneath that you'll need to remove.
Stock-Bottom/Top-Print - Print these with normal settings and drill out the 6 holes for the stock (#6 clearance), and the two on the bottom print where you'll attach screws to the bottom rod.
SpringRest/Back - Print both of these pieces solid. Drill (#6 pilot) and tap the four holes on the larger piece, and drill out (#6 clearance) the two countersink holes on the back piece.
PlungerHeadFront/Back - These pieces should also be printed solid. Drill out the two countersink holes in the back piece (#6 clearance). On the front piece, drill out (#6 clearance) the countersink hole, and drill (#6 pilot) and tap the two holes that attach the two pieces to each other. You'll also have to remove a small amount of support material from the front piece.
Tube & Rod Machining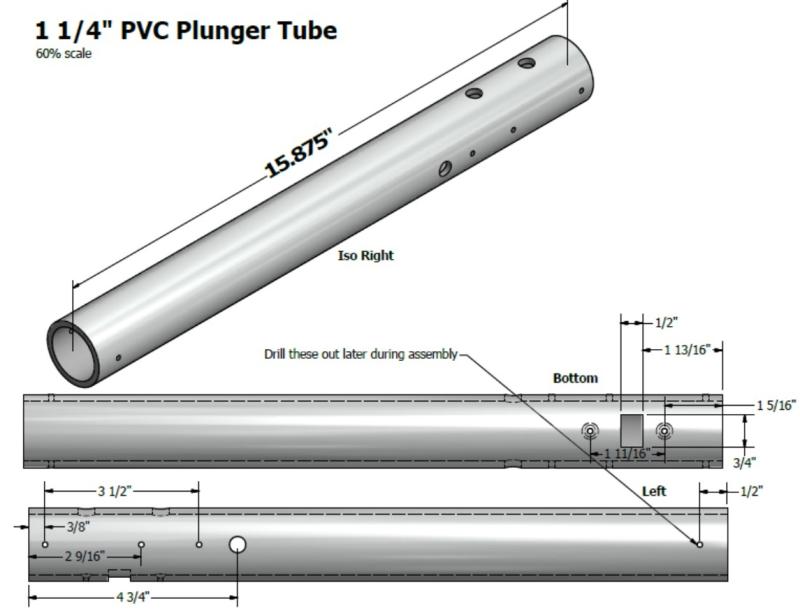 Make sure your PVC is smooth on the inside. The majority of PVC we encounter is very bumpy and awful on the inside, creating unnecessary friction and a shitty seal. The larger holes on the top and sides should be 3/8". Countersink the two holes on the bottom from the top, through the larger holes. These holes attach your handle. All the small holes should be #6 pilots. Cut a slot for the CatchPiece using a mill or dremel. You can also use a scrollsaw but you'll have to make a large hole on the top to accommodate for the scrollsaw blade.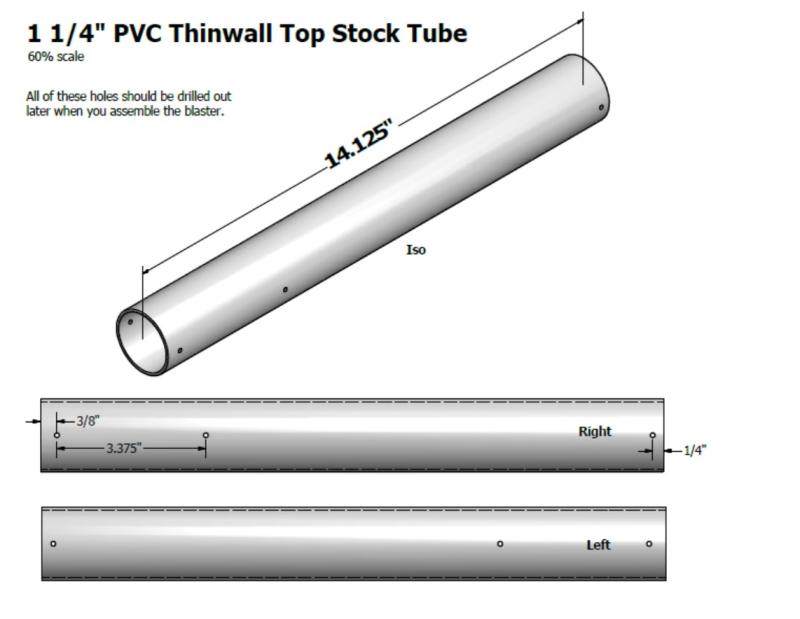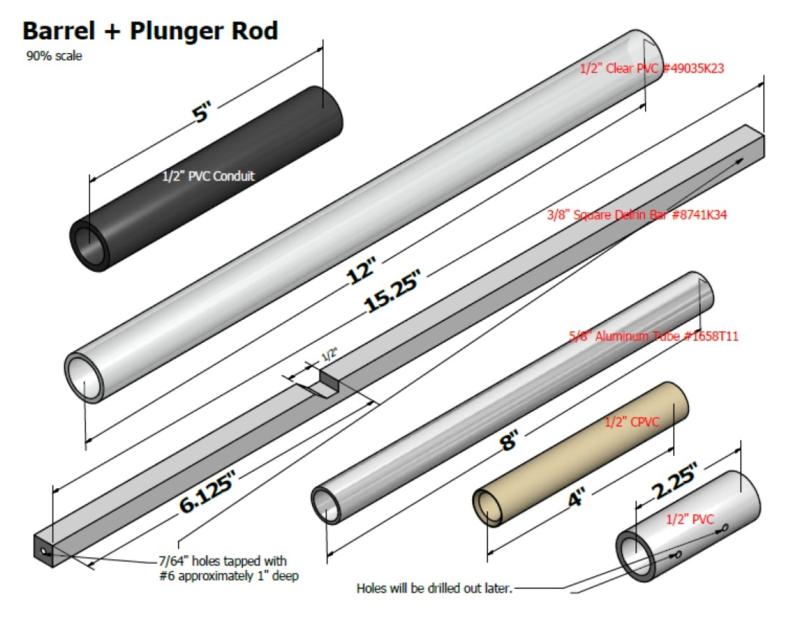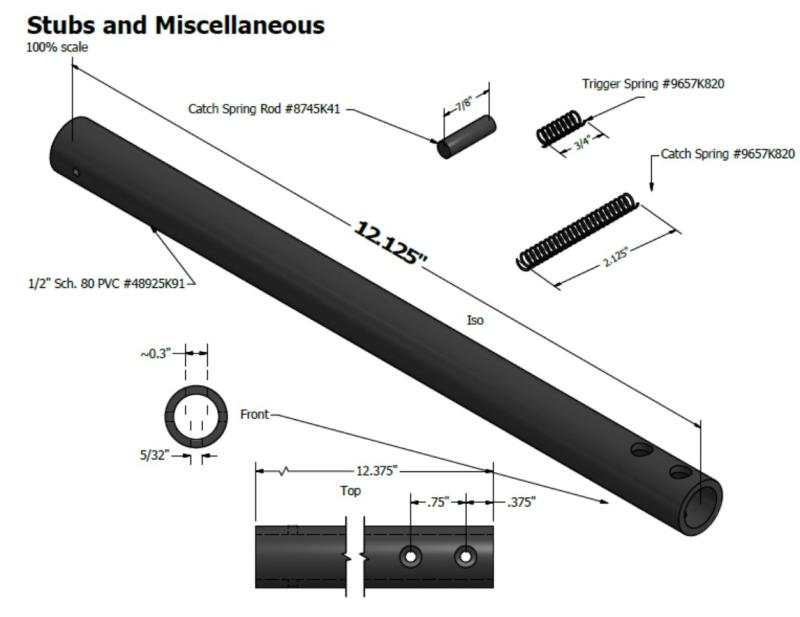 Sub-Assemblies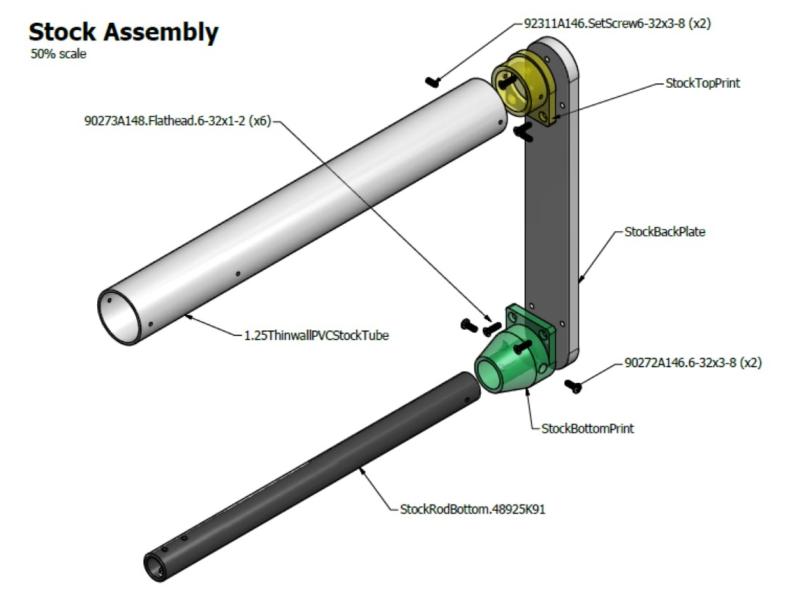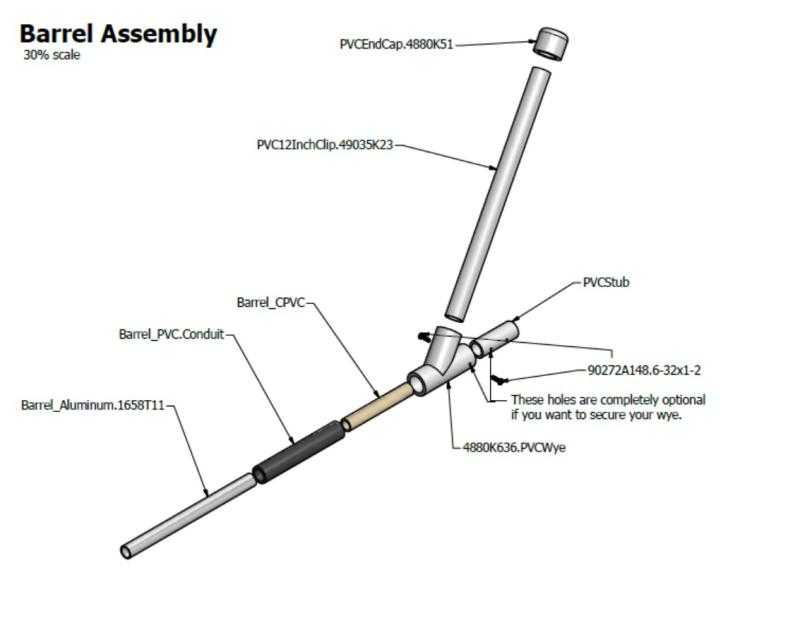 Final Assembly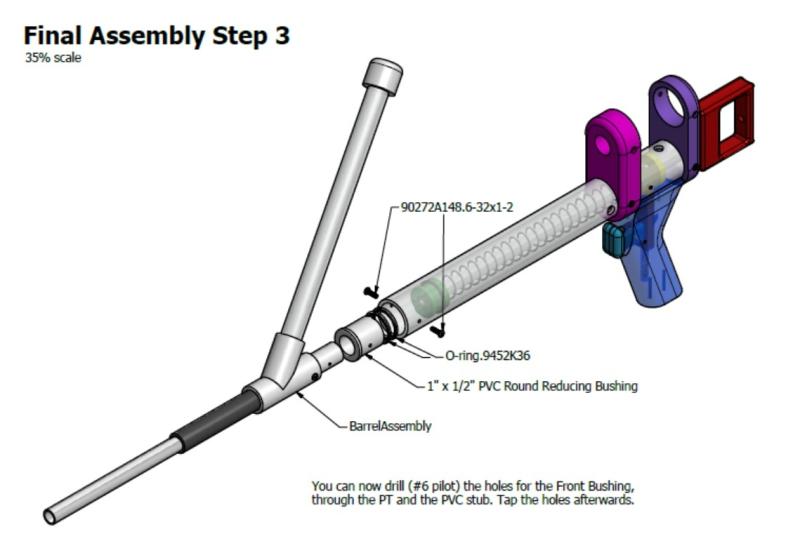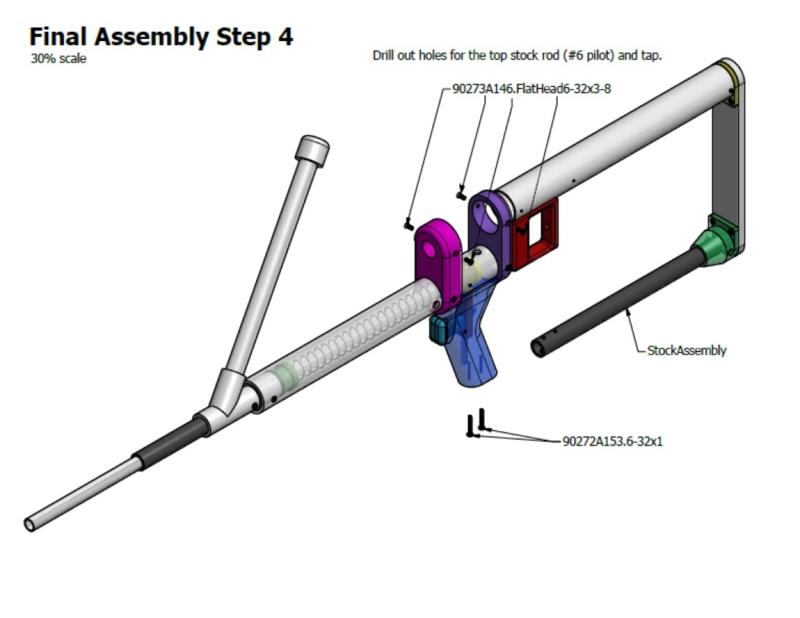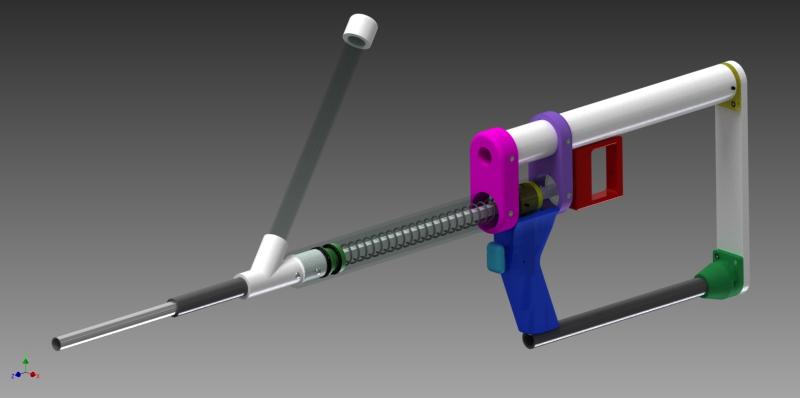 Questions, comments, flames, please post...
Edited by CaptainSlug, 20 November 2018 - 10:22 AM.