normal rayvens are somewhat limited. they can get good ranges, but aren't that reliable at those modification levels. my aim here is to make a mod that is reliable.
THUS i have devised this:
The two-stage Rayven mod. it uses 1 flywheel/motor set from a stryfe and upgraded motors to replace the rayven motors.
materials and tools used in this mod:
-dremel
-hobby knife
-soldering iron
-pliers
-side cut nippers
-extra barrel from something like an alpha trooper or longshot front gun
-2 aftermarket motors
-motor and flywheel assembly from a stryfe
-jst plug pigtails (female)
-high strand-count wire
-superglue
-1 microswitch from donor stryfe
-solder
be sure to trim internal plastic and some of the upper casing to allow for clearance (you need a dremel to trim holes in the left side half of the blaster shell and pliers and nippers to trim around all the plastic that is int he way of your new set of flywheels) don't try to trim it all at once. you want it to fit snugly so only trim until the parts fit snugly. you want friction to somewhat hold the parts in place.
wiring diagram: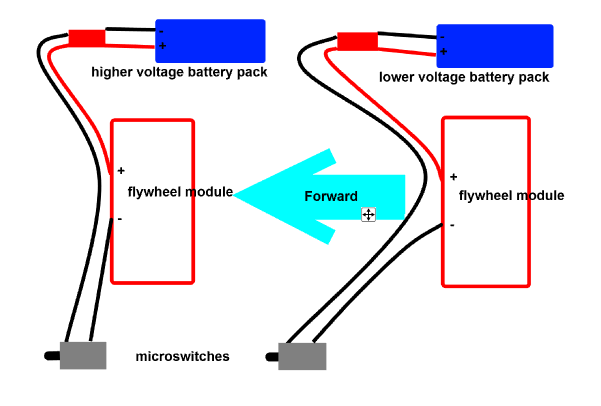 wire up your blaster using the high quality wire and solder, check all the clearances and close up the blaster.
figure out our battery mounting solution, then you're all set. this is the result that i've come to, which is stable, and shoots very hard.