I saw a simple mod on NerfHaven a few days ago using the Iron Man Arc FX, and I decided to take it a step further.
I started with this 20 dollar toy:
And I did the voltage increase recommended by Buffdaddy
Then I got a little creative, I wanted to replace the on/off trigger with a pressure switch so it would come on with a trigger pull.
Lucky for me there was already a pressure switch underneath the hopper lid. So I cut out the on/off switch from the wiring and moved all the wiring above the motor and into the trigger assembly.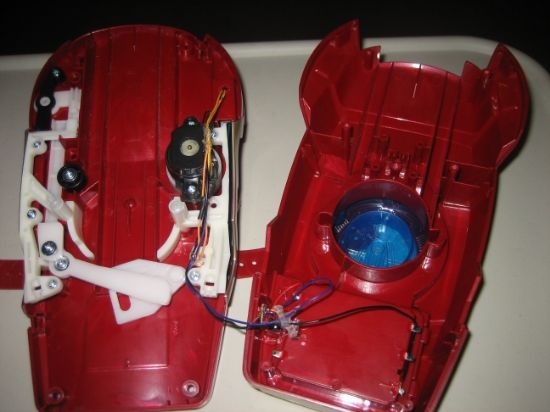 This required me to drill a hole down the plastic into the trigger handle, but it was easy and there is not much vital you can hit in there.
Then I glued the pressure switch like so. Now a half pull of the trigger will start the motor and a full pull will fire the disc.
Now that it is all assembled again, I can fire off five discs in 3 seconds, averaging 30 feet. If I give the motor a quarter second to rev up, it shoots roughly 45 feet. I like that it is
truly
one handed now, no need to switch it on with your other hand.
Next I plan on boring out the barrel so it can fit the Vortex discs, and if I have time, add a light for glow in the dark discs.
I promise to post an action video when I have it firing the Vortex discs.