I have plans to do an extensive stryfe modification my plans are to make a shell to make a stryfe go from this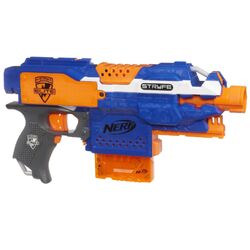 to this[.img]http://images2.wikia.nocookie.net/__cb20121117115426/halo/images/thumb/7/7d/H4_suppressor_trans.png/250px-H4_suppressor_trans.png[/img]
now what would be the best materials(in your opinions) to make a shell to put on the stryfe. I was thinking a type of foam being the on the bottom and epoxy putty on the top.
USER WAS WARNED FOR THIS POST
Edited by Zorn's Lemma, 11 July 2013 - 12:17 AM.