Bolt Action Woes
I have been working on this bolt-action blaster project of mine for quite some time now, and have a working prototype version completed. Sadly, one of the pieces (for this thread I will refer to it as the cocking slide) is not strong enough to withstand the leverage/stress it is required to hold. This blaster is loosely designed around the blaster found here: , by Wes.
I would really prefer to use a more Bolt action type priming mech in my blaster as opposed to his (but they function very similarly). Here is my video showing the functionality of my blaster, as well as how the piece in question primes the blaster. (Sorry for the crappy video. Hopefully, even through the painfully pixel-y picture you can see how this thing functions)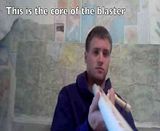 For those who might be better reading than watching, the bolt action handle is lifted and is pulled backwards on the blaster. This handle is connected to the "cocking slide" that pulls the entire plunger rod back into the catch. At this point, the spring is not compressed. The plunger rod is caught (by the rainbow catch), and the cocking slide is then returned to it's original position thus priming the spring against the plunger head. The trigger is pulled, and the plunger rod shoots forward. Return to step one.
The "cocking slide" currently is made of a ¾ to 1/2 reducer that has been reamed out so that my ½ in CPVC plunger rod can slide through it.
My question to everyone with homemade knowledge is: Is there a way to attach the bolt action handle to this "cocking slide" piece so that it can be strong enough to prime a [k26] in the levering position it is in? I have tried Goop, Super Glue, and PVC cement. Any help or suggestions would be great.
(This blaster isn't finished yet obviously. Still needs some cosmetic work, but worked for a while before the cocking slide to bolt action handle was broken)
Specs: 1-1/4 PT, ~7 inches of draw, full [k26] inside. Has a hardware store cup seal on a cpvc PR. It's a monster to prime, but hopefully with proper material strength it will become easier. Ranges easily break 100.