Problem
: My Rayven was feeling unloved since I gave my Stryfe the masterkey treatment.
Solution
: A master key that can work on any gun with a barrel extension lug.
Parts
: Rough Cut, Longshot front gun, glue of your choosing.
Tools
: dremel cut off tool, screw driver.
Instructions
:
Start by opening up the longshot gun, and cutting back to the back plate where the barrel attaches. If I were to do this over again, I would leave about another half inch of the back plate to allow the spring to stay and provide a better attachment point into the roughcut. Later you'll need to shave the sides of the back plate straight down to match the internal width of the roughcut.
Open up the Roughcut and set it up to do slamfire only so that it does not need the trigger.
I'm not providing a method for this, suffice to say that gluing the ramp from the trigger into the catch doesn't work, and neither were a half a dozen other things I tried. Whatever you come up with will probably be an easier or better solution. Perhaps the metal peg from the front gun could be driven through the frame of the roughcut to hold the trigger back. The method I ended up using took a piece of plastic from somewhere else and building a ramp on the bottom of the catch plate so the slide would shove it down. It took hours of screwing, unscrewing, shaving, gluing, pinning, shimming, more shaving, etc to get my method to work.
Also feel free to do the 4x2 mod.
http://nerfhaven.com...showtopic=23842
Cut apart the roughcut
Pull out the internals and chop away at the shell. If I were to do this again, I would cut the shell a little further toward the handle to better cover the sides of the back plate.
I cut the top rail completely off to make it flush with the top of the gun. If I were to do this again I would leave a little bit of the top rail as a gluing point for the barrel.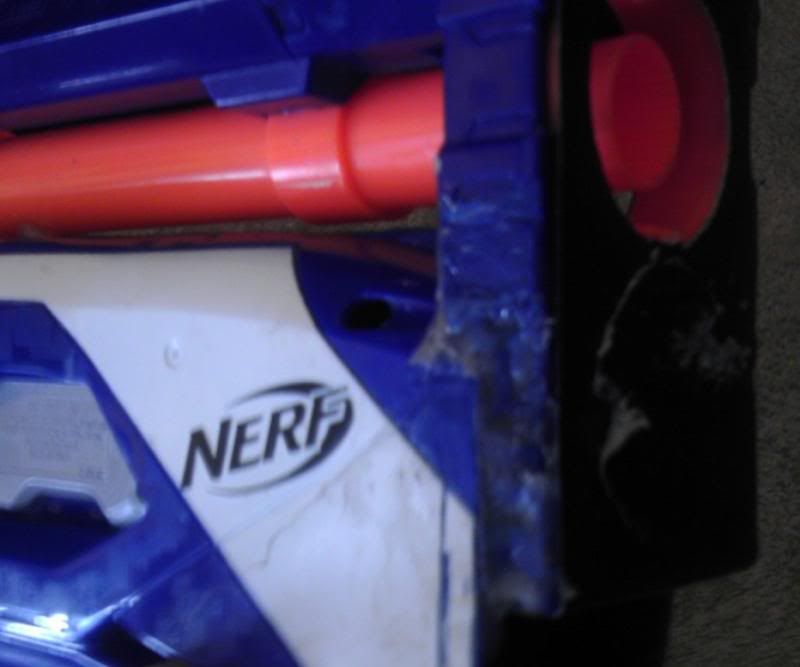 Glue everything together.
What you end up with
: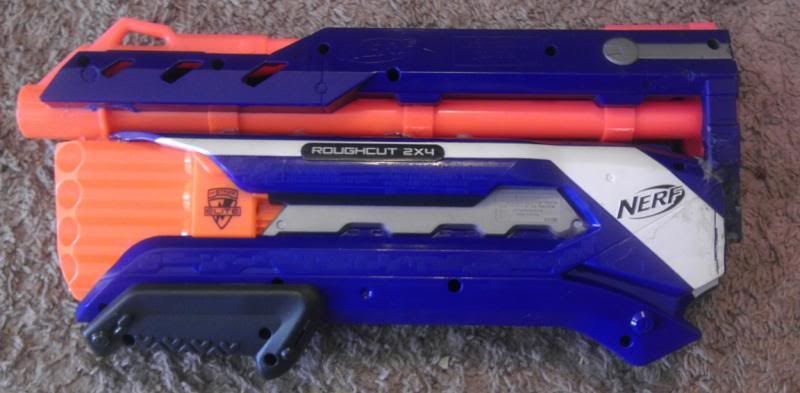 Some recommended uses:
The rayven now not only looks badass, but the balance of the gun is right at the trigger guard making it extremely easy to use.
This works really well, although not really a good synergy since they're both pump blasters.
Some NOT recommended uses:
This is a NO, the front is way to heavy and way too far away.
ARE YOU PAYING ATTENTION, NERF?
Edited by Ericshelpdesk, 06 May 2013 - 06:35 AM.