I've had this...thing for a while now, and debated many time whether or not to post it.
I've used in a total of about 4 games now (5th game coming up) and decided that if it is safe enough to use in multiple games with stock Elite streamline darts, then posting it should be fine.
So, what is it? It is a Foam Converted Arrow Gun or F-CAG for short. There were other names I was going to give it. With the Snap bow, AAbow, and other types of bows out there; the only thing that separates this is that it is a REAL bow. A real 60lb draw weight bow.
Why would I do such a thing? When I first got into nerf gaming and moding, range was all the hype. This thing can achieve ranges comparable if not vastly farther than singled Titans. Also, because of its optional hopper system it can shoot as fast as you can pull the string back. The range of this thing is only limited by its ammunition. The heavier the dart, the farther it will shoot.
So how far does it shoot? I don't actually know. Really really effing far. To give you an idea, it can shoot a stock elite streamline dart unmodified across 1.5 to 2 basketball courts PTG using my sealed breech barrel. Unfortunately, the stock dart will create a large spiral pattern and not be very accurate. The range and accuracy will actually depends on two things:
1) the dart used and 2) the barrel system used.
There are two main types of barrels that I use with this thing:
1) fully sealed breech barrel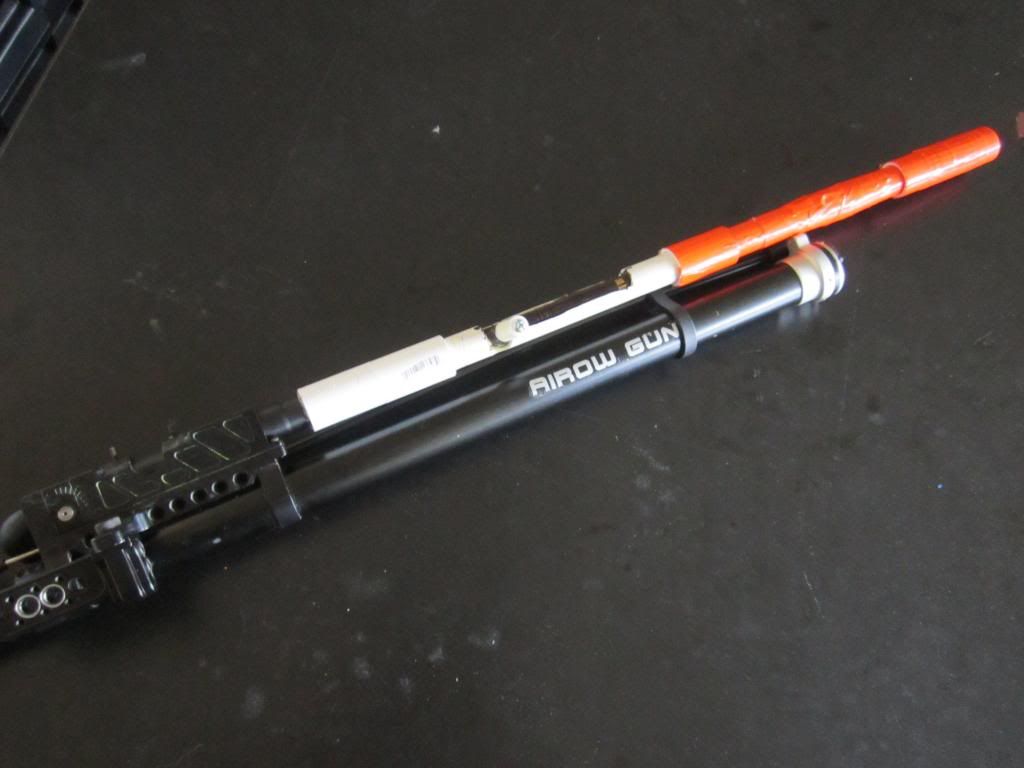 2) hopper wye system
The hopper wye system barrel was made to be played with stock elite streamline darts cut in half. So, obviously the range is much farther with the fully sealed breech and super heavy darts. In fact, even with the extra space the hopper provides I still needed to add barrel porting and vents to bleed off the extra pressure behind the darts that cause the darts to fly wonky as it leaves the barrel.
The thing is that in the nerf community everyone measures range with the barrel parallel to the ground. With this thing, that isn't the case. There is so much pressure that upon exiting the barrel the dart actually rises a little before it falls. So my first range pin is actually slightly lower than parallel to ground. For those of you who know nothing of archery, there are pin sights that archers use to aim. If you look at my bow there is rubber tube attached to my bow string. That is a self adjusting peep sight. I look through that and then focus on my range pins in the front.
There is a bubble level to ensure my bow isn't tilted and multiple pins that represent different distances. What does mean? It means that my F-CAG bow can hit you accurately even when angled. And yes, I have done it in multiple games with much success. This homemade is not just a theory, it is a battle tested and well tuned foam slinger.
In short, this homemade is a real bow with the range of a singled titan, with firing speed as fast as you can pull back the bow string, and the accuracy of a rear plus front sight. There is no pumping, no guessing as to barrel aiming, and angled shots are a viable option.