Coverage of the Hasbro Nerf Toy Fair London 2013 stand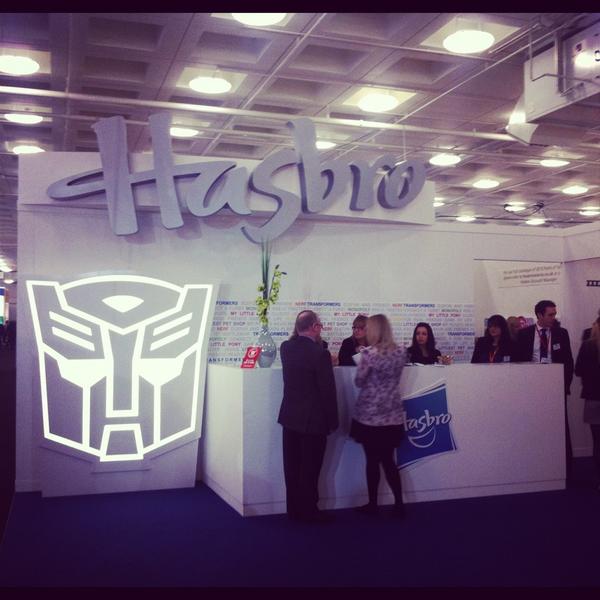 Hasbro stand, Toy Fair 2013, London Olympia
Wow. This is WIP so not all details are here.
I don't know where to begin, but ohmygosh we can expect some fireworks. A LOT of fireworks.
I can't disclose certain details about new releases right now - this is due to signing a legal Non-Disclosure-Agreement (NDA) before I could see the blasters, and accessories.
If I discuss what I have been told, seen, played with, discussed, or review anything online i'm heading to an unhappy place called Lawsuit-land.
The info below has been cleared for listing.
I can confirm that I asked all your questions, and got some very interesting answers. Very interesting. But again i'm limited to tell you about certain questions. If you asked me a question, and I promised to ask it, and you dont see it listed you know what it involves. I will upload a list of the questions asked when I can.
Rumour - Elite Stampede/reshell Stampede - will not happen (it doesn't need to now <wink>)
Rumour - Elite Alpha Trooper - it's real, currently limited to Argos retail group
Rumour - Incinerator / Counterstrike is indeed a case of lost in translation
N-Strike range - it's being phased out and discontinued. The Elite range is being to be the staple blaster range
Vortex - will not have a stock or any further accessories
Dart Tag - TRUus is in control of Dart Tag tournaments in the USA - because sales have dropped, they stopped the tournaments due to lack of interest (errr). The more they sell, see demand in Dart Tag - the more tournaments they will do - get buying people!!
Dart Tag - no Dart Tag accessories or new range blasters other than the Dart Tag Stinger set (2 Stingers +Dart Range)
Dart Tag Stinger - it holds 2 darts and has some crazy internals (Thanks to the Lego Teknik guys for the screwdriver lol)
Dart Tag - UK will be trialled for Dart Tag tournaments inline with Paragon Ent. license agreement for official Nerf Quest Stores - this entails store leagues, store vs store, and national tournament. Chance of TV coverage on sports channels.
Elite - we can expect some insane accessories, holy. smoke. batman.
Nerf is going Social-Media interactive in a big way - a UK Nerf site is being created with a new run of TV Ads
9th February 2013 is a date you need to mark in your calander. Believe me, you will scream and shout and dance when I post it up. I did. lol.
Mod community keep up everything that you do, as well as the Stock reviewers. Hasbro R&D is watching you closely <wink>
This is what I can talk about, and have bullet-pointed it for now. I'm spending the day with them to learn all I can right now.
I'm heading off shortly for a full scale battle with them, with the new blasters and accessories. It's been an amazing morning so far, as promised I have spent the day closely with Hasbro Design Engineers, found out a lot of brilliant news, and a lot of inside news. It was great they knew who I was and follow my blog Smile
This is all I can write for now, until I am cleared further by Hasbro Legal Team.
Check my blog for more updates
.
Good to hear your thoughts.
Ps. get some new Stefans - like really, really big Stefans.