EDIT: 12/14/2012
I got a Rough Cut today. Found it at another local TRU. BOGO 50% off too.
I also integrated one into my Stryfe. It is not quick detachable like the Strongarm integration but it works.
I point out some details how it is integrated in my video. No Glue or screws were used. I did eventually zip tie the top front of the Roughcut and the front bottom of the retaliator front end just to eliminate the wobble but it is not crucial for the integration. Also the Rough Cut rigger now has a screw screwed thru it to keep it locked in place so all I need to do is pump the roughcut to fire it.
See video a few posts down.
I made the first Masterkey and now that Nerf Elites have gotten better, I decided to make another one using the Stryfe as the primary weapon. I want to use a Roughcut but my TRU hasn't stocked them in just yet. So I went with the Strongarm due to the slamfire capability.
http://www.youtube.com/watch?v=j4lbZ3qceJQ
The integration is pretty simple and does not require glue or other means of attachment. But by all means you can use it if you want to.
Take apart the Strongarm. Line up the shell with the Retaliator front end. Make sure to position the shell forward so that when you pull the slide back, the magazine of the Stryfe doesn't get in the way. I cut the loop, on the end of the slide, so it doesn't hit the magazine.
Then just cut the grip off using the bottom of the shell as a guide. See the pic below.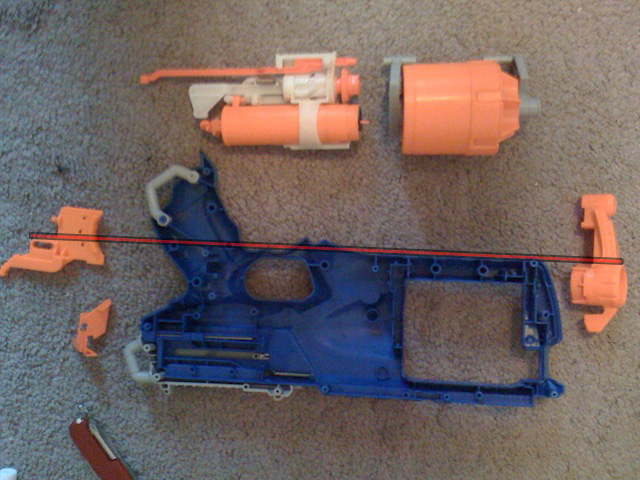 Next you need to make a 0.47 inch slot down the middle of the bottom of the shell. You want the Strongarm shell to close onto the Retaliator lower rail like a giant rail mount. You will need to trim the shell a bit to get a perfect fit. Just keep test fitting and trying to close the shell over the Retaliator rail. I also used one of the support pegs in the Strongarm shell and drilled a hole thru the Retaliator rail so the peg go thru the rail out the other side. I hope that makes sense.
After you got the shell to fit, just put all the parts back inside and close everything up. I used a strip of velcro to keep the trigger pulled of the Strongarm. You could use tape or a ziptie for that as well. This way all you need to do is pump the slide and the Strongarm will fire.
For future reference, this doesn't strictly qualify as a writeup. I don't want to encourages new guys to think a video demonstration and a block of text is enough to warrant a new post. Put it in the pictures thread.
Edited by Solscud007, 14 December 2012 - 03:14 PM.