Here's an interesting find that I haven't come across on any of the forums. Normally when people use 1 1/4" PVC for their plunger tubes, they use a 1" to 3/4" reducing bushing and e-tape/packaging tape to create the barrel coupling end.Here's an alternative that doesn't need tape at all, using a 1" CPVC coupler.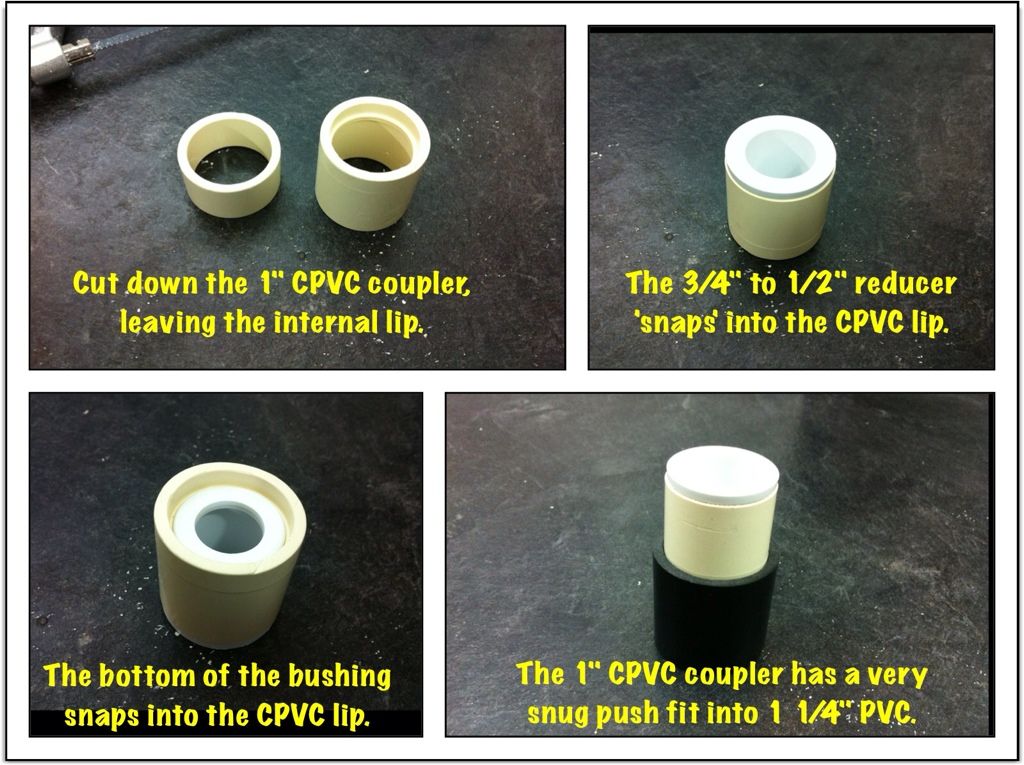 The 1" CPVC coupler can be cut down to just before the internal lip. The 3/4" to 1/2" PVC bushing is actually pretty loose inside the CPVC coupler but the internal lip of the CPVC coupler is just wide enough for the PVC bushing to have a very tight fit. I lined it up so the lip catches on the bottom part of the PVC bushing as opposed to the other way around to eliminate dead space and because it centres itself better that way.The really cool part is that the 1" CPVC coupler is a perfect snug push fit into 1 1/4" PVC/ABS. No Tape and perfectly centred. All this, of course, is Gooped and glued into place. From here, mechanical fastening as per usual....Here's some other things I do.
I always ream out my 3/4" to 1/2" coupler to create wider air flow and I use a Zip Tie inserted 'edgewise' as my dart stop....and a short clip showing an example of the above.
http://s1166.beta.ph...2EC1FC.mp4.html
Edited by makeitgo, 05 December 2012 - 06:56 PM.